Trip comes at a good time for Drexel
August, 16, 2010
08/16/10
1:39
PM ET
The timing for Drexel's trip to Turkey was impeccable.
Drexel coach Bruiser Flint and the Dragons will depart Saturday for a 10-day trip that will overlap with the FIBA World Championship in Istanbul. The trip comes at a time when Flint's program -- and the upcoming season -- was in crisis mode.
[+] Enlarge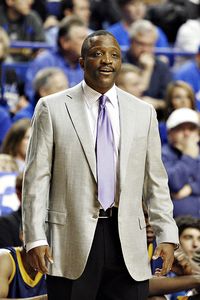 Mark Zerof/US PresswireDrexel coach Bruiser Flint will get a look at his team -- minus Jamie Harris and Kevin Phillip -- on the Dragons' upcoming trip.
Drexel, a projected top-four team in the CAA this season, was rocked earlier this summer when leading scorer and starting point guard Jamie Harris and backup forward Kevin Phillip were arrested and charged with burglary, robbery, weapons violations and related offenses for allegedly robbing a fellow student at gunpoint
Harris and Phillip may not get their case heard until deep into the season. Regardless, the university has suspended them indefinitely. Under the university policy, if the case goes to a trial, the players are gone from the program. If the case gets thrown out, they can come back and attempt to be reinstated first as students before rejoining an athletic program.
Bottom line: The odds of Harris and Phillip playing for Drexel this season are zilch. Flint has moved on. Fortunately for him, he has had six practices so far with more to come this week to get his team in order -- minus two key players. Drexel, which is in the quarter system, doesn't start school until late September, so going on the trip now is even more important to give his team a chance this season.
The trip, which will include games against Turkish and Egyptian teams (and game tickets to watch the U.S. play Croatia in the FIBA World Championship), will allow Flint to find out if freshman point guard Frantz Massenatcan handle the position. Massenat, along with freshman forward Dartaye Ruffin, can go on the trip under the new rules allowing incoming players to participate if they've already been in summer school.
Flint will also use guard Gerald Colds, who was a starting shooting guard last season, at the point on this trip.
"Frantz was recruited to be a point guard, and now he'll be the main guy,'' said Flint, whose Dragons were 11-7 in the CAA last season, 16-16 overall.
"Harris was our leading scorer so we're going to have to figure out who is going to take up the slack,'' Flint said. "This is so huge that we can take the freshmen on this trip. We get a chance to see how they react in game situations.''
Flint is anxious to get going, but not as much as he would be had this tour not been previously scheduled and the Dragons had to wait until October to see what it would be like without Harris and Phillip.
"We've got a lot of guys back the following year so this trip made sense,'' Flint said.
He had no idea just how much sense the tour made when it was originally scheduled.
• Pitt coach Jamie Dixon won gold in the summer of 2009. Oklahoma's Jeff Capel won gold earlier this summer. Both coached junior national teams while still recruiting and handling affairs via phone for their day jobs.
Having current NCAA head coaches coach the junior national teams is the policy of USA Basketball. But the policy may need to be amended to be more inclusive of former NCAA head coaches who are not working, but who would love to continue to coach in the summer and be able to give their full attention to the project.
Coaches like Ernie Kent, Dennis Wolff (who later joined Seth Greenberg's staff at Virginia Tech), Al Skinner, Norm Roberts and Dino Gaudio were all available to help coach USA Basketball. One of the unwritten rules of allowing a coach to coach one of the junior national teams is that he can coach one of his own players -- if he makes the cut, which most of the time if trying out he does -- or if the coach is coaching recruitable athletes, there is an inherent recruiting advantage.
Two summers ago, college coaches watched Davidson's Bob McKillop, Georgetown's John Thompson III and then VCU's Anthony Grant coach a collection of recruitable high school players. The coaches also had full access to the players -- for better or worse -- on a foreign trip. Having a former Division I head coach take the reins of the team could lessen that perceived advantage. But one USA Basketball official said that there will always be agendas with a former coach using the job to get back in the business.
The official, who declined to use his name, also said that making the job full-time wouldn't be prudent since most of the foreign clubs have fluid rosters like the United States, making it harder for scouting. The official said the more pressing problem is not getting head coaches to take on the task, but instead, it's maintaining a consistent presence from players from one year to the next (something the national team is dealing with this summer with the world championships).
The NBA draft and summer school have hurt USA Basketball in securing two-year commitments from the 17- to 19-year-olds.
Regardless, rules shouldn't be so restrictive. USA Basketball should at least be able to consider former coaches in its pool of head coaches for the junior national teams. At this point, that is not an option unless the policy is changed by the USA Basketball board.
• Illinois-Chicago is still searching for a replacement for the retired Jimmy Collins. UIC athletic director James Schmidt has narrowed his choices down to five -- Minnesota assistant Vince Taylor, Wisconsin assistant Howard Moore, Illinois assistant Jerrance Howard, New Orleans coach Joe Pasternack and a fifth candidate -- an experienced head coach -- whose identity is still being kept extremely quiet, according to multiple sources. UIC is still considered one of the top four jobs in the Horizon League with its facilities and proximity to top players in the Chicago area.
• Lost amid the news cycle last week was Friday night's decision by new NCAA president Mark Emmert to streamline his senior staff. The moves that trimmed longtime senior staffers Tom Jernstedt, Dennis Cryder and Elsa Cole cut the salary budget and tightened the inner circle around the president even more.
Cryder was involved in branding and communications, and Cole was in legal affairs, a no-win area within the NCAA as it deals with multiple legal battles on a consistent basis. Jernstedt had the most national name recognition. He had been instrumental in the development of the NCAA tournament since 1973 and has had a role within the hierarchy in USA Basketball.
But Jernstedt's role had diminished lately as the NCAA tournament selection committee's role rose, as did the influence of Greg Shaheen, a senior vice president. I cannot speak to Cryder or Cole since I didn't know either, but Jernstedt was one of the classier and genuine individuals within the NCAA. But he hadn't been used, at least publicly, as much as a decision-maker.
Shaheen has become the face of the NCAA tournament from the Indianapolis headquarters. Emmert recognized how much Shaheen has helped shape the tournament and put him in charge of all championships and business strategies on an interim basis. Shaheen can't have his hand on Division I football since that is controlled by the BCS, but it will be intriguing to see how he helps shape other major championships like hockey, baseball, softball, soccer and lacrosse.
• Two weeks ago in Orlando, Fla., I taped five "Katz's Corner" shows with 35 head coaches to air this week on ESPNU from 6 to 7 p.m. ET on a variety of topics.
Here is the lineup:
Monday, Aug. 16:
Craig Robinson (Oregon State) John Thompson III (Georgetown) Sydney Johnson (Princeton) Gary Williams (Maryland) Jamie Dixon (Pitt) Chris Mooney (Richmond) Ed Cooley (Fairfield) Tom Herrion (Marshall) Seth Greenberg (Virginia Tech)
Tuesday, Aug. 17:
Scott Drew (Baylor)
Jason Capel (Appalachian State)
Jeff Capel (Oklahoma)
Paul Hewitt (Georgia Tech)
Ernie Zeigler (Central Michigan)
Ray McCallum Sr. (Detroit)
Matt Painter (Purdue)
Brad Stevens (Butler)

Wednesday, Aug. 18:
Bill Self (Kansas)
Phil Martelli (Saint Joseph's)
Frank Martin (Kansas State)
Frank Haith (Miami)
Rick Stansbury (Mississippi State)
Josh Pastner (Memphis)

Thursday, Aug. 19:
Bruce Pearl (Tennessee)
Andy Kennedy (Ole Miss)
Mike Anderson (Missouri)
Mike Brey (Notre Dame)
Tom Izzo (Michigan State)
Steve Lavin (St. John's)

Friday, Aug. 20:
Billy Donovan (Florida)
Donnie Jones (Central Florida)
Dave Rose (BYU)
Tony Bennett (Virginia)
Thad Matta (Ohio State)
Fran McCaffery (Iowa)

• Northeastern made official Monday what had been known for a month: Bill Coen named Pat Duquette as associate head coach. Duquette held the same title at Boston College before the staff was fired in March.
The fallout from a coach being fired can be disastrous for the assistant coaches, especially after the head coach at least gets a buyout. Al Skinner got paid and doesn't have to work in the next two seasons, but the assistants had to find jobs. So far, three of the four have landed remarkably well. Duquette will be a huge asset to Coen, with whom he used to work at BC. Preston Murphy, a former Rhode Island player, will be a major addition to Jim Baron's staff since Murphy can sell the Rams as well as anyone. Mo Cassara landed the head-coaching job at Hofstra after Tim Welsh had to abruptly resign last April, a few weeks after getting the gig (he had hired Cassara and the rest of the staff just prior to his DUI arrest). Bonzie Colson is the last former BC assistant waiting to land a full-time Division I gig.