Tim Cluess takes Division II route to Iona
August, 17, 2010
08/17/10
3:45
PM ET
What was so refreshing about Iona hiring Tim Cluess from Division II-level C.W. Post is that athletic director Patrick Lyons didn't use a search firm to hand pick Kevin Willard's replacement. Too often, athletic directors want to win the news conference and use a search firm to get a "sexy" candidate.
Not the case with Iona.
It wasn't a traditional hire, but Cluess couldn't have been more right for the job. He wasn't a Division I head coach and he wasn't a Division I assistant. He is 51, as much a veteran in the food service industry as he was in coaching on Long Island. Yet he didn't need a slew of big names to help him get a Div. I gig. He said he had no one call Lyons on his behalf.
He sent in his resume. He got the job.
In our summer-long look at new coaching hires, Cluess is easily the most unique.
"Obviously it wasn't the route that most take,'' Lyons said. "But I was looking for the right fit.''
Three years ago, in the post-Jeff Ruland era, Lyons went for the young, Rick Pitino assistant in Willard. Lyons figured Willard might bolt if he could. And he did this spring after the Bobby Gonzalez era came crumbling down at Seton Hall.
Willard went 45-49 in three seasons, 27-27 in the MAAC and had his best finish last season with a third-place finish at 12-6 (21-10 overall).
"We are trending upward, we return the bulk of our program and when I set out to do the search, I felt I didn't want to take the step down,'' Lyons said. "We're in a position to have some good success in the foreseeable future.''
[+] Enlarge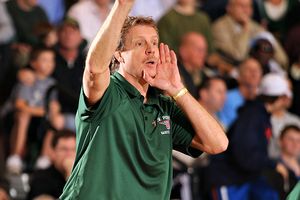 CW PostThe restaurant owner and part-time caterer racked up a 98-23 record in four seasons at C.W. Post.
Lyons interviewed coaches at the Final Four in Indianapolis and returned to New York on Easter Sunday to sift through the resumes one more time. It sounds almost too old school, right? But he did it and came across Cluess' and gave him a call later that night. Lyons told him he's a morning person and gets in at 6 a.m. He arrived at 6 Monday morning and Cluess was there to meet him. The hire came soon after.
Cluess had gone 98-23 in four seasons at C.W. Post. He had played basketball at St. John's and Hofstra and served as a high school coach in the area. To supplement his income in an attempt to keep his family from moving, he also ran a successful restaurant on Long Island and worked as a caterer for the Holiday Inn.
"I have to give Patrick credit for having an open mind,'' Cluess said. "We hit it off. To be honest with you, when this job opened up, it was the only job I applied for at the Division I level.''
Cluess said when he sent in the resume, he didn't think anything would happen. He planned on pursuing another business opportunity to open a bar or restaurant to add to his C.W. Post salary.
"I didn't expect anything,'' Cluess said. "I'm a realist. I knew this wasn't the normal path to make a move. But I didn't want to move around a lot. I wanted to keep my family close. But I never thought I'd end up at this level.''
Cluess hasn't moved his wife or two middle-school boys for a basketball job and still won't, now making the 45-minute commute to New Rochelle from his home in Floral Park, N.Y.
"This was very unexpected,'' said Cluess, who smartly tabbed Fordham assistant Jared Grasso to the staff to add local flavor. "Kevin did a nice job of re-establishing a contender in our league, and hopefully we can be playing for a championship and NCAA tournament berth. I didn't come here to be average or to fail. I came here to succeed and keep the rich tradition going.''
The Gaels lost five players from a 21-win team, including sophomore Rashard McGill, who recently to returned home to Florida for personal reasons. Ben Mockford transferred to St. Francis (N.Y.) and Keon Williams left for DII Pace University. Iona did add Aleksander Kesic from Serbia, Jayon James out of Paterson (N.J.) Catholic, Brooklyn native Sean Armand and JC transfers Randy Dezouvre and Michael Glover, all wings or forwards, to give the Gaels more depth and size and get them at the maximum 13 scholarships.
Siena is going through a transition in coaches and there might be a slight dip down. Fairfield will be a MAAC contender and one can never dismiss Niagara in the discussion. But there's no doubt the Gaels -- with leading scoring guards Scott Machado, Kyle Smyth and Alejo Rodriguez returning -- should be right in the thick of the league race.
In the meantime, Cluess no longer needs a second gig. He's out of the food and drink business. All his energy is focused on building off last season's momentum and making the Gaels a factor again.
Do that and Cluess isn't going anywhere.
Lyons said he didn't make the hire to establish stability. But it's no secret that programs in conferences such as the Missouri Valley, West Coast and Horizon can attribute the success to a coach staying put.
"I'm looking to be here for a long time, God willing,'' Cluess said.
For schools like Iona, knowing who you are and where you fit is paramount to understanding your place. Lyons appears to have figured that out. The Gaels didn't need a star; they needed someone who fit. If Cluess fits the bill, the gamble will have paid off.