Jeff Lebo ready to work at ECU
August, 19, 2010
08/19/10
11:53
AM ET
Had the NCAA tournament been extended to 68 teams in 2009 instead of 2011, would Jeff Lebo still be at Auburn?
Possibly. The Tigers won 10 SEC games, had a top seed in the SEC tournament, beat Florida in the first round of the conference tournament (for their ninth win in 10 games) and had 22 wins overall before losing to Tennessee.
[+] Enlarge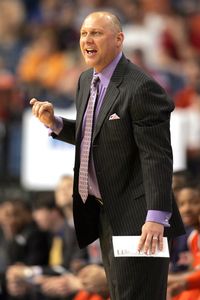 Cliff Welch/Icon SMIJeff Lebo arrives at East Carolina after six seasons at Auburn.
Despite that, the Tigers' résumé was soft without major nonconference wins. But if the selection committee had been looking for three more at-large schools, would Auburn have had a case?
"We had to be one of the first ones out," Lebo said. "We were a No. 1 seed in the NIT. But it's hard to tell. I've always said there are three things that can signal the death of a coach: a new AD, a new president and a new arena. I had all three."
And after failing to make the NCAA tournament again in what was his fifth season -- despite winning 24 games, tied for second-most in school history -- Lebo had to produce in his sixth season. The Tigers finished 15-17 overall, 6-10 in the SEC, and Lebo was out.
He would have opened Auburn's new arena this fall against his alma mater, North Carolina. According to Lebo, Tar Heels coach Roy Williams said the game was contingent on Lebo being the head coach. Instead, Lebo is at East Carolina, in what has become one of the more irrelevant programs in Conference USA.
Of course, Lebo isn't looking at it that way. He says he's fortunate to have landed in a good place and was never anxious about being out of work, since the call from ECU athletic director Terry Holland (who once recruited him to Virginia) came within days of his Auburn exit.
"Who knows what would have happened at Auburn?" Lebo said. "I think that team deserved to be in the NCAA tournament. It was disappointing."
Of all the coaches who will begin the 2010-11 season in a new place, Lebo is an example of one who won't shy away from a challenge.
Give him some credit here: He doesn't seem to mind a tough gig. The former Tar Heel led Tennessee Tech to a 27-win season and an NIT appearance in 2002 before embarking on a two-year stint at Chattanooga. While it didn't produce an NCAA tournament berth, his reputation as an ethical coach and his strong ties to the North Carolina family tree certainly helped him land at Auburn in 2004, a team with a thin record of success in the SEC.
Now he's at ECU. The Pirates have been to two NCAA tournaments in their history. The most recent one was in 1993, and that was a team that won only four games in the Colonial Athletic Association but earned a berth by winning the conference tournament title.
Going to ECU makes loads of sense, especially for Lebo's family. His wife, Melissa, is from the area, and his father-in-law played football at ECU. Lebo is still a recognizable name in North Carolina and has plenty of connections in the state.
He was hardly in a position to be selective. But he has an athletic director that he knows and respects in Holland. And in a league like C-USA that is constantly searching for an identity, there is hope that he can move the program upward.
"People tell me why can't you do it," Lebo said. "But I'm interested in finding ways to get it done. We're moving in the right direction, and we've seen it happen in football and baseball, so why not in men's basketball?"
Lebo isn't hung up on the fact that he helped push for the new arena at Auburn, was present as contractors and builders put the shovels into the ground yet won't be around to coach the Tigers in their new digs. That honor will go to his replacement, former UTEP coach Tony Barbee. Lebo said politely that maybe one day he'll take ECU to play in the arena.
North Carolina is no longer going to play Auburn now that Lebo is no longer the Tigers' coach. Coincidentally, Lebo said he had a deal for Williams to bring Kansas to Chattanooga for a game before he left the Jayhawks for North Carolina. Lebo said he hasn't broached the subject of the Tar Heels playing at ECU with Williams, but he's convinced he will at some point.
Ken Potosnak, Lebo's assistant at Auburn, came with him to East Carolina. He said Lebo's character and integrity are integral to why he will succeed.
"Jeff has won at every stop," Potosnak said. "Right now we have to change the climate and the environment here. This hasn't been a household name."
Hardly. Expectations are low outside of ECU. The Pirates finished with four wins in C-USA play last season, 10 overall. Leading scorer Brock Young is back as a senior to lead ECU. So at least there is an anchor to lead the team for Lebo.
But the truth is, he is modeling his plans more on surprising mid-level programs than on the upper echelon. That's realistic.
"Northern Iowa was at this point so you can see it happen at places like that, like Butler, like George Mason," Lebo said. "We're an under-the-radar program. It is hard. But it just takes a few guys and momentum. We've got decent pieces here. We think we can do it with the right personnel. If we can get some kids, get confidence and have success early, we can turn the corner quickly."