Resilient Utah State can still sell program
August, 20, 2010
08/20/10
2:17
PM ET
Utah State's Scott Barnes was the first remaining WAC athletic director to talk about loyalty and honoring a commitment.
What he could have added as well in his letter to USU fans is that his basketball program has stood quite well on its own for some time.
Lost amid the moves of Fresno State and Nevada to leave the WAC for the Mountain West in 2012 is how they will affect the Utah State men's basketball program.
The Aggies are gunning for their fourth straight regular-season WAC title and have been in the NCAA tournament three times since joining the WAC in 2005 (and two of three were as an at-large). The Aggies also made four NCAA tournament appearances out of the Big West under coach Stew Morrill.
For a school that lacks a national profile, that's certainly worth touting.
"We got shafted,'' said Morrill, reacting to the moves by Fresno State and Nevada to leave the WAC after agreeing to $5 million buyouts four days earlier. "But we'll be fine. We've been in a lot of different leagues and we've survived. We've survived in the Big West. We were fine. In the WAC, we've been fine. We'll stay in the WAC and it will change, but we'll be fine.''
The good news for Utah State and the rest of the WAC is that the automatic bid to the NCAA tournament isn't going away. The NCAA offered a clarification that if the WAC were to stay at six members in 2012-13, it would still have the AQ for the two seasons after the membership dropped below seven. But in the third season it would need to add a seventh school that has been a Division I member. You can be assured that will occur.
"That's huge to keep the AQ,'' Morrill said.
Adding BYU in men's basketball -- and the door isn't closed completely yet -- would have been a huge coup for Utah State. Utah will lose its home-and-home games with BYU after this season when the Utes go to the Pac-12 (the programs will still play once). If USU had secured a home-and-home in the same league with BYU it would have allowed it to differentiate itself against Utah within the state. Utah State has longed to be on equal footing with the Cougars and Utes.
"We've played [BYU] for 100 years or so and we'll play them either way if they're in our league or not,'' Morrill said. "If not, then we'll still play them in our nonconference. The game will always exist for sure.''
[+] Enlarge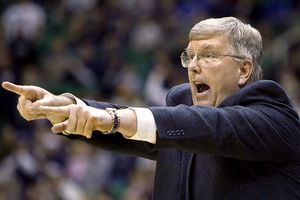 AP Photo/Douglas C. PizacComing off a 27-win season, Stew Morrill and his Aggies will once again be the WAC favorites.
Amid the upheaval this week, Morrill gathered his staff and told them to make sure they are selling the Utah State program, maybe not the league, but the program for sure.
"We've been to 11 straight postseasons, seven NCAA tournaments and averaged 25 wins,'' Morrill said. "We've been in two different leagues and last year had an RPI of 30. Whatever our situation will be, in recruiting I tell our guys that we will have a strong basketball program. We average 10,000 fans, we're 176-13 at home since I've been here at Utah State. Sometimes you sell the league you're in and sometimes you have to sell your program.''
Utah State returns the core of its 27-win team from last season, led by Tai Wesley, Nate Bendall and Pooh Williams.
"These kids have won three straight and now they're all seniors,'' Morrill said. "And they're going to make a heckuva run to win four straight WAC regular-season titles. It will be an unbelievable feather in their cap. It's frustrating that football rules the world and we saw that on a much larger scale with Kansas. So much is based on football and that's why you have to have a strong program. The tendency is to panic, but I'm not into that in this stage in my life. We've been through different leagues before.''
Morrill though isn't budging much on his scheduling, especially when the Aggies received an NCAA at-large berth last season despite a schedule that didn't include much quality competition outside the region. Beating BYU was the best nonconference win for the Aggies and knocking off Wichita State later in the season didn't hurt.
"We must have done something right to get two at-large bids in the last five years,'' Morrill said. "I want to schedule smart. Everyone knows we have four starters back.''
Morrill said he was finally ready to do two-for-one agreements with power-six schools and tried to set one up with St. John's but said it was shot down. He's still looking for one game and is open to a similar deal.
The Aggies play two of their toughest nonconference games -- at BYU (Nov. 17) and Utah (Nov. 24) -- within a week. Going to Denver and Southern Utah won't be a walk since the games are on the road, but the Aggies should be the pick in both. Hosting Big West favorite Long Beach State and a tournament with Troy, Idaho State and Western Michigan are the other highlights for Morrill. On the surface, it's fair to question the schedule without a single power-six game on the slate. And it will be skewered come March if the Aggies don't have a daunting record.
But the Aggies have found ways to earn their bids and continue to be a success, in spite of the constant shift in conferences and alignment. Expect that to continue.