Racers look to build on success
August, 26, 2010
08/26/10
12:01
PM ET
Murray State beat Vanderbilt in the first round of the NCAA tournament last season and came within a bucket of defeating eventual runner-up Butler in the second round.
With all but two of its top-10 scorers returning, why can't Murray State win just one more game and be a Sweet 16 team in 2011?
Murray State coach Billy Kennedy, who has seen the Racers improve from 16 to 18 to 19 to 31 wins last season, certainly believes his team is worthy of such a projection.
[+] Enlarge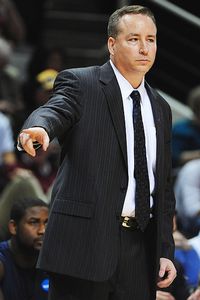 Kyle Terada/US PresswireAfter winning 31 games and upsetting Vandy in the tourney, what will Murray State and Billy Kennedy do for an encore?
"That's what we're attempting to do,'' said Kennedy. "We know now we can win in the tournament. You're never quite sure until you do it. Our guys were very disappointed in losing to Butler.''
Butler coach Brad Stevens said earlier this summer that Murray State was the Bulldogs' hardest NCAA game prior to the final against Duke.
"You don't feel like you're an NCAA tournament team unless you win,'' Kennedy said. The win over Vandy was the Racers' first tourney victory since 1988. They had 10 appearances between '88 and 2010. "Now we realize we can do something. We've got a group back that has experienced significant games.''
There was one question Kennedy faced over the spring and summer: Did he need to dramatically change the nonconference schedule to earn a possible at-large berth after his squad won 31 games a year ago and could be a Top 25 team in 2010-11?
He tried and accomplished a bit, but the reality is Murray State probably can't get an at-large berth out of the poorly perceived Ohio Valley Conference. A loss in the OVC tournament would mean the Racers failed to win a game in nearby Nashville.
"We won 29 games [heading into the OVC title game], but had we lost to Morehead State [in the OVC final], I don't think we would have gotten in,'' Kennedy said. "It's not fair, but that's reality. I don't think it matters. I think we have to win the tournament no matter what. Everybody talks about taking the next step and being a legit mid-major like Gonzaga, but very few programs are able to parlay that into games. And no one wants to go to Murray, Ky. They're not coming here. They don't have to come here.''
Murray State opened the season a year ago at Cal in the CVC and lost by five. The Racers didn't face another power-six or top-eight conference team the rest of the season.
The schedule is markedly better this season with a road game (no return) at Ole Miss on Nov. 17. The Racers then grabbed the last spot in the 76 Classic in Anaheim, opening with Stanford and then playing UNLV or Tulsa in a second game. If the Racers get to the final of that tournament, they could face Virginia Tech or Oklahoma State. The best-case scenario for Murray State is to play likely NCAA-bound teams UNLV and Virginia Tech to go along with another possible NCAA team in Ole Miss.
Win two of those games, and there is a chance an at-large bid could be had, but only if the Racers also run through the OVC. The rest of the nonconference schedule is somewhat light, as you would expect, save a rivalry game against in-state Western Kentucky at home.
Kennedy said he took the "money game" at Ole Miss because the Racers recruit in the deep south. He said he doesn't like playing one-way games without a return out of region.
Getting on a neutral floor against possible NCAA teams in Anaheim could be a springboard to a possible Top 25 spot.
But Kennedy still says the Racers have to win the OVC tournament.
One of the two players gone for the upcoming season is Danero Thomas, who hit the shot that beat Vanderbilt. Thomas didn't make a shot in four attempts in the game against Butler in Round 2.
Top scorers Isacc Miles and B.J. Jenkins (both seniors), sophomore guard Isaiah Canaan and junior forward Ivan Aska will be counted on to be the leaders again.
"This is a seasoned group and if we can stay healthy, with our schedule, we've got a great chance to win and build confidence,'' Kennedy said.
The Racers won 17 straight games last season. Would they have to do something similar to get noticed again? Not if they can create a name for themselves in Anaheim. None of the other OVC teams are going to crack the Top 25 or be NCAA worthy unless they win the conference tournament. But it's hard to dismiss how much Murray State will have to deal with while being the target for every road game in the league.
"We've got games we can win and what we saw last year when Butler had that amazing run [20 in a row prior to the NCAA, 25 before losing to Duke] is that they felt they could beat anybody in the country,'' Kennedy said. "That's what they were able to do. That's what we're attempting to do.''