Barton, Kanter situations not unusual
August, 27, 2010
08/27/10
1:03
PM ET
Get used to situations similar to those of
Will Barton
and
Enes Kanter
now that incoming freshmen are allowed to go on August foreign tours.
This is the first year the NCAA has allowed incoming freshmen to go on a summer trip as long as they were students in summer school.
But the freshmen must be cleared academically and amateur-wise to play in competitive games. They are allowed to practice, but can't leave on a trip unless they are cleared.
Barton wasn't at the time and didn't go on Memphis' trip to the Bahamas. Kanter still isn't and didn't go on Kentucky's trip to Canada.
That doesn't mean they'll miss any part of the regular season, however. In fact, we might not have even known Barton was having any issues, but the fact he wasn't allowed on the Bahamas trip made it obvious to the public and the press.
This situation wasn't out of the ordinary, though. The NCAA's eligibility process is to the point where it is no longer sequential in terms of seasons (they no longer process fall sports first, then winter, then spring). The NCAA is now set up to process requests as they hit the system.
There is a catch, however, said NCAA spokesperson Chuck Wynne.
He noted that one in four of the 90,000 or so applicants the NCAA is processing for the upcoming school year did not submit all of the needed information (test scores, high school transcripts, completed questionnaire, etc.). Most of these cases are routinely solved once the proper documentation is received, Wynne said. But the remaining certifications "can be a bit more complicated."
[+] Enlarge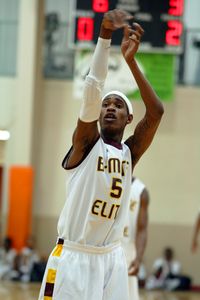 Stephanie Yelder-Stovall for ESPN.comWill Barton didn't travel with the team to the Bahamas, but he will suit up for the Tigers this season.
"For example, if a prospect attends multiple high schools, it will take some time to determine if the core course and GPA requirements are met," Wynne said. "If the prospect has taken a non-traditional type course, we have to verify the course meets NCAA requirements. In the case of international student-athletes, we have to make sure there are no red flags for academic or amateurism issues. Most all of these eventually get resolved and any delay is usually attributable to factors outside of our control -- high schools, online institutions, foreign clubs, etc., not getting back to us at all or in a timely matter. In the end, less than 1 percent of applicants are not certified."
The NCAA Eligibility Center requested more information from Memphis and Barton, which was provided but not before the Tigers left for the Bahamas earlier this month. So reports surfaced that he would be ineligible for the season.
Memphis coach Josh Pastner said those reports were incorrect. He said Barton was never ruled ineligible for the year, only unable to participate on the trip. The confusion arose when Barton tweeted that he was facing a tough situation. The 6-foot-6 guard, who was the top recruit in what ESPNU ranks as the nation's fourth-best class, made it seem like he might be done for the season.
The Baltimore native had reportedly graduated from Lake Clifton High in August, not June, the year before he went to Brewster Academy in New Hampshire. The NCAA rule is that students have to graduate within eight semesters. However, a source with direct knowledge of the situation said the extra documentation provided to the NCAA verified that Barton in fact graduated on time.
The NCAA enforcement's focus group has made a point of looking closely at the elite high school seniors in every class. So red-flagging players like Barton and Kanter and now Josh Selby of Kansas is no surprise. Had KU taken an August tour, Selby likely wouldn't have gone, either. But again, that doesn't mean he won't be cleared by the time the season starts.
The issue with Kanter deals with his amateur status dating back to when he was in Turkey prior to coming to the United States for his senior year in high school. According to a source, the Turkish club would rather Kanter be playing in his native land rather than in America, which has meant little help in getting information from the club.
Kanter, who is considered a likely first-round pick if he declares for the NBA draft in 2011, was an amateur in Turkey but the issue will be what expenses were allowed to be paid. Getting info out of a foreign country can take more time, so it's not out of the norm for the process to be dragged out as the NCAA and Kentucky seek cooperation, which may or may not occur, from a Turkish club team to document expenses.
As for Barton, Pastner reiterated that no one from Memphis ever said its star recruit was denied his eligibility.
"The bottom line is what happened with Will was routine," Pastner said. "These review processes usually need added documentation. Things got overblown. He wasn't able to go on the Bahamas trip because he hadn't been fully cleared. If we weren't going to the Bahamas, then we wouldn't be talking about it. The additional document was a normal routine process. There was no appeal."
Fellow freshmen Hippolyte Tsafack and Chris Crawford didn't go on the trip, either. They weren't cleared and still haven't been, as Pastner said additional information is being provided. (Editor's Note: Late Friday afternoon, Memphis announced that Crawford and Tsafack have been cleared by the NCAA.)
Barton missed the team bonding that a trip like that provides but he can catch up, as Pastner said he has plenty of time to earn his stripes. Barton will likely be one of the featured players on a young but talented team that includes fellow freshmen Joe Jackson in the backcourt, likely future first-round pick Wesley Witherspoon as a 6-9 swingman and Tarik Black up front with returnees Angel Garcia and Will Coleman.
Pastner said the trip to the Bahamas was fruitful for getting the players who were on the trip to understand that the Tigers have to be sound defensively and be a tougher team that makes the extra pass offensively.
Barton will help on the board, as Pastner called him an outstanding rebounding guard with a tremendous motor.
"He has a good knack for being around the ball and that's one area where we struggled last year," Pastner said. "Our initial line defense was good, but we got really hurt on second and third opportunities. He plays hard all the time and that's something I believe he's the best at in the class of 2010."
Workouts for Memphis start Monday, as does the fall semester. Barton is eligible. The story is over. As far as Pastner is concerned, it was only a news event because of the trip to the Bahamas.
Expect similar situations to occur all over the country in the coming years.