Coaches opposed to Big Ten divisions
September, 3, 2010
09/03/10
8:52
PM ET
Big Ten commissioner Jim Delany said after announcing the new divisional alignment for football that he didn't see a need for two divisions in men's basketball.
The coaches apparently agree.
If the athletic directors are on the same side during the annual league meetings in May, then the Big Ten will have one 12-team block in 2011-12 when Nebraska joins the league.
There also seems to be a consensus building for the league to stay at 18 conference games, with a rotation of the seven teams that would be played twice.
[+] Enlarge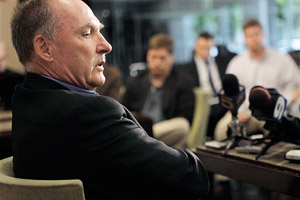 AP Photo/M. Spencer GreenBig Ten commissioner Jim Delany will have plenty to decide when it comes to basketball scheduling.
Television partners -- ESPN , CBS and the Big Ten Network -- would probably agree, giving the league two more quality games rather than dropping down to 16. Wisconsin coach Bo Ryan would actually like to see the Big Ten go to 20 league games, although that would seem unlikely.
"I want to see as many Big Ten games as possible,'" said Ryan. "In basketball, you can't say there are rivals with one team, like there are with football. The reason we should have more league games is the nightmare we all go through in scheduling. I don't want to drop down from 18 if we can't get 20."
Illinois coach Bruce Weber said when the coaches met with Delany in May, they were told at some point there would be at least one additional team (this was prior to the invitation to Nebraska), and to expect some scheduling changes. Weber said he expects the networks would want quality games and that "there's a better chance for 20 than 16. The cost of guaranteed games continues to go up so much."
Weber was referencing the price gouging that goes on with some teams requesting big pay days to play at a high-major venue without a return.
Indiana coach Tom Crean might be in the minority when he said he'd like to see the league go to 16 games until every other major conference moves to 18 games. The Big East and the Pac-10 are the only other major conferences that play 18 conference games. But that could change in 2011-12 when the Pac-10 becomes the Pac-12 (if Colorado gets out of its Big 12 agreement early to join Utah after this season).
Nebraska coach Doc Sadler, who is about to start his last season in the Big 12 before joining the Big Ten, said he anticipates the Big Ten staying at 18 league games, as well. "Hope it's not 20,'' said Sadler.
The one thing all of them agree on is staying with one division in men's basketball, as Delany spelled out.
The SEC plays in two divisions in men's basketball, yet it probably would be more equitable if the league scrapped that plan and went with one division. The imbalance of the SEC East and West makes the SEC tournament unfair since it gives equal weight to a winner of the weaker West.
The Big 12 uses a football scheduling format divided by divisions for men's basketball, but the conference standings rank teams 1-12 instead of by division.
Weber, Ryan and Crean all say the schedule should include a rotation of the repeat games, whether that's five or seven depending on a 16- or 18-game schedule.
"We can just rotate it every two years,'" Weber said.
"We're fine with one division,'' Ryan said. "Rotating the games is not a big issue, not as much as some people like to make it. We don't have to go to two divisions.''
If the football divisional alignment were moved to basketball it would create a major imbalance based on recent success. Wisconsin would be on the same side as fellow Big Ten contenders Ohio State, Purdue and Illinois and tradition-rich Indiana. Penn State is the other member of the football division. Can you imagine five of those six teams playing each other twice every year and the other side just once? How unfair would that be for Penn State? Conversely, based on recent success, Michigan State would appear to have a sizable advantage with two games each against Michigan, Iowa, Northwestern and Nebraska. Minnesota is the other team in the division, and the one team outside of the Spartans which appears to be a regular NCAA team for the foreseeable future.
Ryan said it may not be fair to base the current success on assessing these football divisions and applying them to basketball because "you can go from 10 to second place in a hurry with a few guys.'' Still, Ryan isn't in favor of the divisional setup. No one is and that's why it would be highly unlikely to see two divisions in men's basketball. Coaches don't always get their way, as we saw in the Big East when the coaches didn't want the double bye in the conference tournament again, only to see it be continued. In the end, there is no consensus for anything but a schedule that is likely 18 games and as equitable as it can be with 12 teams.
• BYU coach Dave Rose said one of the first things he did when the Cougars announced this week that they were joining the West Coast Conference in all sports, save football, was call recruits.
"The one thing [the recruits] all had in common was that they knew about the WCC,'' Rose said. "Everyone has seen the games. They've watched that tournament on the Monday night of Championship Week.'"
Rose went on to describe what his program will do to be successful in the new conference.
"We're just trying to figure out where we'll fit in the league and use Gonzaga as a model for how they schedule,'' Rose said. "Gonzaga has created a real national program the past 10 years and that's something we'll want to do.''
Rose and Mark Few have struck up a friendship over the years with Rose spending time at Mark and Marcy Few's Coaches vs. Cancer event in Spokane. The relationship hasn't resulted in the two teams agreeing to a home-and-home series, but the WCC membership guarantees the matchup. Those games are something Few said will only enhance the Zags. He said he grew tired of critics saying the Zags won a "bad league" over the years and believes that the addition of BYU will bolster the league's reputation.
The one aspect of Gonzaga's scheduling that Rose hopes to emulate is getting BYU into more marquee nonconference tournaments. Gonzaga has been in just about all of them and is one of the headline teams in the CBE Classic this year in Kansas City. BYU has chosen to go to more underpublicized events. Some of the events, though, like the Old Spice Classic in Orlando, the Puerto Rico Tip Off and the 76 Classic in Anaheim are off limits for BYU because the last day of the event is held on Sunday, which is not allowed to be a competitive day for the Cougars' sports teams because of religious observation.
Rose said he has already spoken to Utah coach Jim Boylen and the two have agreed to continue the rivalry every season, alternating home-road sites.
"We'll keep the Utah State series too and then add a home-and-home with Gonzaga and a home-and-home with Saint Mary's," Rose said. "That upgrades our schedule right there and is a chance to increase our RPI. We've been pretty good in a regional situation within the footprint of the MWC and the TV agreement we've had, but we want to expand it more and have more of a national program, which is what the football team is doing."
BYU's schedule is more challenging this season with a game against UCLA in the Wooden Classic in Anaheim, at Creighton (part of the MWC/MVC Challenge), possibly tough neutral site games (if these teams are better than projected) against South Florida and then either Saint Mary's or Texas Tech in South Padre Island, Texas; Arizona in Salt Lake City and UTEP at home. Having Fresno State (home) and a rebuilding Hawaii (Salt Lake City) isn't awful, either, on the home slate. The conference games this season against San Diego State, UNLV and New Mexico, all possible NCAA teams, certainly add up to a likely strong power rating. The key will be for Saint Mary's and/or Portland to be consistently good enough to warrant comparisons to teams like UNLV and possible UNM or SDSU, which are just now looking like regular postseason teams.