BSU basketball jumps on the pigskin wagon
September, 8, 2010
09/08/10
12:18
AM ET
Leon Rice had never scheduled recruiting visits around a football weekend while working for Mark Few at Gonzaga.
He didn't have parties at his house with the players to sit down and watch a football game. He never called a recruit after a football game to gauge his interest.
He is doing that now. And will continue to do so.
The new Boise State men's basketball coach is trying to maximize the attention the Broncos' football team received with a No. 3 preseason ranking and a thrilling, nationally televised win against Virginia Tech on Monday night.
"How could you not be excited here after watching that game, seeing the new Nike uniforms from Boise and then the way they won,'' Rice said. "We were all on the edge of our seats the whole game.''
In the wake of Boise's big win, Rice said he called the Broncos' core recruits. And he purposely delayed the first official visits until BSU's first home football game, against Oregon State on Sept. 25.
[+] Enlarge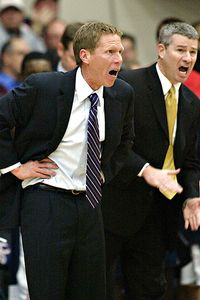 AP Photo/Dino VournasWhile at Gonzaga, Leon Rice, right, was never able to take advantage of an elite football program.
Gonzaga didn't have a lead-in during the fall prior to basketball and it wasn't necessarily a negative. And Boise State hoops can and has in the past had a national football program as an entree to basketball and it's not as if it's yielded a lot of high-level recruits. But Rice is nevertheless going to try to exploit it as much as possible.
No one is expecting Rice to deliver a conference title this season -- the school's last in the WAC -- or in the short term in the Mountain West. But with Utah (which will play Boise State in a new four-year, home-and-home series beginning this season) and BYU gone, the Broncos have a legitimate chance to at least eventually be in the top four.
If a school has a strong, national basketball program but lags decidedly in football, it's much harder to bring the football program up to the same speed. The reverse shouldn't be as difficult if the hoops program can land a few key recruits.
Boise State has seven seniors and they will be counted on heavily this season. Rice's plan is to possibly redshirt a few bigs to work out with Oregon transfer forward Drew Wiley and hope that the football team's national profile will help land a stellar, program-changing recruiting class.
• In nonconference play, Georgetown coach John Thompson III continues to challenge the Hoyas in a way that offers up plenty of power-rating possibilities, as well as a way to simulate the Big East.
A year ago, Georgetown opened at Tulane before playing Temple in its second game. Both were wins, one easily on the road, and the Owls game by just one point. Taking a road game at Savannah State might have seemed odd, but the Hoyas didn't present any airs about going on the road to a low-major. Then, of course, there was the trio of games that would challenge most teams -- against Butler for the Jimmy V Classic in New York, against Washington in the Wooden Classic in Anaheim four days later and then against Old Dominion, which has become a nemesis of sorts for the Hoyas.
Toss in the Duke game in the middle of the Big East schedule and the Hoyas ended up having quite a challenging schedule (two true road games, national champ, national runner-up, Sweet 16 team and CAA champ).
As for this season, Thompson finalized the schedule this week by accepting a home game against WAC favorite and perennial postseason team Utah State on Dec. 4. That game against the Aggies comes five days before the Hoyas go to Temple, one of the favorites for the A-10 title.
Thompson said Tuesday that he had to be convinced to play Utah State -- a rare treat for Aggies coach Stew Morrill, whose program will play at a power-six conference school for the first time since 1992-93 (at Rutgers).
"I knew they were a terrific team, a veteran team,'' said Thompson. "It's going to be a really good game. I wanted to challenge our guys again before the Big East play.''
The three Big East-like games against three teams that will likely play three contrasting styles start off Nov. 30 in Kansas City against Missouri's fastest 40 minutes in basketball, followed by Utah State at home and Temple on the road.
Even before that slate against three likely NCAA tourney teams, the Hoyas play in the Charleston Classic in South Carolina. The field isn't that deep (NC State, Coastal Carolina, Wofford, Charlotte, George Mason, East Carolina, USC Upstate). But that doesn't matter as long as Georgetown gets a final against the Wolfpack, a top-five contender in the ACC. The season starts with the Hoyas going to Old Dominion, which has knocked them off in two of the past three meetings. They also get the unenviable task of facing Memphis at the FedEx Forum on Dec. 23. The Tigers are the C-USA favorite and a consensus top-15 team.
Thompson said the Hoyas are taking a year off from the Duke series after completing the four-year, home-and-home deal. He said he would like to continue the rivalry in the future.
Georgetown will start the season looking to replace lottery pick Greg Monroe in the middle. The guard play of the Hoyas -- led by Chris Wright and Austin Freeman -- should make this a Big East title contender and a team with a power rating worthy of a solid seed.
There was a time when Georgetown could coast through the nonconference slate without too many challenges. That era is over. Playing in the Verizon Center means dates can be tough to get and hosting tournaments is not often an option. So the Hoyas must venture out across the country and also accept tricky home games. JT3 gets this. Shoring up the schedule with dangerous Utah State proves it.