Keith Richard, Bob Marlin find homes
September, 8, 2010
09/08/10
9:23
PM ET
Keith Richard and Bob Marlin were having dinner in Las Vegas four summers ago, and both were lamenting that neither could get out of his job and to a higher level.
Richard, who had played at Louisiana-Monroe when Marlin was an assistant coach in the early 1980s, hunkered down for a meal to discuss the lack of movement at their level in the business.
[+] Enlarge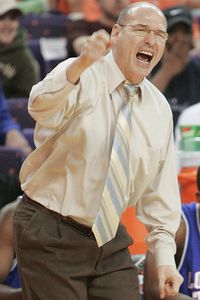 AP Photo/Patrick CollardKeith Richard, who played at Louisiana-Monroe in the early '80s, returns to the program as the Warhawks' coach.
In his last year at Louisiana Tech, Richard coached Paul Millsap, won 20 games and reached the NIT. Meanwhile, Marlin was at Sam Houston State and on the verge of winning 20-plus games in consecutive seasons.
"We were both doing a good job, but we couldn't move," Richard said, as ESPN.com continues its offseason look at all 53 new head coaches. "He was doing a good job at Sam Houston and couldn't move. I had done a good job at Louisiana Tech and couldn't move. We were talking about how fickle this business is. We knew neither of us had been to the NCAA tournament. We just hadn't won the right game to make a move. It was frustrating. We had done good jobs."
Richard was fired a year after this conversation took place. He spent a year out of basketball before he was hired by Trent Johnson as an assistant at LSU, returning to his hometown of Baton Rouge. Two seasons later, the job opened up at Louisiana-Monroe, and Richard was all over the gig and got it.
Marlin had interviewed at TCU, Rice, New Mexico State, Houston -- three times with three different athletic directors -- and met with Auburn before UTEP's Tony Barbee landed the gig. Marlin took the Louisiana-Lafayette job after finally leading the Bearkats to the NCAA tournament last season, winning 25 overall games in a conference (Southland) that has been one of the hardest to move out of for a head coach. The process is akin to coaches trying to seek upward mobility out of the SWAC and MEAC.
"We all want to get to a high level with a chance to be successful on a yearly basis," Marlin said. "But at the end of the day, I coach because of the players and the relationships and wouldn't trade that for anything."
Marlin didn't land any of the higher-profile jobs for which he interviewed during the past decade. Instead, he's the new coach a program that he says has a rich-basketball tradition where hoops comes first.
"When we saw each other at the league meetings, we talked about how that years later we're in the Sun Belt," Richard said. "There is a feeling of peace here. You can feel it with John Brady [Arkansas State], with Kermit Davis [Middle Tennessee], with Johnny Jones [North Texas], Ronnie Arrow [South Alabama], Steve Shields [Arkansas-Little Rock] and Mike Jarvis [FAU]. It's a good feeling to have a good job and have peace and feel good about it."
There is something to be said for finding that balance and not to constantly push for the right to play on the first Monday in April.
The Sun Belt is littered with coaches who have won a slew of games and have found the conference to be a resting place to work hard, pursue their craft and not worry about the next gig.
Just look at the records for the league's coaches:
UALR: Steve Shields, 113-95
Arkansas State: John Brady, 311-247
Denver: Joe Scott, 134-156
FAU: Mike Jarvis, 383-244
FIU: Isiah Thomas, 7-25
Louisiana-Lafayette: Bob Marlin, 344-166
Louisiana-Monroe: Keith Richard, 150-117
MTSU: Kermit Davis, 274-185
North Texas: Johnny Jones, 165-137
South Alabama: Ronnie Arrow, 311-219
Troy State: Don Maestri, 477-336
Western Kentucky: Ken McDonald, 46-22
For Richard, 50, and Marlin, 51, employment opportunities in the Sun Belt should be fruitful, as they have been for contemporaries in the league. Marlin didn't get fired and is one of the more well-respected coaches in the country who doesn't get much fanfare. Richard decided to go back as an assistant with Johnson at LSU as a way to enrich his career and to get back to his hometown. Getting to places where Richard and Marlin can coach -- without a concern for climbing the ladder -- has brought a necessary balance into their lives.
Richard said early in his career at Louisiana Tech that he was focused on getting out to a league that was perceived to be higher. But that urge is now gone. He said Brady told him that after the initial shock of not coaching at LSU, he realized that coaching at Arkansas State was a good gig for him.
"You get settled in," Richard said. "We've all been through the hoopla stage, and now we're trying to run the best programs we can at our place. We're happy with that."
Richard said he would have no issue if Monroe was his last stop. The same can be said for Marlin.
"We all get impatient," Marlin said. "We all want to get to a high level and the chance to be successful. But at the end of the day, I coach because of the relationships with the players. "
Monroe and Lafayette have a strong following locally. They don't get much attention nationally. That probably isn't going to change unless either school reaches the NCAA tournament and advances. If that can be an acceptable lot in the profession, there should be no reason to fret. Marlin and Richard didn't change their careers or their priorities. They both still want to win. They just don't have to do it in a power-six conference to be satisfied with their profession.