With coaches away, life rolls on at Duke, SU
September, 13, 2010
09/13/10
5:19
PM ET
Mike Krzyzewski and Jim Boeheim didn't have to sweat about leaving their programs behind for the summer and into the fall semester.
And having their trusted assistants -- Duke's Chris Collins and Syracuse's Mike Hopkins -- with them in Istanbul didn't hurt the programs stateside, either.
[+] Enlarge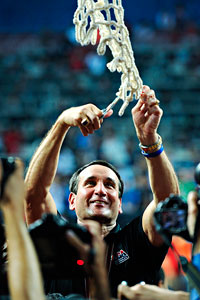 AP Photo/Mark J. TerrillCoach K has cut down the nets twice in the past five months.
Krzyzewski and Boeheim return to their respective campuses Tuesday after a journey back from Turkey, where the United States won a FIBA World Championship gold medal over the host nation Sunday. When they return, they will find their programs cruising along.
"This program runs itself," Syracuse assistant Rob Murphy said.
Murphy and longtime assistant coach Bernie Fine said they haven't heard from Boeheim and didn't need to while working out the Orange and getting the heralded freshman class adjusted to school.
Duke has been cared for by assistant Steve Wojciechowski, who had been a part of the expanded USA Basketball staff since Coach K was named head of the national team but was in Durham with his wife and two children for family reasons. Wojciechowski has been in touch with Krzyzewski throughout the summer and said Coach K has finally joined the new media age with a BlackBerry.
"He's got a cell phone where he not only now can receive calls but also make them," Wojciechowski said. "We wanted to assure him that he can just focus on winning the gold medal and that the players would take care of business here. He'll want to reconnect with his players when he gets back, but we'll want him to take some time to get refreshed and rejuvenated for the season. He has come back [in the past] rejuvenated rather than tired from being overseas. Hopefully he'll feel the same way coming back from Istanbul."
What Coach K will find when he gets back to the Duke campus is a team ready to make a run for a second consecutive national title, even if it's star forward isn't ready for practice just yet.
Duke senior forward Kyle Singler is still nursing his left knee after undergoing arthroscopic surgery two weeks ago. He complained of swelling in his knee after working out with the U.S. select team that competed against the national team before it left for Europe. Wojciechowski said that Singler should be fine for the start of practice next month.
Fellow senior Nolan Smith was with Singler on the select team and should be one of the top guards in the country. The Blue Devils are already contemplating how to mix and match the four guards -- Smith, freshman point guard Kyrie Irving, Liberty transfer Seth Curry and returnee Andre Dawkins.
"We're going to have really good depth and can go a number of different ways," Wojciechowski said. "We have much more perimeter depth than last year. Last year, we rode Nolan and Jon [Scheyer] and Kyle the whole game, every game. Kyrie is outstanding, and Seth Curry, Andre Dawkins and [freshman guard] Tyler Thornton will all help us. I'm really encouraged."
Having two established players who won a national title returning, Smith and Singler, gives Duke an advantage heading into the season. But not having Scheyer, Brian Zoubek and Lance Thomas, three key pieces from a season ago, means there will be plenty of new faces who will put their own stamp on this squad.
A year or two ago, no one could have thought that replacing Zoubek would be a major concern. But it is. And the Plumlee brothers, Mason and Miles, as well as Ryan Kelly and apparently freshman Josh Hairston, will need to have major roles for the Blue Devils to win again.
Wojciechowski is already seeing marked improvement.
"Miles Plumlee is poised to make a big jump as a player," Wojciechowski said. "He's shown really good leadership, and with two years under his belt, I'm excited about the type of year he will have."
[+] Enlarge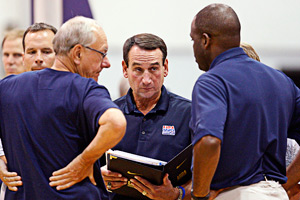 AP Photo/Isaac BrekkenAfter netting 1-seeds in March, both Krzyzewski and Boeheim return plenty of talent this season.
Although Coach K returns to a veteran team, Boeheim might have to be more patient. But he won't have to fret a vacuum of talent. The Orange could end up being the most talented team in the Big East.
Syracuse should continue its run of having lottery-type talent. Next in line is Kris Joseph, who is ready to be a national star.
"He's a lottery pick," Murphy said. "He'll have a decision to make. He was the sixth man of the year last season. He's extremely talented."
With Wesley Johnson and Andy Rautins gone, the Orange will lean heavily on Joseph's scoring. Murphy said he expects the combination of Scoop Jardine and Brandon Triche in the backcourt to work quite well. He said those three -- Joseph, Jardine and Triche -- have been leaders in workouts and are creating an organized environment in Boeheim's absence.
But for the Orange to be a serious Big East contender, they'll need a monster defensive season from highly touted freshman center Fab Melo. If early impressions are any indicator, Murphy expects Melo to deliver.
"He has great footwork, hands, and he is better going against players with size," Murphy said. "He'll be really good in the middle of our zone."
Playing next to veteran big man Rick Jackson, who, according to Murphy, lost 20 pounds to get down to 262 -- and, with the addition of Melo, shouldn't struggle as much in the Orange zone -- will take offensive scoring off the freshman's shoulders. Melo likely will get plenty of garbage buckets off the offensive glass. If he can be a shot-blocker and a real defensive pest, Cuse will be tough to contend with in the zone. And if Murphy is right about newcomers C.J. Fair and Dion Waiters being instant contributors, the Orange will have the pieces to contend.
Having Duke and Syracuse set probably made it easier on Hall of Fame coaches such as Krzyzewski and Boeheim to leave their programs for the summer. They return to the college basketball machines they built -- machines that don't seem to need much of a tuneup.