Pearl still could receive show-cause penalty
September, 14, 2010
09/14/10
2:01
PM ET
Tennessee coach Bruce Pearl still could be subject to a show-cause penalty from the NCAA Committee on Infractions
as a result of misleading NCAA investigators
, and that would force the university to make a difficult decision on how to handle his status as head coach.
The NCAA can take away a player's eligibility for failing to comply during an investigation. Unethical conduct, which is code for lying or not telling the whole truth, has come up quite a bit lately. Former Oklahoma State wide receiver Dez Bryant was caught in a similar situation a year ago when he wasn't forthright with the NCAA on a meeting he'd had with Deion Sanders.
The question, of course, is: If Bryant or any other player can lose his or her eligibility, why can't a coach lose his chance to coach in games or competition? Well, he can. The Committee on Infractions has the ability to use that as a penalty when it hears a case. In the past, when it has prevented coaches from competition, the coaches already had been terminated or left voluntarily.
[+] Enlarge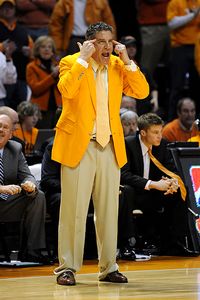 Don McPeak/US PresswirePearl and Tennessee now await the NCAA's notice of allegations.
The NCAA can't fire or hire a coach. But an institution obviously can, and contract terms can determine when that occurs (usually once an NCAA investigation is complete). If a coach such as Pearl receives a show-cause penalty, the school has to go in front of the COI to explain how the coach could be on staff while handling restrictions (no contact with recruits, competition, etc.). The committee then could rule that the coach can't participate in coaching activities for a certain number of years.
Would a school keep its head coach employed in light of his suspension? Probably not. Lying to the NCAA is one of those ethical issues that the COI has been taking a tough stand on recently after being empowered to do so.
"The COI could absolutely impose further sanctions on the head coach, and usually it does more than the self-imposed," said Atlanta-based attorney Stu Brown, who has represented coaches in NCAA cases. "It is reasonable to believe there will be additional penalties."
As the NCAA continues its investigation, which also involves the UT football program, the Vols simply have to wait for a notice of allegations. That notice will include specific details of what kind of information Pearl initially failed to give truthfully.
Tennessee could have suspended Pearl for his false statements to the NCAA. At this juncture, that's not under the NCAA's jurisdiction because all that has been released is a notice of inquiry. Pearl's being banned from going on the road for a year beginning Sept. 24 seems to be a light punishment to some because it allows Pearl to travel for the first three weeks of September to recruit for the class of 2011. Missing the July evaluation period in the summer of 2011 shouldn't be as much of a hit because Pearl recruited for this class as early as a year ago when he coached the U.S. team in the Maccabi Games in Israel.
Pearl and the University of Tennessee got out in front of this matter. But to assume that it is over and that Pearl and his staff are safe from further sanctions would be premature.
• The NCAA lacks uniformity in that it allows some players to get out of sitting out the year-in-residence requirement for transfers. Each case is taken on its own, and there is room for debate as to why some are granted exception and others aren't. Sometimes it's an extenuating circumstance for a family illness; other times it's a graduate waiver for a player who finishes one school, then goes to another school to pursue a graduate degree that wasn't offered at the previous school.
J'mison Morgan got a waiver to play immediately at Baylor after playing the past two seasons at UCLA.
Morgan said his grandmother, Dolores Brooks, who is his legal guardian and lives about 90 miles from Baylor in Dallas, has colon cancer. He said she has had it for the past two-plus years, and it has "gotten worse and worse."
"I wanted to be closer to home," Morgan said. "That's who I lived with my entire life."
Morgan said he plans to see his grandmother as often as possible such as on weekends.
"It's not hard to go from Baylor to Dallas," Morgan said. "Basically it's in the terminal stage. They're doing chemo now as the last resort, or else there is nothing else they can do."
Morgan said he is pointing to the Dec. 18 game in Dallas at American Airlines Center against Gonzaga as a game he hopes his grandmother can see.
"That's the plan," Morgan said. "She wants to be healthy enough to see this."
Morgan said he would have transferred Baylor even if he hadn't been allowed to play right away. He said he knew in the spring quarter that he wanted to leave and transfer closer to home.
"Playing this year wasn't a factor; it was for her," Morgan said. "My case is real. This should be a rule, but I know some people have tried to misuse it. The NCAA has to use the best judgment of what's real and what's not."
According to one source, the NCAA has reduced the reasons that grant the waiver because of a relative's health.
Now that Morgan will play this season at Baylor, he immediately gives the Bears one more big body up front. Morgan has battled injuries from a meniscus tear and a quad strain that limited his play at UCLA. He saw limited time for the Bruins last season with 8.7 minutes a game, averaging 1.9 points and 1.3 rebounds. The 6-foot-10 center could be the primary backup to highly touted freshman Perry Jones.
"I think I can help our team defensively and rebounding-wise," Morgan said. "I want to help in the zone. I can be a big body who block shots. Perry is incredible. He's incredible to watch. He does something new every day. It's a joy to play with him."
• Colorado coach Tad Boyle has been questioned a lot lately as to when the Buffaloes will leave the Big 12. The Buffs were originally projected to leave after this season but are struggling on a buyout figure. The Big 12 and the Pac-10 already are making plans to possibly be 11-team leagues in 2011-12 before CU leaves to make the Pac-10 the Pac-12 and the Big 12 becomes a more cohesive 10-team league with a true round-robin, 18-game schedule.
Big 12 officials say that if the league has 11 teams for 2011-12, it will go with an 18-game schedule with the scheduling format still to be determined. The Pac-10 could do something similar. "There are a lot of questions out there, and I don't have the answer," Boyle said while recruiting on the road. "We're telling kids they'll either be in the Big 12 for one year and the Pac-10 for three or the Pac-10 for all four years. Whatever is happening, it's happening above me. But we'll be in a great league either way."
• Big East coaches have received their conference schedules and are going over them, with the full schedules expected to be released to the public soon. The conference office took longer than usual thanks to the late arrival of the NBA schedule this year. The Big East has to wait on the NBA, NHL and AHL scheduling more so than any other conference because half the arenas share tenants.
• Fresno State president John Welty shouldn't be surprised to see his university is getting sued again -- this time by the WAC for deciding to leave for the Mountain West with Nevada before 2012 despite missing a deadline of July 1 to do so. WAC commissioner Karl Benson said the $5 million buyout that Fresno and Nevada owe is a separate matter, expecting the payment within 60 days starting in late August.
Under Welty's watch, three former female athletic employees have been awarded money in sexual discrimination lawsuits against the university: Former volleyball coach Lindy Vivas was awarded $5.85 million, former associate athletic director Diane Milutinovich was awarded $3.5 million and former women's basketball coach Stacy Johnson-Klein was awarded $6.6 million. According to a number of sources, Welty initiated the motion for the other WAC presidents to sign a binding agreement to stay together, only to renege on that deal a few days later. Coaches lose their jobs all the time for far less. A cash-strapped California state university system can't afford yet another lawsuit, can it?