Many to blame for Sean Kowal predicament
September, 15, 2010
09/15/10
11:20
AM ET
When Northern Illinois decided to give
Sean Kowal
his release this summer to transfer to another university in pursuit of a graduate degree, Kowal said at the time that his plan was to find a Jesuit-based school and get a master's in theology.
NIU's leading rebounder (6.4) and third-leading scorer (10.5) last season, Kowal said he wanted to earn that master's so ultimately he could go back and coach at his high school alma mater, De Smet Jesuit High in St. Louis.
[+] Enlarge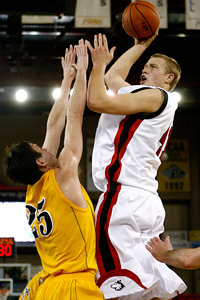 AP Photo/Al GrilloSean Kowal won't be playing basketball anywhere this season.
Ultimately, that might be his career choice. But the plan to play this season at a school such as Saint Louis, Marquette, Xavier or Creighton -- his preferred destinations when he finally was more forthright with NIU about his intentions and his choices -- is over.
The reason Kowal is sitting at home in St. Louis, working out instead of attending classes at a school such as SLU, is because the NCAA is investigating whether he or a school initiated his departure from Northern Illinois before his announced intentions to leave.
A distraught Kowal said he met with NCAA associate director of enforcement Dan Matheson on SLU's campus for 90 minutes late last month and answered questions about his intentions. Kowal said he followed that up in the first week of September with e-mail correspondence with the NCAA seeking answers as to why there was an investigation, who was making the charge of tampering and why there hasn't been closure on the matter.
Kowal said the NCAA made it clear in its response to Kowal that interviewing him was part of an information-gathering process and didn't prohibit him from enrolling at an NCAA school. But Kowal said he believes the shadow of an NCAA investigation made him too toxic for a school to take a chance on a player for one season.
The NCAA, as per its normal response, declined to comment on the investigation. Matheson referred all questions to an NCAA spokesperson and declined to say whether he was in St. Louis for the interview with Kowal.
Northern Illinois coach Ricardo Patton, who coached the 6-11 big man at Colorado and then at Northern Illinois, was miffed initially by Kowal's decision to leave when contacted earlier this summer. Kowal said he later admitted that he wasn't as forthright about his intentions. Patton didn't want to discuss Kowal when reached earlier this summer, but those close to the coach said he had a suspicion that someone was tampering with Kowal.
Saint Louis did have a scholarship for the hometown kid and, according to sources, was considering him after talking to Kowal and his father late last month. But those close to the Billikens said there was no contact with Kowal before he got his release.
"As soon as I talked to SLU, I got a call from the NCAA saying I was under investigation because someone had been tampering with me," Kowal said. "I had a very detailed meeting. I told them everything."
There was even a request for Kowal's phone records. And as the days quickly went by, Kowal said he implored the NCAA to stop so he could attend a school before the semester started. Classes at Saint Louis started Aug. 23, and Kowal's correspondence with the NCAA after that date and into September made it even more difficult for SLU to consider taking Kowal.
"I felt that no school would want more problems," Kowal said. "No one wants to take a problem. The NCAA shined a light on me. They projected me in that image to any of the schools considering me. The investigation is currently still going on. But they've made me forfeit my last year of eligibility that I could receive financial aid."
While the NCAA was pursuing Kowal, Patton's former manager at Colorado, Marc Ost, who works for Cornerstone Management in Philadelphia and knew Kowal, set up a deal for him to play professionally in Holland. Kowal initially agreed, but then upon further review declined, putting Ost in an awkward position. Kowal said he just wasn't ready to play overseas.
"It wasn't the deal for me," Kowal said.
Kowal had a chance to do what has been done by a number of players recently in men's basketball and football -- play immediately without sitting out because he had graduated at one school and was looking to pursue a graduate degree at another.
The delay in getting his release, which is based on Kowal not being up-front initially with his intentions and then Northern Illinois taking its time, can be blamed on the school and the player. The NCAA inquiry, though, took this matter to another level and made a player unworthy of an accompanying headache.
So Kowal is done in college basketball after four years, playing one at Colorado, sitting out one year and playing two at Northern Illinois. He has his degree and can still pursue that master's in theology if he wants, but he'll have to pay just like most traditional students.
"It's not right what the NCAA did," Kowal said. "It may not be the end of it with them and me. What they did was wrong, and whoever accused me of these false allegations, whoever did that, should feel terrible about themselves. It's a mess.
"I don't know what's next. I went back to my old high school and saw a professor of mine. I want to teach religion and coach basketball at my old high school. I want to be a basketball coach, but not at the college level. There are too many politics. That has been reinforced to me over these last few months. The NCAA will say they didn't stop me from enrolling, but no institution will take a chance on me. They don't want to do that. It's a real shame the way the NCAA handled this matter."