Peterson finds himself at yet another job
September, 16, 2010
09/16/10
1:39
PM ET
Rob Peterson, just 12 years old, looked up at his father after the last game of Appalachian State's season and laid it out for him.
"He said, 'This is hard, we've got to live together,"' Buzz Peterson said of his son's rather direct, mature response after the season-ending loss to Pacific in the CIT. "That's when it hit home."
Last season, Peterson had taken over Appalachian State for the second time as a head coach. The one season in Boone, N.C., was extremely draining. His family stayed in Charlotte, where Peterson had moved everyone in 2007 after he left the head-coach job at Coastal Carolina to join the front office of the Charlotte Bobcats, where his good friend and former North Carolina teammate, Michael Jordan, was a fixture.
The one year in Boone may have been a success on the court with 24 wins (13-5 in the Southern Conference), but it was hardly peaceful for Peterson. He would go 10 days to two weeks without seeing his wife and three children. Sometimes, based on the weather, the family couldn't make the drive from Charlotte to Boone -- and buying a new house while the Charlotte home remained unsold wasn't an option.
[+] Enlarge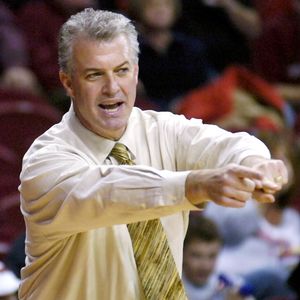 AP Photo/April L. BrownPeterson is in his fourth job in the last five seasons.
"I was hoping within a year that we would sell, but we couldn't," Peterson said. "It was really tough."
The UNC Wilmington job had been open for quite some time after the Seahawks fired Benny Moss in January after a 39-point loss to Hofstra. Moss had been 41-74 in his three-plus seasons at the school, the worst run of any coach in UNCW history. Peterson was in the midst of his Appalachian State season and at one point recommended his former assistant Ed Conroy, then at The Citadel, for the job (Conroy later took the Tulane gig).
As the season ended and it became even more apparent that Wilmington was interested in Peterson, he said he had to reprioritize. He called Jordan and told him he was going to accept the job and move back to MJ's hometown.
"He said, 'You're doing what?' We laughed because we used to come here in the '80s during school," Peterson said. "It's just weird how it turned out."
Looking at Peterson's track record of moving around makes it easy to question whether this is simply his latest stop. He could be construed as a carpetbagger, trekking from one show to another, looking for the best deal. But it's hard to question the moves, even if they have been numerous -- six head-coaching jobs (twice in the same place) and one NBA front-office position.
Peterson was an assistant at four stops -- Appalachian State, East Tennessee State, NC State and Vanderbilt, which is hardly abnormal. Taking his first head-coaching job at Appalachian State while an assistant at Vandy made sense. Four seasons later, getting the chance to take over a Tulsa program that had been a feeder system for high-major jobs was a no-brainer. He led the Golden Hurricane to the NIT title in 2001.
Going to Tennessee, an SEC job with a major jump in pay, was also a can't-miss. Getting fired by UT meant he had to find work, which he did immediately at Coastal Carolina. Two seasons later, he was receiving a call from Jordan to become the player personnel director in the NBA. How does one turn that down? There was a chance he was going to get a seat on Larry Brown's Bobcats bench a year ago, but a spot didn't open up. With a desire to coach again, he took another chance on Appalachian State.
Family pressures, a better league (the Colonial Athletic Association) and a locale change from inland to the beach made the move to Wilmington even more palatable.
Now, does he stay? He's just 47 years old, so there's no reason to believe this is a retirement job. But Peterson at least made a financial commitment, saying he signed a $500,000 buyout agreement that would be on him, not another school, if he broke the five-year contract. Granted, the buyout goes down $100,000 each year he stays, but it was still a statement to make that kind of financial commitment in this economic environment.
"My daughter just started ninth grade. I'm not looking to move. I want to build, stay here and create a winning product," Peterson said.
His attachment to Jordan has already paid dividends, with a commitment from the Bobcats to move training camp to Wilmington on Sept. 29, with a game at the end of the camp providing a treat for the local community.
But it may take Peterson a full five years to get this program to a highly competitive stage within the CAA. There was a time when this was one of the better spots in the league, with Jerry Wainwright going to the postseason four times in a five-year period (two NCAAs and two NITs) and Brad Brownell going to two NCAAs in a four-year period before he left for Wright State.
"It's at a low point now," Peterson said. "We've got to start this whole thing all over again. I've only got seven scholarships. We're going to have to add seven new players. I'm not sure we can do that in this class, but we're going to try."
Peterson said academics took a hit during the time Moss got fired and he got hired. He also was blindsided by the transfer of John Fields, the 6-foot-9 center who averaged nearly a double-double with 10 points and 8.7 rebounds a game. Fields graduated and Peterson said there were discussions about him pursuing a master's degree at UNCW. Instead, he ended up at Tennessee.
Fields took visits to Xavier, Rutgers and Miami as well before choosing the Vols. His plan was to get a waiver to play immediately since he is choosing a master's major that exists at UT, but not at UNCW. Fields is waiting for the waiver.
"He told us in April that he was staying and we were counting on him and then in late June he was gone," Peterson said. "We lost two other players to bad grades. What we have to do now is sign five or six this year and we'll have one of the younger teams next year. But we can do that and get this program in the direction it was in eight to 10 years ago."
Peterson is by all accounts a nice guy and says all the right things. He has had only two losing seasons -- both at Tennessee -- during his 12-year head-coaching career. The knock on Buzz has been concern about his commitment to stay in one place.
But for now, he is making it seem that he intends to stick with Wilmington. If he does, he may have finally found the place where he can truly find balance and flourish.