Dave Rose offers bit of coaching fresh air
September, 21, 2010
09/21/10
1:08
PM ET
BYU coach Dave Rose heads to Congress next week to advocate for more cancer research on behalf of the American Cancer Society.
At a time when the perception of college basketball coaches continues to take a hit, this is a needed respite. Amid allegations and admission that Tennessee coach Bruce Pearl lied to NCAA investigators -- along with scandals brewing across the country -- Rose's visit to Washington, D.C., is a breath of fresh air.
Rose is a cancer survivor who was stricken with a rare but treatable form of a pancreatic tumor in June 2009. He nearly died in a Las Vegas hospital, had surgery and then spent the summer recuperating. He was given a clear cancer screening last September and was able to coach the season. After the Cougars reached the NCAA tournament, beat Florida in the first round and then lost to Kansas State in the second, Rose had another scan that cleared him again.
In D.C., Rose will be joined by coaches Bruce Weber (Illinois), Steve Donahue (Boston College) and Seth Greenberg (Virginia Tech). But no one will or should command the attention of the politicians more than Rose.
[+] Enlarge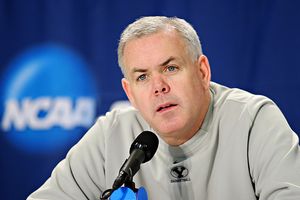 Nelson Chenault/US PresswireDave Rose has compiled a 127-40 record in five seasons at Brigham Young.
Look, there's no reason to be na´ve and think that Rose recruits at the same level or in the same sphere at times as power-six programs. He doesn't. Recruiting at BYU is unique. There are essentially seven-year plans that an LDS player can be put on if he chooses since he can go on a two-year Mormon mission and redshirt. Not all BYU players are LDS, but the majority are.
Rose played on the 1983 national runner-up team at Houston, so he clearly played at a high level and knows the good and bad that comes with that. He was coach at Dixie Junior College in Utah, where he housed UNLV's Keon Clark and had everything documented so when NCAA investigators looked into Bill Bayno's Rebels, he pulled out a file with Clark's name on it and showed them.
"There has always been an image issue [with coaches]," said Rose, who was in Connecticut on Monday as various members of the BYU athletic administration met with ESPN officials. "There is a challenge every day. We have to make sure we're the role models that people want us to be. When things go bad, we have to make sure we work hard to fix them."
Rose said the personal integrity of coaches has taken a hit, which means even more scrutiny.
"I know what my expectations are here," Rose said of working at BYU. "We do things the right way and I encourage my staff to as well. If it's something that's hard to explain, then don't do it. It is something that comes to the front every day in this business. There are so many guidelines for us to follow."
BYU has made it easier to follow the rules. When the NCAA allowed AAU or summer-league coaches to work camps at inflated prices, Rose said the Cougars weren't and couldn't play that game since all of the checks for these coaches came from the church-owned university. Everyone had to pay the same price and there was no way to justify paying one coach an inflated number.
There are plenty of restrictions at BYU, but the nature of the university has allowed a coach to stay above the fray. Now Rose is hoping more notice.
He is banking on the move to the WCC in 2012 and the ESPN television package that comes with it giving more exposure to the Cougars. Not playing New Mexico, UNLV and San Diego State will be a hit, but playing Gonzaga twice a season will help make up for it.
While BYU has traditionally been a sellout for teams like UNM, UNLV and SDSU, the Cougars will likely enjoy that similar treatment in the WCC. A key difference between the Cougs and the Zags may be who is in the stands and their rooting interest. Gonzaga has become a sellout on the road in the WCC because the Zags are the top team in the league. The fans at San Francisco, Santa Clara and San Diego come out to root against Gonzaga. That certainly could be the case for the Cougars, but with a large alumni base in California, the Cougars could end up making those venues like home games at the Marriott Center.
Rose said as soon as the school announced it was leaving the Mountain West for the WCC, he made a point of calling recruits. And to his surprise, players were more familiar with the WCC and Gonzaga than he thought.
"This will take us from regional exposure to more national exposure when we recruit kids in the East Coast and in the South," Rose said. "Gonzaga's national presence in the last 10 years in college basketball brings credibility and a challenge. We'll get in there and try to knock Gonzaga off that perch."