Coaches using Twitter as a recruiting tool
September, 23, 2010
09/23/10
2:47
PM ET
When was the last time a head coach actually got a recruit based on a phone conversation?
"Kids say coaches say the same thing and a lot of coaches say kids say the same things," Xavier coach Chris Mack said. "You get a recruit on campus and they see who you are, who your staff is and what your program is about. I'm not sure how a couple of extra phone calls are going to seal the deal in my opinion. With all the restrictions on phone calls, there's only so much you can do."
And that's why when more revelations come out about how many impermissible phone calls are being made by coaches, it makes you wonder -- why? Isn't there another way for a player to get to know who a coach is and what he's about?
Really, how much can a coach, who could be some 20 to 30 to 40 years older than the player he's recruiting, really discuss over the phone with a 16- or 17-year-old kid?
With so many NCAA restrictions on these conversations and the elimination of texting, some coaches are finding a new medium to show their personalities. Mack and Arizona State's Herb Sendek have become two of the best at expressing themselves on Twitter.
Coaches can't direct messages at a recruit, but they know very well that recruits who are following them can view the tweets.
And believe it or not, a coach's personality can come through in 140 or fewer characters.
Want an example? On Thursday afternoon, CoachChrisMack tweeted the following:
"Cool Coach Mack always pulling up to open gyms in his 4 Runner. Nevermind the 2 car seats in the back, along w the sippy cups and crumbs."
[+] Enlarge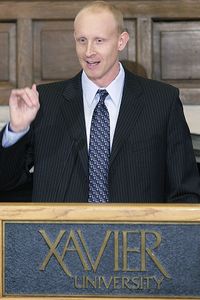 AP Photo/Al BehrmanXavier's Chris Mack is one of the more prolific users of Twitter among college coaches.
Mack also has no hesitation in airing his random thoughts on just about any topic.
"Never understood the idea of bathroom attendants at fancy restaurants. Seems strange …"
"Why does the automated lady on cell phone voice mail greetings tell you that you can hang up when you're finished? Do people not know that??"
There is a Larry David element to Mack's tweets that may fly with some recruits and may not with others, but certainly there's a chance that parents or guardians could relate.
"You can see who has an assistant tweeting for them and who doesn't," Mack said. "There are no secrets anymore. You go into a workout in the gym and that kid is going to tweet about you as soon as you walk out. You better not go back the next day because that will be tweeted too.
"Twitter can be dangerous. But I like to use it in a lighthearted way, showing the strengths of our program and express who I am and what I'm about. I don't want to be a bulletin board for Xavier basketball on every tweet. I'm more than that and I want the kids I'm recruiting to know that I'm a dad, a husband and a real person and that if you send your kid here, it will be a great experience."
Coaches like Kentucky's John Calipari and Indiana's Tom Crean were two of the very first to latch on to Twitter and they've both used the medium to show their interests and views on a variety of topics. Recently, Crean even expressed his displeasure over the NFL's fining of his brother-in-law, head coach John Harbaugh of the Baltimore Ravens. Tweets written by UKCoachCalipari are read by more than 1.1 million "followers" and are tracked breathlessly in Bluegrass Country.
As for Sendek, he has a dry wit and more of a low-key personality. He was dwarfed in the Triangle by Duke and North Carolina when he was at NC State, so trying to stand out in that area was almost impossible. Now he's at Arizona State, where getting support for the Sun Devils' basketball program in a pro sports town is even tougher.
So Sendek was pushed by ASU sports information director Doug Tammaro to get his quick wit onto the web. That has led to HerbSendek sending out thoughts like: "Do u stick ur big toe in the water to check the temperature or just do the cannonball and jump right in?" or "At Olive Garden, Love their salad!" or "My daughter, Catherine, just cut my hair. Looking real good. Watch out, Brad Pitt."
Are those the kind of thoughts that will directly influence a recruit? Of course not. But what about tweets like this: "Dad was math teacher and coach. Mom was a nurse. Dad always let me tag along. Mom stopped working to raise kids. Blessed w/great childhood."
Or these: "Growing up, on Sundays we would listen to polka music on the radio. To help stay connected, I have some polkas on my ipod." … "Both my grandfathers were coal miners. A hard life. Calls to mind Chinese proverb … When u drink the water, remember who dug the well."
In a few quick tweets, you might have learned more about Sendek's personality and background than you would have in a few contrived phone conversations.
Make no mistake: This is a recruiting tool.
Such as when Sendek tweets: "I just found out that James Harden, jHARD13, has over 30,000 follows on Twitter. Is it the beard?" or "I have been working on special situations for the upcoming season. Love to study the game. Always more to learn."
"I'm just trying to drive traffic for Sun Devil basketball," Sendek said. "I'm trying to generate interest in the program. It is a noninvasive way for recruits to plug in, too."
Sendek said he thinks his personality does come across on the phone, but that expressing himself on Twitter has allowed recruits and their family members to see even more of who he is.
"There are so many ways now to get to know the whole person better," Sendek said. "It's an opportunity to learn more about the person and the family to share your vision of the program. There are only so many times you can talk to someone on the phone. I think if we were to call every day that would run the risk of turning someone off anyway."
And that's why for Mack, Sendek and others, using Twitter in a lighthearted, personal way works for them and ultimately has allowed those following them -- whether they're fans or recruits -- to get to know the coaches even better in a less intrusive, NCAA-permitted way.