UGA and NC State set for breakout seasons
September, 24, 2010
09/24/10
1:21
PM ET
If you're looking to predict which programs-in-a-rut are primed for a long-awaited breakout season, look no further than North Carolina State and Georgia.
Both have an infusion of talent. Both finished well enough last season to create a positive vibe going into the offseason. And both have a preseason buzz that has created even more bounce around the programs.
Whether that translates into a run through what will be a difficult nonconference slate has yet to be determined. What can't be disputed is that there is an attitude adjustment at these upstart programs.
Both head coaches -- Sidney Lowe at NC State and Mark Fox at Georgia -- say it's palpable.
"It's been a great atmosphere," Lowe said. "Everyone is having more fun right now. The talent is definitely there and the atmosphere is good and the other guys are excited to be having more guys come in. I would say there is a great buzz, and you can feel it from when they stretch to how they talk to each other every day."
The buzz in Raleigh is attributable to the arrival of Lowe's most heralded class in guards Ryan Harrow and Lorenzo Brown and forward C.J. Leslie, who went to nearby Word of God Christian Academy. They join a unit that will be led by senior forward Tracy Smith and sharpshooting sophomore forward Scott Wood. Those two were part of a Wolfpack team that posted the same number of conference (5) and overall wins (20) as North Carolina last season.
Georgia, which knocked off NCAA-bound teams Georgia Tech, Vanderbilt, Tennessee and Florida last season (along with bubble team Illinois), brings back two of the most talented players at their respective positions in the SEC in forward Trey Thompkins and guard Travis Leslie. The Bulldogs also are debuting highly productive transfer guard Gerald Robinson (Tennessee State) and forward Marcus Thornton, a one-time Clemson signee.
"The mentality is different here," said Fox, entering his second season after moving to the South from Nevada. "They are now functioning like successful people. We don't have to baby-sit academics or behavior. We can focus on the basketball, and we've got more pieces to the puzzle. We're older, and we can start upperclassmen."
[+] Enlarge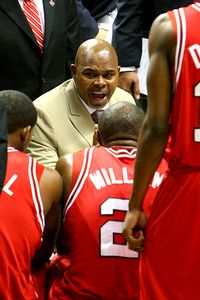 Ron Metz/Icon SMIThe pressure is on Sidney Lowe to translate NC State's talent into an NCAA tournament bid.
Lowe is entering his fifth season in Raleigh. And even though the Wolfpack are younger at key spots, this is easily his best chance to make the NCAA tournament for the first time. The timing is right with the ACC -- save Duke -- facing plenty of questions. Moving up from the bottom toward the top has never been more attainable in this league.
A new athletic director, former Maryland AD Debbie Yow, is in place after the departure of Lee Fowler, the man who hired Lowe. The coach has favored-son status because he played for the Pack and, like associate head coach Monte Towe, won a national championship at the school. But getting to the NCAAs in Year 5 probably would be a good idea if he wants to stave off further scrutiny, especially considering that Herb Sendek took NC State to five straight Big Dances before leaving for Arizona State.
Lowe said Friday that the team's freshmen are starting to understand how hard they have to work but that they are still trying to pick up the speed and strength of the college game. It will come at them fast in the nonconference run with a challenging schedule that includes a trip to the Charleston Classic (and a possible title game against Georgetown), back-to-back road games against Wisconsin (Dec. 1) and Syracuse (Dec. 4), and a home game versus Arizona (Dec. 19). Within the ACC, the Pack will have to play Duke and North Carolina twice each.
"The buzz is real around town," Lowe said. "But we have to get ready to play. It's good to have this, though, rather than the other way."
Fox is just in Year 2 as he tries to survive the brutal SEC East, where five of the six teams have realistic shots at the NCAA tournament (Florida, Kentucky, Vanderbilt, Tennessee and UGA).
Thompkins (17.7 ppg) and Leslie (14.8 ppg) are projected by many as potential NBA first-round picks, but if the Bulldogs are to elevate themselves in the SEC and nationally, the newcomers will be key. Fox said that Thornton should be able to excel in the SEC and that Robinson's speed and quickness will be an asset the Dawgs haven't had.
"There's no way he doesn't start," Fox said of the TSU transfer. And if preseason workouts are any indication, forward Jeremy Price will have an impact, as well, after averaging seven points a game last season.
"I'm cautiously optimistic," Fox said. "We expect to be successful, and we're confident. We're going to have a good team. We won some games last year, so we experienced success. But we have to do that consistently."
As with NC State, we'll know early whether Georgia is a serious contender. Home games against UAB and improved Colorado, road games at rival Georgia Tech and fellow upstart Saint Louis, and a tough field at the Old Spice Classic (opening with Notre Dame) certainly will test this team before SEC play begins. Hosting Xavier in the middle of the league schedule (Feb. 8) is another challenge that could come in handy for power-rating purposes.
"The strength of schedule is there; we just need to win some of those games," Fox said. "I knew when I got this job that the division we're in would make rebuilding harder. But I also knew once we rebuilt it, that it could work to our advantage."