Hogs appear to be back on the upswing
October, 1, 2010
10/01/10
4:38
PM ET
Arkansas' current
top-five recruiting ranking
for the Class of 2011 doesn't mean anything for this season. No number of wins will be attributable to how well the Razorbacks recruited in this particular cycle.
And it won't wipe away the mediocrity that has befallen the Razorbacks for the past decade or first three seasons under John Pelphrey.
For a number of reasons -- whether a roster that was constantly in flux or some poor personnel decisions and actions by a number of players (including star point guard Courtney Fortson, who ultimately left after two erratic seasons in Fayetteville) -- Arkansas hasn't been able to reach sustainable growth under Pelphrey.
But there is reason to believe that might be about to change.
The Hogs have already gathered commitments from four players in the ESPNU 100, led by Missouri wing B.J. Young. The other three -- guard Ky Madden, forward Aaron Ross and center Hunter Mickelson -- are all elite, in-state players.
With six weeks left before the start of the November signing period, Arkansas is alongside basketball royalty, sitting at fourth behind Kentucky, Duke and North Carolina and ahead of Syracuse, Arizona and Louisville.
"I'm not sure what it all means, but it's something that's a tribute to how hard our assistant coaches are working and our players," Pelphrey said. "Like preseason rankings and awards, it's great for our fans and for people to talk about. But we don't pay too much attention to it because it has very little to do with winning and losing. But I guess I'd rather have our name in there than not."
ESPN National Director of Recruiting Paul Biancardi, the former Wright State head coach and Ohio State and Boston College assistant, said the ESPN.com rankings are still fluid but "nevertheless this should be a top-10 class." Biancardi said that the state of Arkansas hasn't had this much talent in one class in a long time and the Hogs staff made the Arkansas Wings AAU team a priority. They also didn't get discouraged when things turned sour on and off the court.
"John Pelphrey and his staff have been working at it since they got to Arkansas," Biancardi said. "Pelphrey even went to Germany attending USA basketball games to follow [Memphis native and top-10 recruit) Adonis Thomas. It's impressive that they landed B.J. Young from St. Louis since his mom is from Arkansas and he still has family there. If he makes it academically and this group grows together, they could accomplish the kind of success that Arkansas fans are looking for."
[+] Enlarge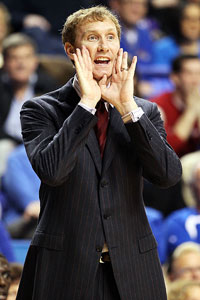 Andy Lyons/Getty ImagesJohn Pelphrey's SEC record in three seasons is 18-30.
At the beginning of last season, Arkansas had five players under suspension, including Fortson, who didn't return until January. Two seasons ago, the Razorbacks beat nationally ranked Texas and Oklahoma in nonconference play before going 2-14 in the SEC. They were better last season in the league, but are still 9-23 in the SEC over the last two seasons.
Pelphrey discussed the attrition the program has had to deal with, losing Patrick Beverly and Marcus Monk among others and trying to deal what was until now a down cycle of local talent.
"We knew it was going to be a challenge to replace those guys, and it certainly didn't go perfectly," Pelphrey said. "We spent an enormous amount of time [in local recruiting]. We've been able to lay a foundation over the last year-and-a-half, even though we didn't get the results we've wanted. I do believe we've got a core group of guys that are hard-nosed and tough."
Part of the reason for optimism is the Hogs play in the SEC West, which isn't nearly as competitive as the SEC East, which could churn out as many as five NCAA tournament teams this season.
There is some talent in place, too. Arkansas returns sharpshooter Rotnei Clarke and power forward Marshawn Powell, who is out right now with a broken left foot suffered in August, but should be ready to go by Oct. 15. They welcome three newcomers -- guards Rickey Scott and Mardracus Wade and forward Marvell Waithe -- that Pelphrey says are a continuation of this new "culture" in Fayetteville.
"The young men we have joining us will have a huge impact," Pelphrey said. "We've got a solid foundation of juniors that will help us pave the way to hopefully get back to where we were in the past. We've got good guard depth, more than we've had in some time. We've yet to have a bad day here. Everyone is showing up with a great attitude and excited to be coached."
Pelphrey said the atmosphere within the football program has helped create a winning environment. Pelphrey, who was an assistant at Florida and knows about big-time football at the Swamp, saw firsthand the passionate fan base for the Alabama-Arkansas top-10 showdown last Saturday. The basketball program had four recruits in for the football weekend.
The expectation that is now focused on football -- even with the loss to the Tide -- will eventually fall onto the basketball team. The Hogs are a national championship program, winning a title in 1994 under Nolan Richardson. Having a memorable player from that team, Scotty Thurman, on the staff now as a director of student-athlete development surely reminds the loyalists of those 1990s glory years. Pelphrey's staff, which has a Florida-lean with former Gator assistant Tom Ostrom and former Gator guard Brett Nelson, along with respected assistant Rob Evans, a former head coach at Arizona State and Ole Miss, lends even more credibility to this program's upswing.
The key for this season is for it not to bridge last season's mediocrity and next season's expected success, but to instead create real momentum for 2011-12.
"I know recruiting takes on a life of its own and it's exciting for everyone," Pelphrey said. "That's not a bad thing. We've got a wonderful tradition here, a passionate fan base and we've got a mascot -- there are a lot of Tigers, Lions and Bears but there is only one Razorback. We're all very proud of that. We're working hard, but there is an element of luck. I like the expectations, and growing up where I did [in Kentucky] and playing where I played [at UK], I understand that."