WVU doesn't plan to take a step back
October, 4, 2010
10/04/10
10:42
AM ET
Laughing, coughing, sneezing and any other sudden movement -- these things no longer make Bob Huggins wince.
About two and a half months since breaking seven ribs in a Las Vegas hotel room, he is close to being back to normal.
And with the start of practice less than two weeks away for one of last season's surprise Final Four teams, Huggins has West Virginia primed for another contending season in the Big East.
The surreal events of July forced Huggins to spend a painful August recuperating in Florida and in Morgantown before feeling comfortable enough to go on the road in September, where he just completed a recruiting sojourn that included 14 out of 16 days on the road.
"I grimace a bit," Huggins said. "But I do feel great. Some days I do too much, like when I was lifting the boat on the trailer [in Florida]. I was sore the next day."
Huggins remembers exactly what led up to the fall. He said he was on the phone trying to change a flight with his travel assistant back in West Virginia. He said he was on beta-blocker medicine, which has been the norm since he had a heart attack in 2002.
"I was on three beta-blockers, and when you stand up too fast, you can get dizzy, and I just blacked out," the 57-year-old said. "The next thing, I'm on the floor. I crawled across the floor to the bed."
He called his brother, Larry, who was in Las Vegas and immediately came and took him to the hospital.
"It hurt," Huggs said. "It's the most pain I've ever been in."
Huggins stayed in a Las Vegas hospital for a week, in large part because doctors wanted to make sure one of the broken ribs wasn't endangering his lung.
Once he was released, Huggins called on West Virginia boosters to help him return via plane. He said he was flown directly to his house in Florida, where he spent two weeks before another booster plane flew him to Morgantown.
[+] Enlarge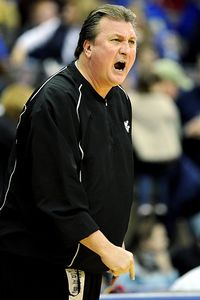 Rich Kane/Icon SMIBob Huggins is recovered and ready to begin his fourth season at his alma mater.
A year ago, Huggins had a nasty black eye after hitting the edge of a bathroom door late at night. But that paled in comparison to recovering from seven broken ribs.
"There's still tenderness," Huggins said. "It doesn't hurt like it did before. I couldn't take a punch right now. But I'm all right. It used to hurt sneezing, laughing, anything like that."
Huggins said his medication has been changed since the incident, but there are no restrictions on him other than his pain tolerance. He had his share of laughs during a roast last month that Huggins said raised $100,000 for his late mother's Norma Mae Huggins Cancer Research Endowment, which was then matched for a total donation of $200,000.
Plenty of his coaching friends and former assistants, including Andy Kennedy (Ole Miss), Frank Martin (Kansas State) and Ron Everhart (Duquesne) -- who broke his toe making his way up to the podium while trying to reenact the Huggins fall -- were in attendance, as well as on-court rivals such as Kentucky's John Calipari.
The coaches threw some verbal jabs at Huggins, but everyone knows he can dish out the jokes as much as he can take the ribbing.
What Huggins would like to do more than anything, of course, is have the last laugh in leading the Mountaineers back to the Final Four in a season in which most don't expect that to happen.
To do that, he'll need a healthy Joe Mazzulla, who appears to have put his shoulder issues in the past -- although he continues to put himself in trouble, getting charged with disorderly conduct after alleged public urination this summer (after two other alcohol-related incidents in his past, one of which caused him to be suspended for the 2009 offseason).
Mazzulla, who is a senior, should share the backcourt with a healthy Darryl "Truck" Bryant, who missed the Sweet 16, Elite Eight and national semifinals with a broken foot.
Toss in a budding star in forward Kevin Jones, who should take up the scoring slack left by the graduation of Da'Sean Butler, an emerging scorer in Dalton Pepper (who was cited with Mazzulla in the incident this summer), a shooter in Casey Mitchell and a consistent forward in John Flowers, and Huggins suddenly has a solid crew that should be in step with Georgetown among a Big East second tier behind favorites Pitt, Villanova and Syracuse.
The Mountaineers' moving ahead of those three likely will depend on whether someone can defend (especially on the perimeter) like former wing Devin Ebanks and whether Deniz Kilicli, who sat out the first 20 games with an amateurism penalty, or Dan Jennings, who saw limited minutes last season, can emerge as a legit post option at center.
Huggins said the Mountaineers will contend "if those two young big guys -- Jennings and Kilicli -- are pretty good."
"We've got a lot of experience," he added. "We're going to be fine."
The Mountaineers will be tested early in the Puerto Rico Tip-Off, with a first-round game against Davidson on Nov. 18, followed by a likely second-round game against Vanderbilt. Minnesota or North Carolina probably will be the third opponent.
Playing at Miami (Fla.) on Dec. 4 is a sneaky game, and the toughest nonconference opponent of all will be tucked inside the Big East schedule, when national title contender Purdue comes to WVU Coliseum on Jan. 16. On New Year's Day last season, the host Boilermakers coasted past the Mountaineers with a 77-62 win.