Dores realize they need to win in March
October, 6, 2010
10/06/10
11:03
PM ET
Kevin Stallings isn't a self-promoter, nor is his program sexy enough to be a headline-grabber.
But over the last five seasons, Vanderbilt, along with Tennessee, has been one of the two most consistent programs in the SEC.
The Commodores are often the forgotten ones amid a stacked six-team division that constantly gets attention. Yet Vandy has become a regular in the NCAA tournament discussion.
Expect the same this season.
Kentucky is, well, Kentucky. John Calipari is a lightning rod for attention and the talent pool is always headlined by high-profile freshmen. Florida has back-to-back national titles in its recent past and is the league favorite with all five starters back. Tennessee has coach Bruce Pearl, someone who has never shied from the spotlight and is now at the center of an NCAA investigation. Georgia is the new hot team because of the talents of Trey Thompkins and Travis Leslie. South Carolina, while likely to be picked sixth in the SEC East this season, just came off a two-year run with the must-see Devan Downey running the show and drawing plenty of eyes to Columbia.
And then there's Vandy. The Commodores play at what has been one of the hardest-to-win-at home courts in the SEC, in large part because of the passion of the fans and the odd setup that puts the teams on the end lines instead of the sideline.
[+] Enlarge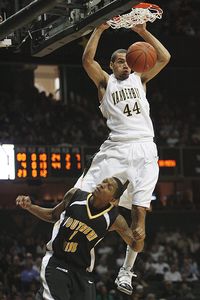 Charles Small/US PresswireJeffery Taylor and Vandy look to translate regular-season success to the postseason.
Last season, Vanderbilt finished with the second-best SEC record (12-4), but the problem for the Commodores is not how they've fared in the SEC, but rather the NCAA tournament. Vandy lost at the buzzer to Murray State in the first round last season. Two seasons ago, after a one-year hiatus from the NCAAs, the Commodores lost by 19 to Siena in the first round. In both instances, they were a 4-seed going against a 13.
The last time the Dores advanced in the NCAAs was 2007, when they lost to Georgetown by one point in the Sweet 16.
"People remember how you finish," Stallings said. "We know that. That's what we have to do better. We've been consistent and that's one of the things I said when I took the job 11 years ago. I want us to be a consistent program and consistently in the NCAA tournament. We've gotten to that point and I expect us to be good again this year. As usual, I think we'll be better than people project us to be. But I never worry about it. It's almost entertaining to me."
Stallings understands the stigma with the Commodores is that they can get into the NCAAs but "can't win," whether that's fair or not. He's well aware of the short attention span of the fan. So when he acknowledges that the Dores need to fix that perception this season, he's not saying it in jest.
"Of course it bothers you because we've had success," Stallings said. "We played poorly in the Siena game. In the Murray State game we didn't play a bad game. It was low scoring and they made one more play than we did. Our defender loses his balance and they hit a nice 16-foot shot. We've had success in the tournament and then all of a sudden we can't win in the tournament if we get there?"
To be fair to the Commodores, a strong argument could be made to put them higher than fifth in the SEC East predictions. Florida does return all five starters and adds incoming freshman Patric Young, but the same group of Gators finished 9-7 last season and barely made the Big Dance. Kentucky is loaded with talent again, but it's still unknown how the Cats will perform with so many new faces. Tennessee lost key players like Wayne Chism and J.P. Prince and has the NCAA hanging over the program. Georgia is the "it" team and does add transfer Gerald Robinson, but the Bulldogs still finished with just five SEC wins, none on the road.
Vandy lost big man A.J. Ogilvy, who declared for the NBA draft a year early, wasn't selected and is playing in Turkey, as well as senior guard Jermaine Beal. But the Commodores have a loaded backcourt led by sophomore John Jenkins and Brad Tinsley, with Jeffery Taylor showing off his NBA potential and defensive tenacity at the 3. If big men Festus Ezeli and Steve Tchiengang can combine for what Ogilvy did, notably getting to the free throw line (216 attempts), this team has a shot to be in contention for the division title.
Stallings said the Commodores have a chance to be better defensively and on the boards. He said they'll be more physical, especially with Tchiengang on the court more often. But he's not worried about offensive production from Jenkins, Taylor and Tinsley.
"I'm very optimistic about what this team can do and what it can become," Stallings said. "This is the hardest-working team I've ever coached."
Stallings bases this on seeing Jenkins in the gym when he would arrive for work this summer, many times well before 9 a.m. Many times Jenkins had been there since 7.
"This went on all summer," Stallings said. "It wasn't only him. Jeffrey Taylor, Tchiengang and everyone on campus. I know how committed they are and how willing they are."
The Commodores will have plenty of nonconference shots to prove their worth. They'll likely get West Virginia in a second-round game in the Puerto Rico Tip-Off and a third game in San Juan against probably either Minnesota or North Carolina. Playing at Missouri on Dec. 8 and hosting Marquette on Dec. 29 are two stiff tests before SEC play begins. The Dores also sneak in a return game by hosting Saint Mary's in the middle of conference play.
"We've got a chance to be good," Stallings said. "I think we'll be pretty good."
Regular-season good or postseason good? If it's both, Vanderbilt might finally get the respect it probably already deserves.