Emmanuel Negedu feeling fine at UNM
October, 8, 2010
10/08/10
12:07
PM ET
ALBUQUERQUE, N.M. -- Emmanuel Negedu showed no signs of being different from anybody else on the Pit practice court this week, sprinting during conditioning, going through his shooting regimen, getting a solid run in with the rest of his New Mexico teammates throughout a brief pickup game. There was no added attention paid to Negedu. There weren't any on-site medical personnel watching his every move, nor should there be, based on Negedu's clearance.
The only special circumstance Negedu's presence caused for the coaching staff and those who are around the basketball program was a mandatory CPR training earlier this summer.
"And it's something that every coaching staff should probably do anyway," said New Mexico coach Steve Alford. "You never know what issues kids have out there."
Negedu appreciated that the staff was made to take part in emergency training on how to handle someone who might be in cardiac arrest. But if there were a fear among UNM that the victim would be Negedu, he probably wouldn't have been cleared to play basketball again, let alone with the Lobos this season.
Negedu collapsed during a workout at Tennessee a little more than a year ago, on Sept. 28, 2009. UT trainer Chad Newman and director of sports medicine Jason McVeigh brought Negedu back to life with CPR and an automatic external defibrillator.
Negedu had an internal cardiac defibrillator implanted in his chest soon after. But Tennessee wouldn't clear Negedu, a top-25 recruit who had played 33 games as a freshman in 2008-09. Negedu thought he was going to go to Indiana, but he wasn't cleared there, either.
New Mexico gave him the go-ahead after Negedu sought multiple opinions and found an endorsement from noted Los Angeles cardiologist Dr. David S. Cannom, who had previously cleared former Pepperdine forward Will Kimble to play at UTEP after having a similar device put into his chest.
Alford had recruited Negedu out of high school while Alford was at Iowa. Negedu did consider UNM once Alford moved to the Lobos but didn't think the program was at as high a level as Tennessee, which he chose after withdrawing from his national letter of intent at Arizona amid former coach Lute Olson's health problems.
Now, two years later, after a flat-line experience, Negedu has found his comfort zone.
"I feel at home here," Negedu said. "I love it here."
When Negedu first arrived in Albuquerque, he wasn't cleared to play. He had to be thoroughly checked, especially given that he would be playing at a higher altitude. He said he was kept off the court for two weeks.
"They wanted to check my lungs and make sure they were clear," Negedu said. "I was jogging and then running -- all to get back in shape. Everything has been great since then."
The timing for Negedu has been perfect. Had he been cleared to play at Tennessee, he said he would have stayed, then been with the Volunteers during their current NCAA crisis as the program self-reported recruiting violations by coach Bruce Pearl and his staff.
"This is the best place for me," Negedu said. "When I heard that [news of the NCAA violations at Tennessee], I was like, wow. That's crazy. The teammates used to always talk about how they said Coach Pearl snitched on somebody years back, and now it happened to him. It was like what goes around comes around. I was like, 'Wow, that was crazy.' I talked to the guys on the team; Scotty [Hopson] … tells me about the crazy stuff. He said other coaches do stuff, but people that get caught pay the consequences."
Pearl admitted that he misled NCAA investigators, and the charges reportedly will be that he hosted high school junior recruits who were on unofficial visits at his house, which is a violation. He also reportedly didn't answer a question truthfully about whether a photo of a recruit at his house was taken in his home.
Negedu said he wasn't recruited the same way others were to Tennessee because he decided on the Vols late once he withdrew his commitment to Arizona. He also couldn't recall whether he was on hand the exact date in question when the photo was taken. But Negedu said he remembered going to Pearl's house whenever recruits were in town.
[+] Enlarge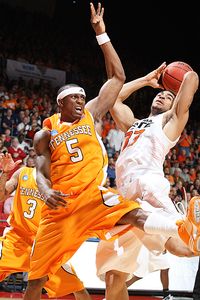 Matthew Emmons/US PresswireNegedu hasn't competed in a game since Tennessee's first-round matchup with Oklahoma State in the 2009 NCAA tournament.
"I probably was there because the whole team goes to his house," Negedu said.
"Tennessee is a big-time program, but to me, this here is a big-time program," Negedu said. "They make you understand the game more, and we stay as a family. That didn't happen at Tennessee. They're here for you like a dad. I feel at home here. I love it out here."
Negedu likely was going to get his waiver to play immediately because of his unique situation. He was inactive last season but was a student at Tennessee, which meant he was subject to the same transfer rules of sitting out a year in residence at the new school.
It was clear in the pickup game earlier this week that Negedu will fit in quite nicely on a team that has more size and strength than last season's Mountain West champ. Negedu joins a frontcourt of UCLA transfer Drew Gordon (who likely will be eligible in time for the Las Vegas Classic on Dec. 17), starting forward A.J. Hardeman, Australian freshman Cameron Bairstow, ESPNU 100 recruit Alex Kirk from Los Alamos and lanky freshman forward Tony Snell, who has more of a face-up, 3-man game.
The Lobos, who are replacing key players in Darington Hobson, who left early for the NBA, and Roman Martinez, who graduated, still have one of the top guards in the West in Dairese Gary, with his Vinnie Johnson-like body driving in the lane. Gary's wing mate, guard Phillip McDonald, doesn't miss much in practice and has a smooth stroke that is reminiscent of former Lobo Charles Smith.
But the key to this team might be how Gordon adapts once he's eligible and how much impact Negedu has when he is comfortable on the court.
"I'm back to being in the best shape I've been in," said Gordon, who was bothered by knee issues in his brief stint at UCLA. "I've probably fallen off a bit, but I'm expecting this season to go really well."
Gordon said that he originally looked at transferring to Cal because he's from the Bay Area but that he didn't want to spend two seasons out of basketball because of a Pac-10 transfer rule. UNM's success in dealing with four-year transfers (see: Danny Granger under former coach Ritchie McKay and Hobson under Alford) and the lure of playing for Alford and top assistant Craig Neal was a drawing card. Gordon said he's a better fit with the Lobos than he was with the Bruins.
"This is a special team," Gordon said.
A lot of that has to do with Negedu, whose infectious personality seems to lighten up the players before working out.
"He's got to be one of the best athletes in the league," Alford said. "He's a big-time rebounder, and while his skill development is a work in progress, athletically he's much further ahead."
The Lobos, who finished 30-5 and won the MWC (14-2) by a game over BYU, have a much more challenging schedule than a year ago, when a number of the high-profile games were at home. This time, UNM has to go to California and Southern Illinois, play the usual home-and-home with New Mexico State, face an upstart Colorado on a neutral court in Las Vegas and then either Indiana or Northern Iowa in the same event at the Orleans Arena, then play consecutive road games at Texas Tech and Dayton.
The Lobos will go from Dec. 19 to Jan. 5 without playing at The Pit. The one marquee, nonconference home game is against Herb Sendek and Arizona State on Nov. 16.
Alford said he is hoping that by the time Gordon joins the Lobos, the team "hasn't been beaten up by the schedule."
The mindset of at least one player -- Negedu -- shouldn't be a question. He's thrilled to be playing any game, no matter the place or time. He hasn't played since the Volunteers lost to Oklahoma State in the NCAA tournament first round on March 20, 2009. Negedu scored six points in six minutes and grabbed three rebounds in the 77-75 loss.
"I'm really anxious for my first game," Negedu said. "I can help a lot in the paint and outside. I can be a combo 3 and 4. I can help a lot with rebounds. I will bring a lot of energy out there with how hard I play. I know I can help a lot."
No one will doubt him. He has a second chance -- in college basketball and in life.