Will Maryland surprise the ACC again?
October, 11, 2010
10/11/10
1:29
PM ET
Once practice begins Friday night, Maryland's players will hear Gary Williams coaching, ordering, teaching, encouraging and at times badgering them.
Whether or not there is a player who can squawk back and be just as vocal with his teammates remains to be seen.
For the past four seasons, Williams had his alter ego in Greivis Vasquez, who was as close to a Williams player as he has ever had at Maryland. The Venezuela native showed his emotions, and early in his career they were a detriment at times as he failed to keep them in check. But he didn't disappoint, helping lead the Terrapins to last season's co-ACC title with eventual national champion Duke.
Maryland's share of the league championship was one of the least-appreciated accomplishments nationally last season. The Terps weren't supposed to be the team that shared the title.
But Vasquez turned himself into a first-round NBA draft pick after entering the early-entry process as a junior and returning to school to show his teammates that he had to work his tail off to become a realistic first-round pick. The Vasquez legacy is still fresh enough for this current crop of Terps to build off in what could be an unpredictable season.
Maryland could end up being a contender for second in the ACC behind overwhelming conference and national favorite Duke, or could slide considerably lower in the conference because of the lack of proven star power on the perimeter.
"It's one of those things where realistically a lot of teams have a chance," Williams said. "Duke has established itself off what they did. They might be the best team in the country. After that, I wouldn't say there's one team that is definitely better than the other 10 teams. We'll know in a couple of weeks."
[+] Enlarge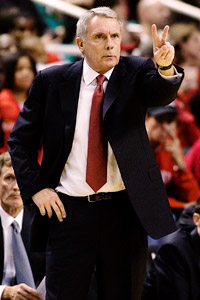 Chris Keane/Icon SMIThe 65-year-old Williams is entering his 22nd season as Maryland head coach.
The Terrapins will be one of the first teams in the country to play, hosting Seattle on Nov. 8 in the first round of the 2K Sports Classic benefiting Coaches vs. Cancer. Always pesky College of Charleston is next on Nov. 10 and after a game against Maine on Nov. 14, the Terps go to New York for the semifinals against Big East favorite Pitt on Nov. 18. Then it's either Illinois or Texas the next night.
Maryland also plays one of the A-10 favorites in Temple at the Verizon Center in D.C. on Dec. 5. The other tough nonconference game -- at Villanova -- isn't until Jan. 15 amid the ACC schedule. By then it will be obvious if the Terps are a pretender or a contender.
A lot of that will depend on Wooden preseason All-America candidate Jordan Williams. The big sophomore is the anchor this season after his surprising near-double-double performance as a frosh.
What Williams had last season was a collection of players who came in together -- Vasquez, Eric Hayes and Landon Milbourne -- who played well together and blossomed as seniors in leading the Terps to a second-round NCAA tournament appearance that ended two points short of eventual Final Four participant Michigan State.
"We can still put five guys on the court that played a lot from last year in Sean Mosley, Jordan Williams, Cliff Tucker, Adrian Bowie and Dino Gregory," Williams said. "If we had to play tonight, those five guys would be on the floor. But to have three four-year players together was invaluable to us."
Williams has had snapshots with this team, notably the two-hour weekly sessions. What he saw was that Mosley has potential to be a Vasquez-like leader. He won't be exactly the same, since they don't share the same sort of personality, but Williams does see Mosley's ability to lead.
"He's not someone who leads by being vocal, he's not as demonstrative," Williams said. "But his work ethic is no different."
Mosley, a junior who averaged 10.1 points and 5.1 rebounds last year, can share the leadership with seniors like Bowie, Tucker and Gregory. And Williams, a sophomore, has enough game experience to be considered a veteran in this day and age.
The Terps will have five freshmen to integrate and Williams expects guard Pe'Shon Howard, an athletic, physical guard who shouldn't have an issue adapting to the strength of the ACC, to have a major impact. He'll know more when he sees how much of what was introduced in workouts translates to the full-scale practice.
"We have to be able to score from the perimeter," Williams said. "Milbourne could shoot jump shots. We have to get the ball to Jordan. The outside guys [this season] aren't as proven. They had to guard us on the perimeter last year so Williams had room inside. You couldn't lay off [the guards]."
Vasquez's interior passing was underrated as well. He could pass exceptionally well off the dribble and often found Williams and Milbourne for scores.
"The guards have to do that this year," Williams said. "I'm looking forward to seeing Friday where they are. The two hours a week is nice, but that's not the same as a three-hour practice and going after it."
A year ago, Williams expected the Terps to get on the break off loose balls. He wanted to press but the team became more half court.
"Do we need to break through for more loose balls with full-court pressure this season or are we a better shooting team? Can we shoot the ball well? Guys have worked hard like Bowie, Tucker and Mosley and they've put up a lot more shots than last summer," Williams said. "We'll see what happens when people start guarding us."
Williams, who arrived at Maryland in 1989, has now gone to the NCAAs three of the last four seasons after a two-year hiatus. His previous athletic director -- Debbie Yow -- who he at times had conflicts with, is now off to ACC rival NC State. His new AD, former Army athletic director Kevin Anderson, has been welcomed by Williams, who likened Anderson to his former AD at Boston College, the late Bill Flynn.
"He was a great AD, an old FBI guy who came in with a white shirt and dark tie and jacket every day," Williams said. "You could walk in there and say can we do this Mr. Flynn? He would say yes or no. It is valuable in coaching to know where we are and that's what [Anderson] brings to the table."
The expectations don't change at Maryland, even if the predictions are tempered outside of College Park. Based on the returnees, the Terps don't appear to be a lock for the NCAAs. But why should that matter? Maryland certainly wasn't predicted to win a share of the ACC at this time last year.
"We were an example last year in college basketball of having three pretty good players come together and stay together for three years," Williams said. "It's not just having the talent. The players have to play off each other and that takes time.
"We're going to be more athletic than last year, [but] that doesn't mean we're going to be better. I don't know how good we'll be. I should in a few weeks."