Lower expectations don't bother Marquette
October, 12, 2010
10/12/10
6:03
PM ET
Marquette was relegated to a fourth tier in Big East scheduling for the upcoming season. That would indicate the Golden Eagles are hardly an NCAA team.
The grouping that Marquette was placed in, based on how the league's coaches voted last spring, includes Cincinnati and Seton Hall, two other programs that have their sights set on the NCAAs -- despite lower expectations.
Tier 4 was just ahead of four programs not expected to be in contention for postseason play by their fellow coaches. The Tier 5 teams are South Florida, Providence, Rutgers and DePaul.
[+] Enlarge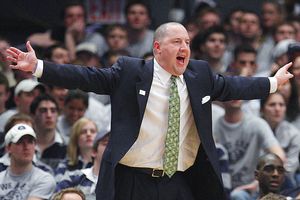 Jim O'Connor/US PresswireBuzz Williams and Marquette are looking to make another NCAA tournament run this season.
As official practice begins Friday, the one certainty for Marquette is that the grouping means nothing.
More so than most programs in the Big East, the Golden Eagles continue to overachieve. They did when Tom Crean was the head coach, and they certainly do now as Buzz Williams enters his third year.
Two seasons ago, in his first season, Williams had Crean's trio of stars -- Wesley Matthews, Dominic James and Jerel McNeal -- and a little-known role player, Lazar Hayward. The Golden Eagles still made the NCAA tournament despite losing James to an injury. Matthews turned out to be a starter in his rookie season for the Utah Jazz.
Last season, Marquette was surely going to head south without James, McNeal and Matthews, right? Not quite.
The Eagles, who were led by Hayward, played in 17 games decided by five points or fewer. Along with Pitt, which finished 13-5 in a three-way tie for second in the league, Marquette was a surprise team in the Big East. The Golden Eagles finished tied with Louisville for fifth with an 11-7 record, and that was good enough to get an NCAA tournament berth. Marquette knocked off St. John's and Villanova in the Big East tournament before losing to Georgetown. It then fell to eventual Sweet 16 team Washington in the first round.
Hayward, the role player, ended up being a first-round NBA draft pick.
So, of course, with Hayward gone, wouldn't you expect Marquette to be in a fourth tier?
Well, it's hard to project the Golden Eagles any higher than that based on what other teams have returning, but it would probably be foolish to doubt this team's ability to make another run to the NCAAs.
"Before the season started [last year], the question was whether Zar could play or not in the NBA, and then when it was over he was a first-round pick,'' Williams said. "Now all of a sudden we lost Zar, and we're not going to be good again. In basketball, you get what you earn. We haven't earned anything.''
Williams runs his players hard. Crean did the same. Williams is a disciple of former UTEP, Texas A&M and Kentucky coach Billy Gillispie. The mantra is to work up players, especially those that aren't as highly recruited. Marquette has had boot camp in the early-morning hours this past week. Williams credits the Golden Eagles' work ethic for knowing how to win those late-possession games.
"We had 14 games where eight or nine were decided by one possession or less, and it started out bad where we didn't win them [against Villanova twice and West Virginia], and then we won nine of 11 of them,'' Williams said. "When you operate like this day after day, it is habit-forming. That's why it isn't a shock to us to be on those games. We're used to having fans hollering at us on the road. I think we've been locked in at the end because we're locked in at the start. We knew that we would have to play from behind as the year progressed. It's how we work. We don't give away a minute.''
Marquette did a good job describing Williams' work ethic on the road in this online piece about his travel schedule, dubbed Episode 6: On the Road with Buzz. Williams even gets emotional at the end of the piece as he discusses being away from his wife and children.
"I hope that we're viewed in the end as hard workers,'' Williams said. "That trends toward great character and superior work ethic. I think that will help them carry success forward.''
Williams hasn't been as successful as Kansas State's Frank Martin, but he's not that far behind. Martin, like Williams, was a surprise choice to succeed Bob Huggins when the job abruptly opened. Martin, like Williams, is intense and doesn't seem to have an off switch, either.
"I wish I would have done as good as Frank,'' Williams said. "We're close, and I like what he's about as a person.''
But let's not dismiss Marquette's talent, either. This isn't a collection of just hardworking overachieving players.
Seniors Jimmy Butler and Dwight Buycks, as well as junior Darius Johnson-Odom and sophomore Junior Cadougan, are all veteran Big East players who can hang with anyone in the league. Highly touted freshman guard Vander Blue and freshman small forward Jamail Jones lead a five-player newcomer class that will give the Golden Eagles the depth to move up in the conference.
Playing in the CBE Classic in Kansas City, Mo., against Duke on Nov. 22 and either Kansas State or Gonzaga on Nov. 23, as well as games against Wisconsin (Dec. 11) and at Vanderbilt (Dec. 29), will give the Eagles a sense of where they should be slotted in the Big East.
"I just want to give our guys the best opportunity for success and win a few games,'' Williams said. "If there were doubts about me as a coach, that's not important. What we'll have to do is be better, all of us -- Jimmy, DJ, the coaches, we'll all have to be better now that we'll be on an even bigger stage.''