The uneasy life of a C-USA coach
October, 14, 2010
10/14/10
6:26
PM ET
NEW YORK -- If you put Memphis in a corner and asked the Tigers where they want their program to be, the answer would be the Big East.
If you directed that question toward UTEP and Houston, it would probably be the Mountain West.
Football decisions drive the direction of conferences, though, and Conference USA isn't exactly a football powerhouse.
"Basketball coaches aren't in control of any of that," said new UTEP coach Tim Floyd. "They were humbled this summer to find out how important college basketball was in the overall scheme."
So the collection of C-USA schools are stuck with each other for the foreseeable future and what that means is that this league has to make its basketball marquee this season, as in a multiple-bid league that advances in the NCAA tournament.
Conference USA needs to become at least as valuable a basketball property as non-Big Six leagues like the Atlantic 10 and Mountain West.
UTEP went 26-6 and 15-1 in the conference last season, but was one of the final at-large teams selected to the NCAA tourney after losing to Houston in the conference finals. The fact that the Miners had to sweat out Selection Sunday is unacceptable.
"We need multiple teams in the tournament, and last year with UTEP going 15-1 and barely getting in is a little bit scary," said Tulsa coach Doug Wojcik, in New York City on Wednesday for a media day event intended to get the league more national attention.
[+] Enlarge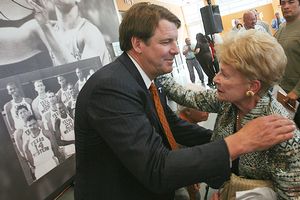 AP Photo/El Paso Times/Victor CalzadaFloyd, seen here with the widow of Don Haskins, landed at UTEP after his controversial tenure at USC.
What's the identity of this league? It certainly has a host of second-chance coaches who have had plenty of on-court success elsewhere, like Floyd, UAB's Mike Davis, Southern Miss' Larry Eustachy, SMU's Matt Doherty, Rice's Ben Braun, East Carolina's Jeff Lebo and Houston's James Dickey. All of those coaches were considered on the rise at one point in their careers, but losing or off-court issues led to their search for a new home.
Donnie Jones went from Marshall to Central Florida, and former Division I head coach Tom Herrion took over the Thundering Herd. Those are two of the league's six new head coaches -- exactly half the league.
Conference USA's coaches preach the league party line -- as they did Wednesday -- about having more draft picks since 2005 than the Big Ten or Pac-10 (including this past draft). Memphis coach Josh Pastner said the league is played above the rim with plenty of athletes, "which makes watching this league fun for everyone."
Still, there is a perception problem. It's undeniable.
From March 2006 to January 2010, the Tigers played and beat 64 straight opponents from C-USA. It is tied for the longest Division I conference win streak of all time. So whether it was fair or not, the national attitude about Conference USA was that Memphis steamrolled through an inferior conference.
"I grew up around the Pac-10, coached in the SEC and coached in the Big 12 and it's strange to me how underrated this league is," Eustachy said. "My only thinking is that Memphis made such a mockery of it for [64] straight games, but then they made a mockery of Texas [and Michigan State and UCLA] in the NCAA tournament and should have won the national championship [in 2008]. People look at our league and think no one could beat them for [64] straight games.
"Memphis was great, but the league has never been more competitive and has great coaches."
UAB's Davis, who has been on the cusp of getting an at-large bid the past few seasons, said Memphis' dominance under Calipari completely overshadowed the league. Having the conference tournament in Memphis also hindered getting a second bid for the league. But a year ago, the tournament was in Tulsa and the league was nearly left with just one again after Houston upset UTEP in the championship game.
"Does this league have the opportunity to be better than the WCC, when it had three teams in with Gonzaga, Saint Mary's and San Diego? My guess is certainly yes, when you see the history of this league with the coaches and the players," Floyd said. "This league has to do what the Mountain West did last year and get four teams in and win."
The coaches know who has to be good for this league to ultimately survive in a changing, challenging college landscape. Memphis, UTEP, Tulsa, UAB and Houston have the most national name recognition with a national title in the group (Texas Western) and a few national championship game appearances (Memphis and Houston).
Eustachy says Southern Miss, with Angelo Johnson and Gary Flowers, are ready to challenge for the conference title. Their continued improvement would certainly help the league, but the Golden Eagles still don't resonate much nationally.
[+] Enlarge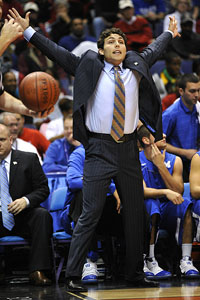 Scott Rovak/US PresswireExpectations weren't high for Josh Pastner's first season at Memphis. They certainly are for his second.
The pressure to be at the top still resides in Memphis.
"We need to be good; there's no doubt about that. We need to be good," Pastner said. "We've recruited well. We now have to perform well on the floor. That's the bottom line."
Eustachy disputes that Memphis has come back to the pack, despite missing the NCAAs this past season after four straight trips that included a title-game appearance, three Elite Eights and a Sweet 16.
"Memphis may have as good a players as Cal's better teams," Eustachy said.
Tulsa has had a rich history of NCAA tournament success under a plethora of name coaches like Tubby Smith, Nolan Richardson and Bill Self. Buzz Peterson won an NIT. Wojcik won a College Basketball Invitational. The Golden Hurricane had a great shot to be an NCAA tourney team last season, but weren't able to stand up and win the key games down the stretch when they had an elite center in Jerome Jordan, a second-round NBA draft pick.
"I think from a fan enthusiasm standpoint, they need us to be successful," Wojcik said. "What we need is multiple teams in the tournament."
To do that, though, the league's teams will need to start playing tough nonconference schedules in November and December -- and win some of those games, too.
That's not an issue for Memphis, which did that under John Calipari and still does so with Pastner. The Tigers play Miami and Georgetown at home, Tennessee and Gonzaga on the road and face Kansas at Madison Square Garden.
UAB has generally the same philosophy, and beat Butler and Cincinnati last season. The Blazers play Duke, Arizona State, Arkansas and Georgia this season. Floyd said he wants UTEP to have the scheduling attitude he had at USC, where he scheduled just about anyone to upgrade the team's power rating.
Tulsa has had solid shots to upgrade and does play in the Big 12 footprint, allowing it to get games with the Oklahoma schools. Southern Miss could use some success in Cancun this season, along with road wins at Ole Miss, South Florida and Cal that would greatly improve its national perception. Road wins always help.
"This is a process, but you've got to win those nonconference games and you've got to have 23 or 24 wins going into the conference tournament," Davis said. "It's difficult not to take a team that has closer to 30 wins than one that has 23 or 24. So if you can get to 25 or 26 or 27, you've got a better chance to get in."
A new identity for a host of schools that would probably like to be somewhere else would come if it could get multiple bids in the NCAA tournament and advance. Sounds easy enough, right?
"There are a lot of coaches in this league that have won a lot of games, a lot more than I have," Pastner said. "The league has gotten better. Memphis' dominance made everyone raise the level of recruiting and now the league has better players and is as athletic as ever before."
Five more observations from Conference USA media day:
1. So much talk was about the Memphis freshmen -- and it is a top-five class that deserves plenty of attention. But the consensus is that if the Tigers are going to be one of the nation's elite, then Wesley Witherspoon has to be a major presence. Memphis coach Josh Pastner is convinced that Witherspoon will be, or rather has to be, the star of this team.
2. C-USA put out its all-conference team, and one player was missing that could end up being a stud. UAB coach Mike Davis said Jamarr Sanders, a onetime guard at Alabama State, could be one of the best players he has ever coached. Sanders averaged 10.4 points and 4.9 rebounds a game for the Blazers last season, but Davis said he was just figuring out how to play the game after sitting out a year.
3. UTEP's Randy Culpepper was tabbed as the preseason player of the year, but the question Davis had was whether Culpepper was going to be set free to go up and down or if he would be in more of a half-court set. If it's the latter, that could change Culpepper's effectiveness. UTEP coach Tim Floyd has been known to change to his personnel, and that's why without a real serious post threat (no Derrick Caracter or Arnett Moultrie), it's hard to see this team slowing down too much.
4. The best news for the teams that might be struggling in the bottom half of the league is that at least three have a star. Rice coach Ben Braun said Iranian Arsalan Kazemi, who played for the national team at the world championships in Turkey, had a sensational summer and should be ready for a major season. East Carolina's Brock Young and SMU's Papa Dia, who made the preseason first- and second-teams respectively, will at least provide a reason to watch the Pirates and Mustangs this season.
5. When you sit at lunch and see the collection of coaches in this league, it really is amazing. When you look around the table and see Larry Eustachy, Tim Floyd, Matt Doherty, Jeff Lebo, Ben Braun, James Dickey and Mike Davis and know that they were all in high-major conferences and are now in this league, it says a lot about the coaching business. It is a fickle one at best. Fame is fleeting in this profession, but there is almost always a second chance. Conference USA is the epitome of that.