Colorado State on the rise under Tim Miles
October, 18, 2010
10/18/10
12:14
PM ET
If Colorado State is ever going to be relevant in men's basketball, it best be now.
The Rams have a legitimate shot to make the Mountain West Conference a five-bid league this season. If that occurs, CSU might have a chance to replace BYU as one of the new era's top-four teams in a league that became a two-class society last season: BYU, New Mexico, San Diego State and UNLV in the upper class. Utah, Colorado State, TCU, Wyoming and Air Force in the second class.
Utah was once a regular, and at times dominating, member of the first group, but the Utes are reshuffling their roster and are off to the soon-to-be Pac-12 next season, anyway. Rival BYU will jettison itself off to the West Coast Conference.
So with the addition of Boise State, Fresno State and Nevada into the Mountain West over the next two seasons (TBD if Fresno and Nevada are coming in 2011 or 2012), the window is wide-open for a fourth to join New Mexico, UNLV and San Diego State as regulars atop the league, since those three don't look to be fading anytime soon.
"If we were stock, I'd buy it," said CSU's fourth-year coach Tim Miles. "You'd get really good value. You'd get your money's worth."
This isn't to completely dismiss TCU, Wyoming or Air Force from taking the fourth spot, but Colorado State is clearly a step ahead at this juncture. The Rams did finish in a tie for fifth (with Utah) last season, and this team probably has the highest expectations in Fort Collins since Stew Morrill had Milt Palacio and Jameel Mahmud in 1997 (won 20 games but ended in the NIT) or Boyd Grant's NCAA tourney team led by Mike Mitchell in 1990.
New Mexico coach Steve Alford tossed out the idea last week that the Rams could be a sleeper team, and he's not alone. There is a consensus building. Colorado State has a senior-laden team led by Andy Ogide, Travis Franklin, Adam Nigon and Andre McFarland, who took the leap with Miles because the former North Dakota State coach claimed during their recruitment that they could be the anchors in turning the program around.
"I think only [Tom] Crean had it worse [at Indiana]," Miles said. "There were 13 scholarship players when I took the job [over from the fired Dale Layer], and when we started the season there were two."
[+] Enlarge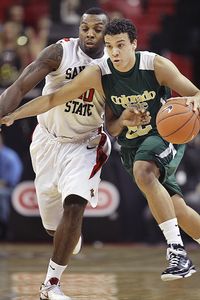 AP Photo/Laura RauchFor Colorado State to take the next step, Dorian Green and the sophomore class will be a key.
The Rams went 0-16 in the Mountain West in Miles' first season, won four in '09 and seven last season.
The return of the sophomore class with Pierce Hornung, Dorian Green, Greg Smith, Iowa State transfer Wes Eikmeier and redshirt guard Jesse Carr, back after a bizarre groin strain turned into a fractured pelvis, means the Rams have a nice balance of classes.
But a lot of this is just talk if the Rams don't change their inability to beat teams above them in the standings. A season ago, CSU was 0-8 against the top four teams in the MWC, 7-1 against the lower four. Losing to UCLA and Oregon in nonconference games didn't help the image either, considering each of those Pac-10 programs had their worst seasons in years.
"We can talk about it until we're blue in the face, but we have to beat those guys [in the top part of the league]," Miles said. "I was hired to raise the bar. We're not where I want to be."
Miles fully understands the opportunity at hand. The MWC is losing two of its most tradition-rich programs and loyal followings in BYU and Utah.
"Now the job for the rest of us is to elevate our program," he said.
Miles, whose witty musings on Twitter put him in a class with Xavier's Chris Mack and Arizona State's Herb Sendek, has the personality to withstand the pressure to produce.
"He's so persistent and resilient," said Miles' former assistant Saul Phillips, who replaced him at North Dakota State and led the Bison to the 2009 NCAA tournament. Phillips and Miles masterfully redshirted a class of recruits so they could all be seniors once NDSU lost its provisional status and became eligible for the tourney.
"He knows how to blueprint a program," Phillips said. "His personality will be the catalyst. He's got a magnetic personality. And that's probably the biggest selling point to recruits."
Colorado State will need Miles' charm to stay afloat. It's no secret that Moby Arena pales in comparison to the refurbished Pit in Albuquerque, N.M., the history-filled Thomas & Mack in Las Vegas and even Viejas Arena in San Diego.
My memory of Moby Arena from covering the WAC in the 1990s was the live ram placed behind the visiting bench, leaving quite a stench. And then there's that oversized logo at center court that is way too distracting for television. Look at this way: If the best you can say is that the 1976 Robby Benson movie "One on One" was filmed there -- that's the interesting factoid in the ESPN College Basketball Encyclopedia -- you know the arena doesn't have much of a winning history.
Miles is keenly aware of the Rams' lack of national identity, so he's tried to expand the brand by looking for games on other networks outside of the Mtn., Versus or CBS College Sports. The Dec. 11 Kansas game at the Sprint Center in Kansas City, Mo., will be brutally tough, but it'll also be on ESPN2. Miles also wanted to be in the Cancun Governor's Cup because the event is on the ESPN family of networks.
"We have a great network and for those that want to see the MWC, they can seek it out and we get great television coverage," Miles said. "But at the same time, we need to cross-brand and we need to be on ESPN and Fox. That's why we specifically looked for those opportunities."
But Colorado State can't buy more than one game without a return unless they get bought for a high price. Miles said he bought Arkansas-Pine Bluff (without a return) and used the guarantee money the Rams are getting for playing Kansas and bought Sam Houston State.
Cutting these deals isn't something New Mexico or UNLV has to do because they can secure decent home-and-home series. (San Diego State, because it is in a cash-strapped state, is another matter, as the Aztecs open up with five straight games away from home.)
So if CSU is to be taken seriously this season, it must show well in nonconference games and has to split some of the games against the power four in the Mountain West.
Miles said the Rams are a smart team at both ends of the court. He said they have tremendous enthusiasm and attitude, they'll be competitive and have a chance to win each time they take the court. That all sounds swell.
But it won't mean a whole lot if the Rams don't win enough to be in the mix come March.
"I'm excited about the challenge and confident in our guys," Miles said. "But at the end of the day, we're either a contender or a pretender. That's where we're at. It's time to put up."