Louisville emerges as suitor for Woods
October, 19, 2010
10/19/10
5:07
PM ET
Louisville coach Rick Pitino met with former Wake Forest center Tony Woods last weekend in Louisville. Pitino has spoken with Woods' former AAU coach Norman Parker, his former Wake Forest coach Dino Gaudio and has been in contact with attorney Mike Grace, who says he's representing Woods.
Pitino has also been in contact with Woods' girlfriend, who was the victim in an assault case that led to Woods' arrest and subsequent departure from Wake Forest after he pleaded guilty to a misdemeanor charge of assaulting a female.
[+] Enlarge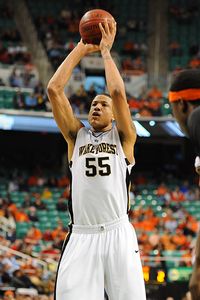 Lance King/Icon SMITony Woods pleaded guilty to a misdemeanor assault charge following an incident with his girlfriend. He has since left Wake Forest.
Parker, along with multiple sources with direct knowledge of the situation, said Pitino is checking on Woods' character to see if he merits a second chance.
"I would suspect other coaches are doing the same thing," Parker said. "But he wants to go to Louisville and he wants to take care of his [legal] obligation. He knows what he did wasn't right."
Woods was arrested in Winston-Salem, N.C., on Labor Day, after he was accused by police of kicking and pushing down his girlfriend, identified by the Winston-Salem Journal as Courtney Lorel Barbour, in front of their 8-month-old child, causing Barbour to fracture her spine. A judge dismissed two of the misdemeanor charges Woods faced -- assault inflicting serious injury and assault inflicting injury in the presence of a child.
As part of a plea agreement, Woods pleaded guilty to misdemeanor assault on a female and was given a suspended 60-day sentence. Grace said Woods also must complete 100 hours of community service, as well as anger-management classes.
If Woods fulfills his legal obligations, which could be transferred to the state of Kentucky from North Carolina, he could be enrolled at Louisville for the second semester. However, he would not be eligible for an athletic scholarship for a year because he's not in school this semester.
Even if all that occurs, Pitino still has to feel comfortable about Woods being at Louisville before he accepts him into the program, according to sources close to the program. One of the main reasons Louisville considered taking Woods initially is in large part because of the connection between assistant coach Tim Fuller and the coaching staffs of Gaudio and the late Skip Prosser. Fuller graduated from Wake Forest in 2000 and served as director of basketball operations for the Demon Deacons from 2004-06. Had there not been someone to vouch for Woods, then Pitino may not be willing to even entertain the gamble.
Woods was suspended from the Wake Forest team following his arrest. He was later dismissed from school for the fall semester by the university's student ethics and honor council. According to multiple sources who had knowledge of the WFU hearing, it was revealed that this was not the first incident involving Woods and Barbour, who has since supported Woods.
In the latest incident, according to Winston-Salem police, Woods and Barbour got into an argument in their apartment with their 8-month-old son present. Woods kicked and shoved Barbour, who told authorities she had recently fallen from her dormitory loft and hurt her back and that's what had caused the spinal fracture.
After hearing testimony, the Wake Forest ethics committee determined Woods was no longer welcome at the school for the foreseeable future. Woods could have decided to do his community service and court-appointed classes in North Carolina and returned to Wake Forest, where he would have to appeal for reinstatement. But since he didn't take the minimum six hours in the fall semester, he would have had to sit out the second semester.
Woods chose to seek a release from the school, which athletic director Ron Wellman granted without reservation.
Grace said he became familiar with Woods' situation through his son, Michael, who played AAU basketball with Demon Deacons guard C.J. Harris, a former teammate of Woods.
Grace said he has since written a letter on Woods' behalf, endorsing him to other schools, notably Louisville. Grace said that Woods was a young adult in a pressure-packed situation with another young adult and "reacted poorly."
Parker, Woods' AAU coach, concurred.
"Tony is a fine young man and he has good character, but he understands he made a mistake, even just putting a hand on a woman. He knows that now -- a push or a shove, he knows that it was inappropriate," Parker said. "It's unfortunate and he has paid the consequences. He's got to do what the state has asked him to do and he'll be stronger and a more mature young man."
Three years ago, the 6-foot-11 Woods was a part of a heralded incoming freshman class at Wake Forest, led by Ty Walker and first-round NBA draft pick Al-Farouq Aminu. Woods would have been a starting center this season had Gaudio been retained. He might have started under new coach Jeff Bzdelik if this incident didn't occur, but Bzdelik never had the chance to make that decision. Woods had modest numbers as a sophomore last season, averaging 4.6 points and 3.2 rebounds.
The one-time top-50 recruit out of Rome, Ga., still has potential and that's why there are apparently a number of schools waiting to pounce on him now that he's available, even before he completes his legal responsibilities. Is that right? Shouldn't there be even more of a gap from the time Woods pled guilty to misdemeanor assault to signing on at a new school?
Athletes with misdemeanor charges on their record aren't uncommon, but according to a high-level Demon Deacons source, no one at Wake Forest was comfortable with this misdemeanor crime.
Since Woods isn't enrolled this semester, he would need to sit out two semesters athletically and can't be on athletic aid until the spring semester of 2012, leaving him with two semesters to pay and then three remaining to play and be on scholarship.
"He can do it with student loans if that's the route he chooses," Parker said.
Parker said Woods has family in Kentucky and can take care of his legal responsibilities out of state. Grace said he can register with a probation officer in Kentucky and conduct his community service.
"He plans on attending Louisville if they offer the scholarship," Parker said. "But his first focus is to take care of his responsibilities."
Maybe Louisville and every other school interested in Woods should wait until he does just that. Perhaps they will. A source close to the U of L said the Cardinals are waiting until Woods completes his legal obligations before offering him a scholarship. But even then, is it the right time, enough time, or even the right thing to do to give him a second chance for assaulting a woman?
According to a source, Barbour has called Pitino to endorse Woods. Louisville can't confirm if Woods will be a Cardinal because he's still a recruitable athlete. But if he does end up at Louisville, the U of L administration and Pitino will have to answer as to why they feel he is worth the rehabilitation -- not in society, the law takes care of that, but to have the privilege to play college basketball again.