Duke begins as overwhelming ACC favorite
October, 21, 2010
10/21/10
11:27
AM ET
CHARLOTTE -- You've got to match their intensity. You may have to play a perfect game. They won't beat themselves. They are clearly the favorite.
Over and over again and without fail, from opposing players and coaches the refrain was complete praise for defending national champion Duke throughout Wednesday's ACC media day.
The talking points being used to describe the Blue Devils were similar in scope to the feelings toward North Carolina prior to the 2008-09 season.
The Tar Heels had their flaws that season, notably dealing with injuries to stars Tyler Hansbrough and Ty Lawson. That Carolina team even started ACC play 0-2 before it got healthy, the switch went on and UNC rolled toward a national title.
Barring injuries, don't expect the Blue Devils to stumble as much. Sure, this Duke team isn't as dominating or intimidating as the 2009 Heels. But the Devils don't need to be, with so many teams flawed or facing serious questions heading into the season.
Duke did lose three key players off its latest title team in seniors Jon Scheyer, Brian Zoubek and Lance Thomas. But the return of two players who could contend for first-team all-American and national player of the year honors in Kyle Singler and Nolan Smith is a rarity in this era, seen only a handful of times in the past decade.
[+] Enlarge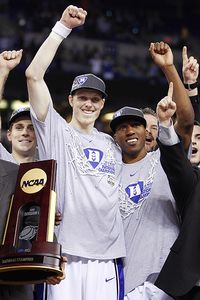 Bob Donnan/US PresswireDuke's repeat chances were greatly enhanced by the return of Kyle Singler and Nolan Smith.
And so this is not a defense of a title, but rather a team that is poised to win another because this Duke team can say it is as talented as any in the country. Singler can dominate his position of being a face-up, stretch 4-man, Smith is a late-possession killer as a shooter, freshman Kyrie Irving might be the best point guard in the country, Liberty transfer Seth Curry might be one of the top 3-point shooters and the Plumlee brothers, Mason and Miles, will be tough to keep off the offensive glass.
"We just can't beat ourselves. We have to be ready to play," Singler said. "I don't know of a game plan to beat us."
Smith added: "We can't take bad shots. We have to push each other and play hard for 40 minutes. We can't give up transition baskets, [and have to] get back on defense and do the little things. We will be tough to beat."
No one will challenge that statement. Duke is the national-title favorite, and overwhelmingly the top team in the ACC. While there isn't fear among their competitors, there is definitely a respect for this squad.
Florida State coach Leonard Hamilton said how much he admired the way Duke plays together -- that was a common theme. But there were still holes to pick.
"I thought Scheyer was one of the most underrated guards in the country," said Maryland coach Gary Williams. "If you look at the amount of time he had the ball in Duke's offense and how much he was valued. Brian Zoubek started [playing well against Maryland] when he had 19 rebounds. You knew he was going to give you 100 percent. He played a tremendous role. They have great players to replace those guys, but you never know how that works and whether it will be equal to the same thing they did last year."
Georgia Tech coach Paul Hewitt wasn't dismissing the nucleus Duke will put on the floor every night. But he wants to see the Blue Devils play and see if they can dominate the defensive backboard, crediting Zoubek with starting so many breaks. The key, Hewitt said, may be where the Devils end up playing Singler. The senior said he fully expects he'll spend time at the 4 instead of the 3, especially late in games when Duke coach Mike Krzyzewski goes with more ballhandling (that could mean a Plumlee, Singler, Smith, Irving, Curry/Andre Dawkins lineup).
"If Singler is at the 4, he's almost unstoppable," Hewitt said. "He played the 3 and he was still MVP of our tournament and led them to a national championship. But it depends what they do with him. I'm anxious to see."
Smith said the four-guard rotation will allow Duke to push the basketball even more than a year ago. He anticipates the Blue Devils being fresh by the end of the game. Singler isn't worried about the Zoubek and Thomas losses because the Plumlees can make up for the departures with their athleticism. And with Singler rotating at the 3 and 4, Krzyzewski has even more flexibility.
"It's definitely a benefit for our team," Singler said of his versatility.
Now, Duke won't get a free pass from anyone. North Carolina firmly believes it can take down its rival, and is not far removed from the time when it dominated this rivalry for a few years. NC State is confident after beating the Blue Devils last season at home. Same for Maryland. Duke was hardly a feared team on the road last season.
And with a national championship defense on the line, the road intensity will be even greater than usual. Virginia Tech, picked to finish second to Duke in the preseason poll, gets the Blue Devils once this season -- at home.
"Quite honestly, Duke has a chance to be special again," said Hokies coach Seth Greenberg. "We get one crack and we get them at home. If you want to beat Duke, you can't take a play off. You have to match their intensity. They wait for you take a play off. You've got to contest shots because they'll stretch you out more than anyone. You've got to spread the floor. They have four or five guys who can finish.
"You've got to have one of those special nights. And for us, it could be playing the No. 1 team in the country in an emotional game. You win by making good basketball plays because Duke makes you play 40 minutes to have a chance to beat them."