Purdue looks to replace Robbie Hummel
October, 23, 2010
10/23/10
2:42
AM ET
Purdue has time to figure out life without Robbie Hummel, but the first week of the post-Hummel season has produced a few certainties for coach Matt Painter.
[+] Enlarge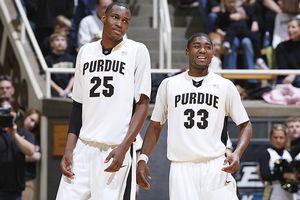 Joe Robbins/Getty ImagesJaJuan Johnson and E'Twaun Moore will take on many of Robbie Hummel's responsibilities.
Hummel, the senior forward and Big Ten player of the year candidate, tore his right ACL last Saturday, the second time he has done so in the past eight months. He's done for the season, but the Boilermakers are hardly out as a Big Ten title or national championship contender.
The team's defensive identity won't change, even if it means different faces taking on some of the more crucial roles.
They still have two of the better players at their respective positions in senior forward JaJuan Johnson and wing E'Twaun Moore. When Hummel went down on Feb. 24 in a win at Minnesota, the Boilermakers had to adjust on the fly and did so quite well, winning two of the final three games of the regular season, beating Northwestern in the Big Ten title game and rebounding from a blowout loss to Minnesota by beating Siena, Texas A&M in the NCAA tournament before losing to Duke.
"Coaches play the best players and they'll step up," Painter said. "We lost a big guy in Rob. He was like a big guard. He could rebound the basketball."
Painter said he's tinkering with the idea of moving Johnson to power forward and starting Travis Carroll or Sandi Marcius at center. He also could move in Patrick Bade in the post and slide Johnson to a face-up power forward. He also may put D.J. Byrd on the floor as a stretch 4, even though he's undersized at 6-foot-5. Losing Hummel has Painter pondering various combinations to utilize Johnson even more effectively.
Hummel's responsibilities "shift to JaJuan," Painter said. "We'll be dealing with him at different positions on offense in the post or on the perimeter. But I think you'll see him double-teamed more, especially when he's in the post."
That means players such as Lewis Jackson and Kelsey Barlow and Moore, need to be ready to make shots on the perimeter if Johnson can pass out of the post. The abilities of Byrd, John Hart, Anthony Johnson and Ryne Smith to make shots will also come into play.
"We'll have to make shots to keep everybody honest," Painter said.
Hummel's injury, as well as the loss of Chris Kramer to graduation, means the Boilermakers will have to get even tougher on defense.
"I just think that our defense will continue to be something we hang our hat on," Painter said. "We won't be as potent offensively without Hummel. But we can be as good defensively. We'll look to push the basketball up but we still need to take care of the ball. We still can be very stingy and take people out of what they want to do."
Painter said Moore, Jackson and Barlow can collectively replace Kramer's defensive intensity and pressure the ball. He's expecting Hart and Smith to chip in as well.
Hummel will have surgery once the swelling goes down and has committed to coming back next season, though his time with seniors Johnson and Moore will be over.
"We've had good practices since he's been gone," Painter said. "We have to continue to create that environment. We can't go out and feel sorry. Ultimately we feel bad for Rob, but he'll be OK. We've still got two guys who have the opportunity to be All-Americans, and that's not a bad start."
The Boilermakers' two toughest nonconference games are on the road -- at Virginia Tech (Dec. 1) and at West Virginia (Jan. 16) -- and the Big Ten schedule is unforgiving, with the Boilermakers playing everyone twice except bottom-dweller Michigan and likely bubble team Northwestern. That means two games against Michigan State, Ohio State, Illinois, Minnesota and Wisconsin.
Last season, the Boilermakers went 2-3 to start the Big Ten and then won 10 straight.
"It's going to be tough for everybody," Painter said. "Hopefully in practice, and in exhibition games and in the nonconference I'll have the answers to the same questions you're asking."
Duke coach Mike Krzyzewski was one of many in a chorus of coaches this week who felt awful for Hummel, but praised Painter's coaching and Purdue's ability to be a contender in last season's NCAA tournament without him.
But it's hard to ignore how fragile a season can be when it appears everything is in place for a title run.
"You think you've got everything lined up," Painter said. "And then the basketball gods will adjust it."
Heat of summer
Horizon League commissioner Jon LeCrone, like Atlantic 10 commissioner Bernadette McGlade, who wants to tweak -- not necessarily eliminate -- summer recruiting.
LeCrone said the first vote that was taken at the Conference Commissioners Association meeting at the Big Ten's headquarters in suburban Chicago last month was to eliminate summer recruiting. That vote went 27 for, two against and four abstained. McGlade said she couldn't remember whether she was against or abstained from that vote. But then a second vote was taken after discussing it with an NCAA staffer that there might be a need to ask for an overall review. That vote went 31-0, and as stated in the minutes from the meeting that were read to ESPN.com, the CCA recommended that the board of directors consider a new recruiting model that would not include summer recruiting beginning in 2012. That last vote, with everyone agreeing that the board of directors should consider a new model that doesn't have summer recruiting, was passed on to the board of directors for the Oct. 28 meeting in Indianapolis. The National Association of Basketball Coaches sent out an urgent memo Tuesday imploring its coaches to tell their presidents to vote against any recommendation that eliminates the summer recruiting period.
But since the CCA's vote, McGlade said the A-10 has written a letter to the board because it is one of the conferences that doesn't have a voting member, saying it does not favor scrapping the entire summer. McGlade said that the A-10 wants a review of the summer, though.
Reaction at the SEC media day in Birmingham on Thursday was mixed toward the prospect of a new recruiting model that wouldn't include July.
"We're trying to be cost effective and that goes against that in July," new Auburn coach Tony Barbee, a former head coach at UTEP. "You can go one stop and see a thousand players and now talking about singular trips and you're going to add a cost. I think they're trying to take a negative influence out of our game. They thought taking away the spring would do that and now the summer? We have to sit back and evaluate the entire process and look at how we need to structure our recruiting. But eliminating July recruiting doesn't have any positive impact on our game."
Ole Miss coach Andy Kennedy said he was against scrapping July.
"I would have never seen Chris Warren since we were recruiting another player at the time," Kennedy said. "It happens all the time."
"It would be like old school in the '80s when the assistant coaches would be recruiting coordinators that you would never see," Kennedy said.
Arkansas coach John Pelphrey said he was concerned about the ability to get to multiple places on a private plane. If April is gone, take away July, then "how are we going to find out who can play against high-level competition? You're not going to see it. It's a big piece. We're being held more accountable for knowing a young man and the value of that is going up and you're giving me less opportunity to find out. You better pick the right guy. It better work out but you're giving us less time to get to know him. Some can get on a private plane to do it. When I was at South Alabama that wasn't going to happen."
Florida's Billy Donovan said he'd like to see coaches be on campus in July working out with their players Monday-Friday and then go to an AAU event Friday-Sunday. He said he could see doing that over a three- or four-week period.
"Once the season starts, I want to be with my guys," Donovan said. "Our freshmen came on campus and I wasn't there [in July]. They've got to do something to protect the players from going out to Chicago, Las Vegas, Los Angeles and IMG to work out with these workout guys [who are usually tied to agents]."
SEC commissioner Mike Slive told ESPN.com's Dana O'Neil that coaches have expressed concern about summer recruiting. Slive said legislation will come into play that allows coaches to work out their own players next summer if they're in summer school and "if we're going to have access to their players then that's where the coaches should be. We recommended not summer recruiting in the summer 2012 and then take it to their constituents to develop a new recruiting model."
Slive said there wasn't conversation with the coaches prior to the conference commissioners' decision.
"I'd rather work with my guys," Kentucky coach John Calipari said. "They want to see the best players against the players to make an evaluation. If you go to a high school game against 6-2 guys it's hard to judge. I need him in an environment to judge. There was one camp -- Five Star -- or else you went to the high school. Now a kid goes to Orlando and has an unbelievable night but gets recruited two levels above and then that guy transfers. They say there will be more transfers? There might be less."
But Calipari said he would support the NABC's position.
"But I'd rather be with my kids, working them out, and my own family," Calipari.
Georgia's Mark Fox said he's not completely opposed to eliminating summer recruiting but won't support it until he finds out what else the coaches get back -- like a four-day window in June and more time in April. "I don't think you can completely eliminate the chance to mass evaluate," Fox said. "That would be unfair to the schools that can't afford to recruit."
Miami coach Frank Haith said Thursday that coaches would like to see a compromise of some sort with two seven-day periods in July, instead of two 10-day periods. Two weeks and then it's over. We'll see what the board of directors decides next week.