Family affair for Dan Hurley at Wagner
October, 25, 2010
10/25/10
6:52
PM ET
New Wagner coach Dan Hurley had to take Sunday off from practice since Wagner had already gone six days in a row, as is required under NCAA rules governing the amount of practice time allowed in a week.
It felt odd, very odd.
[+] Enlarge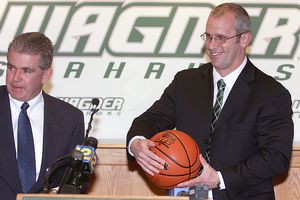 AP Photo/Staten Island Advance/Hilton FloresDan Hurley arrives at Wagner after coaching high school at St. Benedict's in New Jersey.
Hurley, entering his second full week as a Division I head coach, isn't used to idle time. He grew up watching intensity every day as his Hall of Fame father, Bob Hurley Sr., ran historic high school program St. Anthony's in New Jersey.
When Dan Hurley decided to leave college basketball after a four-year stint as an assistant at Rutgers to go back to his roots -- coaching high school, this time at St. Benedict's Prep in Newark, N.J. -- Hurley discovered that he was a 24/7 coach.
"The monks wouldn't let us practice before noon, so we would go from 5 to 8 p.m. Sunday night," Hurley said. "Our players didn't want to take days off. Kids at that age, they love to play. They all believed they were going to be pros, even if it wasn't realistic. We had to take the day off [Sunday]. I'm not used to that. I think we took two or three days off [during the season] the last three years."
Hurley has a Herculean task in front of him. Wagner has been to one NCAA tournament in its history -- in 2003. Wagner has made two other postseason appearances, in the NIT in 1979 and 2002. The Seahawks finished 5-26 under Mike Deane last season and play in the Northeast Conference, which has an elite ruling class of late both on the court and financially (Robert Morris and Quinnipiac) and those that struggle at times.
Wagner, located on Staten Island, N.Y., solved many questions Hurley had when he began to consider moving up a level. Location was critical for his family. A recruiting area that he has knowledge of helped, but more than anything it was the prospect of being a head coach.
"I wasn't looking to be a college coach," Hurley said. "I wasn't looking to leave St. Benedict's. I loved coaching there, but I got caught up in seeing what teams like Northern Iowa did and seeing what Cornell did and seeing what Butler did and watching all these mid-major and low-major programs."
Hurley said he had spoken to other college coaches about possibly joining their staffs during his nine-year run at St. Benedict's. He could have tried to make himself a package deal if he wanted with the type of talent he was coaching (Corey Stokes, Eugene Harvey, Lance Thomas, Samardo Samuels, Greg Echenique, Tristan Thompson). Hurley had the name recognition and the résumé -- he led the Gray Bees to a 223-21 record.
"I didn't feel I would be terribly effective as an assistant coach," Hurley said. "I was used to running my own program, and when I left Rutgers I made a pact with myself that I would only put myself in a coaching situation where I could control my own destiny. I didn't want to rely on somebody else to do their job well."
That's another reason why adding his brother, Bobby, to his staff made even more sense. Dan trusts Bobby implicitly. They were extremely close growing up, and when Bobby was an All-American and two-time national champion, he felt for Dan's struggles during his college playing career at Seton Hall.
Bobby Hurley was the No. 7 pick in the NBA draft but saw his NBA career cut short by a near-fatal traffic accident outside Arco Arena in Sacramento. He went into horse racing in his post-NBA life, but after the business fell on hard times (it was foreclosed on in April) the choice of joining Dan made too much sense for both.
"I trust his ability to coach," Dan said of Bobby. "He cares about the kids. He recruits. He works. You just know there is loyalty and he'll be honest with you. He's not going to be a yes-man assistant."
A few days into practice, their father, Bob, showed up to watch practice. Dan said he and Bobby kept glancing over to their father to see his expressions about how they were coaching, their style and the talent on the floor.
"For me, that was the first time that he had seen me coach," Bobby said. "I kept looking over to see if he thought I was doing a good job. What's great is to get, after practice, his perspective. He's really going to help us. He's a tremendous resource and with us being so close, he'll be around a lot."
Dan said that his brother isn't fretting over working for a lower-level Division I -- yet. He said they went over the nonconference schedule that includes eight road games and buy games at St. John's and Texas A&M, making the rebuilding project daunting.
"Where I was coaching [at St. Benedict's], it was like college football in the BCS: You lose one game during the year and it feels like a bad year," Dan Hurley said. "So it makes me a little uneasy that you become accustomed to losing, although that's going to be inevitable. I think our league was something like 0-50 in buy games the last two years. Bobby and I were looking at our schedule and trying to figure how we'd go 8-3. He's a Duke guy, so I'm not sure he even knew this part of Division I existed."
"When we were looking at the schedule," Bobby said, "it was really hard for me to accept that it might be hard for us to beat a Patriot League or Ivy League team on the road, because at Duke, we always played the top programs."
Dan had other responsibilities at St. Benedict's: working in admissions, the development office and teaching two blocks of world history. His job was split 50-50 between coaching and working within the school.
"Now it's an awesome day, it certainly doesn't feel like work," Hurley said. "You do what you love all day, building a program, recruiting and doing it all day. It's truly a blessing."