Gators look to return to championship level
October, 26, 2010
10/26/10
4:09
PM ET
GAINESVILLE, Fla. -- Alex Tyus and Chandler Parsons had the dubious distinction of being two of the headline names in a recruiting class that arrived at Florida after consecutive national titles. And the stigma of following the '04s and their historic run to back-to-back championships in 2006 and '07 still hasn't been totally erased.
A run toward a Final Four, one that they could call their own, would change their legacy at Florida forever.
[+] Enlarge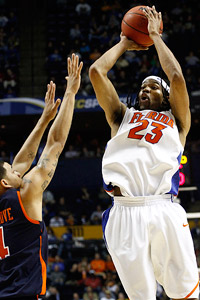 Wade Payne/Icon SMIAlex Tyus is hoping a Final Four run can change his legacy at Florida.
Maybe it wasn't fair to put high expectations on the Gators following the departures of Al Horford, Joakim Noah, Corey Brewer, Taurean Green and Lee Humphrey. The problem is the Gators were lost for a spell, unable to forge an identity as they muddled through a mediocre two-year period that ended in the NIT and saw premature departures from Marreese Speights and Nick Calathes, which ended up stunting the growth of the current players.
A late run last season that snapped a two-year hiatus from the NCAA tournament, ending with a No. 10 seed and a first-round loss to BYU, staved off any gloom and doom. Still, Tyus and Parsons are well aware that they need to do more to be remembered.
"It definitely feels like the last three years, that I've been another player, not been able to do anything great with my teammates for the fans and the University of Florida to remember me,'' said Tyus, who declared for the NBA draft but was given sound advice and returned for his senior season. "If we have a great year this year, hopefully they'll remember the guys who came in after Al and Jo and left with their piece of the pie.''
Tyus isn't the only one who is banking on the Gators' being a championship contender again. Florida was the pick to win the SEC East for the first time since winning the national title in 2007 and is ranked in the top 15 (at No. 11) in the first ESPN/USA Today coaches' poll of the season.
The optimistic view of the Gators rests on the return of all five starters -- Tyus, Parsons and Vernon Macklin up front, and Kenny Boynton and Erving Walker in the backcourt -- as well as the addition of forward Patric Young. No other SEC team returns more players.
"This is it for me,'' Parsons said. "I've got to go out with a bang and get Florida to where they were before the two national championships.''
Parsons and Tyus were two of the five members of that first post-championship class. Adam Allen was another. He's still on the team, but listed as a sophomore after he spent years rehabbing a major knee injury. Jai Lucas was a member of the class but transferred to Texas. Calathes was the other player. He had a strong career at Florida, but it was cut short by two seasons after he declared for the draft and wound up playing in Greece. A handful of players have also transferred from the more recent classes.
"Obviously, we had big shoes to fill, and we never made clear of our identity,'' Parsons said. "It was tough filling those shoes after those six guys [the other was Chris Richard] left for the NBA [actually, professional basketball; Humphrey is playing overseas] and were one of the arguably best teams in college basketball history. We were young. We were four or five freshmen playing 20 minutes a game.''
Florida coach Billy Donovan was hard on that unit after the Gators finished 8-8 (fourth in the SEC East) and 24-12 overall with an NIT appearance after the 2007-08 regular season. Donovan called out the group; at the time, he didn't believe in their drive and dedication.
"It was as tough a time as I've ever been through,'' Parsons said. "We got kicked out of here [the Florida practice facility] and practiced in high school gyms two or three times a day when we were getting ready for the NIT and then after the season was over. But that's what coach Donovan does -- he pushes you and puts your back against the wall to get the most out of you.''
Tyus called the experience a grind the first two seasons. "It was like, who are these guys? They were inexperienced, and they have a big head, and they don't know what it takes,'' he said of the '07-08 Gators. "We didn't know how serious it was. It was just a game to us, and we just went out and played. We didn't take the whole season seriously. We didn't know what it took to be good. We were overwhelmed. We were a little bit better as sophomores but not as much.''
[+] Enlarge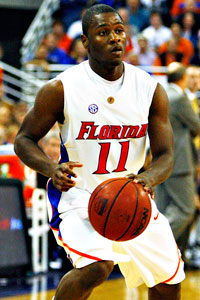 Kim Klement/US PresswireWith 519 assists, Erving Walker already owns the Florida record.
The Gators finished in the NIT again after the 2008-09 season, going 9-7 in the SEC (third place) and winning 25 games overall.
Walker came in after the first NIT appearance. "There was no leadership,'' Walker said. "They were young, and you can see watching Chandler from then to now -- he works a lot harder and there is so much more dedication.''
Boynton didn't have to go through the two NITs. He was a freshman last season on the squad that went to the NCAA tourney, which the team credits to Parsons' hitting two game-winning shots against South Carolina and NC State -- if those two games had been losses, the Gators would have been back in the NIT for a third straight season.
"It was pretty shocking to come here out of two NITs,'' Boynton said. "I'm from Florida, so I was used to Florida winning national championships and the football team winning national championships. When I came here, my goal was to make the tournament. Now the goal is to make the Final Four.''
Young was watching the Gators go through the transition, too, but never waffled on where he wanted to play. Young, who is from Jacksonville, said he always "wanted to be a Gator. I was definitely surprised to see them fall short those last three years. I knew that I had a great opportunity to come here, and Coach Donovan said that eventually we would have a team that can win [a title].''
Young certainly can help the Gators accomplish that with his brute strength inside. If Macklin, a fifth-year senior transfer from Georgetown, can deliver as a reliable scorer and rebounder and the guards make shots and don't turn the ball over, this squad has the pieces to make a deep run.
If Parsons had not made those two shots last season, there wouldn't be a buzz with this group. Macklin said the Gators would have had a chip on their shoulder to prove doubters wrong, but he admits that if Parsons hadn't made those two shots, "there isn't as much talk as there is now. We made the tournament and return five starters.''
Watching practice, it's apparent there is more of a championship attitude around the program. The players don't need to stop and start as much because of mistakes. Sure, the newcomers aren't in the right spots all the time, but the experienced players are shepherding them accordingly. Having high-scoring Rutgers transfer guard Mike Rosario push Walker and Boynton helps the competitive edge in practice. So, too, does Young going against Macklin.
But Donovan isn't propping this squad up too much yet. The Gators did lose to BYU in the first round. There is still plenty to prove. "I don't know if they'll be able to handle being in a situation that none of them have [been in],'' said Donovan. "The older guys were ranked in the polls, and our team didn't handle it well.''
Donovan said that so far, Tyus, Parsons and Macklin have embraced their leadership role well.
The timing of this Florida renaissance coincides with Kentucky's leaning heavily on another freshmen class that isn't as NBA-first-round heavy as last season, while every other SEC team lost a key player (except Georgia, which has plenty of talent, led by Trey Thompkins and Travis Leslie, but still finished sixth in the SEC East last season).
"The timing does look good, and some people say our league is down without a top-tier team, unless we're that team,'' Tyus said. "A lot of people are projecting us to be that team. Hopefully we are."