Wildcats don't want to be one-hit wonders
October, 27, 2010
10/27/10
11:11
AM ET
Butler has maintained excellence for more than a decade through various coaching changes. It's still riding the wave of being one basket away from a national title and has the pieces to make another deep run in March.
Out West, Gonzaga has continued to be a Top 25 and NCAA tournament regular for a dozen years under Mark Few.
These programs aren't fading from the national scene.
But like George Mason -- which hasn't exactly been a player on the national scene since its magical run in 2006 -- Davidson could be viewed as a one-year wonder, a program that caught the sport's heart and then dropped back into relative obscurity.
Davidson's Stephen Curry-led run to the Elite Eight in 2008 was similar to George Mason's Final Four appearance two years earlier. The Wildcats were within a whisker of upsetting eventual national champion Kansas and earning a trip to San Antonio.
Curry returned the following season, but his ankle injury left the Cats short of the NCAAs, and the season ended in the second round of the NIT. And the first year of the post-Curry era was humbling. Davidson finished 16-15 overall (11-7 in the Southern Conference), didn't play in the postseason and suddenly became an afterthought behind Wofford and the College of Charleston.
Lacking consistency from one year to the next in the NCAAs can make fame fleeting for programs outside the power six leagues. Failing to make the NCAA tournament again with Curry was a crushing blow to Davidson's image.
"We had a good run after the Elite Eight, winning 25 [regular-season games and finishing with 27 wins overall]. But if Stephen doesn't get an ankle injury maybe we play Butler differently [in a late BracketBusters game in which Curry was 6-of-23 in a 12-point loss] and maybe we [play better] in the conference tournament," said Davidson's longtime coach, Bob McKillop. "We had enough holdovers and connectors and role players [from the Elite Eight] to do damage that next year, but without Stephen full strength …."
And without Curry at all last season, the Wildcats really struggled to find an identity.
"We carried some of the swagger [into the season], but once we started losing games we didn't have Stephen to rely on anymore and we fell to a mediocre year," McKillop said. "You need to have a caliber of a player like Curry and that doesn't happen every so often. It's difficult to stay at the elite level. That's the elusive goal at our level. You don't want to be a shooting star. You'd rather be a shining star of excellence. George Mason hasn't had the elite level of success since the Final Four."
[+] Enlarge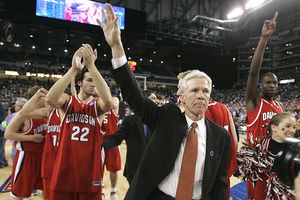 AP Photo/Michael ConroyCoach Bob McKillop is still around, but not much else is left from Davidson's memorable 2008 tourney run.
But McKillop -- much the same way George Mason's Jim Larranaga has done -- doesn't want to cut the ties from the Elite Eight run. He wants to embrace it as much as he can without expecting the Wildcats to duplicate.
"You can't detach yourself from the history that put you on the national level," McKillop said. "I don't ever want to detach ourselves from that."
Only two players from that team remain on the roster: senior point guard Brendan McKillop (the coach's son) and junior forward Ben Allison.
This season's team will have seven or eight sophomores or freshmen in the rotation, and if the Wildcats are going to challenge the new elite in the SoCon, McKillop said it will have to be behind sophomore guard J.P. Kuhlman and sophomore forward Jake Cohen.
"This will be one of our most talented rosters in my 22 years here, but it's also one of the more inexperienced," McKillop said. "How quickly they mature will depend on how good we can become."
Curry was a draw, and his team was a made-for-TV entity. Those games have essentially ceased, although the Wildcats will get a chance to be on display in the Puerto Rico Tip-Off next month with a first-round game against West Virginia. Vanderbilt plays Nebraska in the other matchup in that bracket with North Carolina-Hofstra and Minnesota-Western Kentucky on the other side of the bracket. That field was set two years ago.
"People want to see a success story, and we had a good chance to win and that's why that happened [in scheduling]," McKillop said. "That has all died down. There's nothing we can do about that now."
Gonzaga and Butler are on another plane, established high-major programs despite playing in leagues that are mid-major in financial terms and tournament success. The rotation of teams that have made runs out of the Missouri Valley, the CAA and SoCon have struggled to maintain their momentum on the national level. But that is the nature of their lot in this sport -- get a star or a team that sticks together, make a run and become a drawing card for a year or two and then slip back to the pack for a bit.
The top of the Southern Conference is improving and that can only help push Davidson. Teams responded when the Wildcats were dominant and garnered national attention, something that occurred in the West Coast Conference and Horizon in response to Gonzaga and Butler.
"This is the strongest I've seen the Southern Conference," McKillop said. "We're not starting at ground level. But the margin of error in our league is ever so slight. Wofford battled Wisconsin in the first round last season [53-49 loss] and that is an indicator how strong our league is. Charleston is going to be as strong as it has ever been now that Bobby [Cremins] has been there for a few years and they've got a candidate for player of the year [Andrew Goudelock]."
McKillop said the preseason has been great so far. He loves his newcomers, especially freshmen Tom Droney (a 6-foot-6 forward from Pittsburgh) and De'Mon Brooks (a 6-7 forward from Charlotte), whom he said "is one of the steals we've had in my tenure here, other than Stephen. He's really good. He's really explosive with two or three jumps in him. He's high-energy, a quick learner and has a real sense of how to play the game."
Now the trick is to turn someone like Brooks into a star and ensure that Davidson isn't just a flash in the sky, but instead stays bright for quite some time.
McKillop has pulled off that trick before, of course, and he'll need to do it again. The 60-year-old coach could have chased a higher-profile job after the Elite Eight, but like Curry decided to stay put in Davidson, N.C., where he's been since 1989.
"I love the challenge," McKillop said. "I'm more energized than I've ever been."