Can Cougars seize opportunities early?
October, 29, 2010
10/29/10
6:13
PM ET
Washington State was handed a golden opportunity by the Pac-10 and the Big 12 when the scheduling agreement between the two conferences gave the Cougars a home game against No. 3 Kansas State.
The Dec. 3 game is five days before of the Cougars' annual rivalry game against Gonzaga, which also happens to be in Pullman, Wash., this season.
That means the much-maligned Cougars get two home games against Final Four hopefuls and teams predicted to win their respective conferences.
[+] Enlarge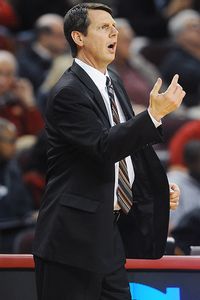 Chris Williams/Icon SMIWashington State head coach Ken Bone knows his team has an opportunity to build early momentum this season.
The Cougars' revival began during the coaching transition from Dick Bennett to his son, Tony, who guided them to consecutive NCAA tournament appearances in 2007 and 2008. But even when Washington State was making its rare Sweet 16 appearances, securing home dates against competition such as Kansas State and Gonzaga was not the norm. Indeed in most seasons, Kansas State going to Pullman would not be a game for anyone to pay attention to, but the Cougars are catching the Wildcats at a pivotal time in their program's history, as they've been chosen to win the Big 12 for the first time.
It's an opportunity for head coach Ken Bone and the Cougars to prove they're to be taken seriously in the Pac-10 this season and that they deserve a place in the NCAA tournament.
If they were to sweep these two games, the Cougars will certainly be looked at as Pac-10 contenders. A split will leave them where they were projected Thursday in Los Angeles at Pac-10 media day -- a fifth-place team. Lose both and the Cougars will be viewed as an afterthought heading into the loaded Diamond Head Classic in late December, where they'll face Mississippi State in the first round in a field that includes projected NCAA tourney teams Butler, Baylor and Florida State.
"There's no question this is an opportunity for us," said Bone by telephone late Thursday, as he made his way back from media day. "We've got top 25 teams in Pullman, so we need to play well."
The Pac-10 was hammered last season, with good reason, after failing to pick up signature nonconference wins early in the season. Washington State could prove the depth of the conference by knocking off ranked opponents.
For the Cougars to pull off such a stunt, they'll need a healthy DeAngelo Casto. The Cougars have two certainties offensively in wing, Klay Thompson and guard Reggie Moore. There is depth on the perimeter, but Bone, in his second season, has few options in the frontcourt outside of Casto. But he has been bothered by a nagging left knee problem that started in the summer of 2009, when he was a member of the gold-medal winning USA Under 19 national team in New Zealand, where he played alongside Thompson under Pittsburgh coach Jamie Dixon.
Bone said Casto's practice participation has been a constant issue because of the knee injury.
"We need DeAngelo in the post or else we have zero," Bone said.
Bone said practice has been going well, although he needs Thompson to play even harder. He said the Cougars lost a number of games in the final few minutes last season, in large part because the Cougars weren't tough enough, lacked leadership and didn't handle adversity well.
"I'm hoping we can do that better this year," Bone said.
The toughness quotient can probably only be handled by Casto, but he can have issues defending taller players in the post, since he's only 6-foot-8. Thompson is a scorer (19 points a game), Moore a distributor (4.2 assists a game) and Casto has to be a force on the boards (seven rebounds a game).
Bone, with his ties to the state of Washington from his time as head coach at Portland State, was a natural choice to replace Bennett. He inherited a team with talent, including one of the top players in the league at his position in Thompson, and came at a time when the Pac-10 was going through a rough transition. Bennett didn't bolt for Virginia because he feared what was to come at Wazzu. He saw a golden chance to coach at an ACC school with tradition and an esteemed academic record, not to mention a new, state-of-the-art facility.
But after Wazzu slumped to 6-12 in the Pac-10 and a 10th-place finish last season, there was reason for concern.
A fifth-place finish is a fair projection for Washington State. This program and these players could take this program in either direction, and they should know in early December what their trajectory is.
"I think it's fair because there are teams ahead of us that we can beat," Bone said of the Cougars' projected finish. "But there are teams below us that can beat us, too."