Jenkins and Cassara team up at Hofstra
November, 1, 2010
11/01/10
9:40
PM ET
Charles Jenkins
checks in with his new coach at Hofstra, Mo Cassara, multiple times a day. He checks in using various forms of technology. He checks in before and after practice.
He has to. The two need each other to be successful. If Cassara fails in his first head-coaching job in Division I, the CAA Player of the Year could be culpable. If Jenkins suddenly flounders after being tabbed preseason POY again, then the finger-pointing could be directed at Cassara.
"I have to help [Cassara]," Jenkins said. "We're helping each other."
It's a good thing they have found common ground.
"He's an unbelievable person, a terrific player. If I were still at BC, he'd be one of the top players for us," said Cassara, who is Jenkins' third head coach in the past eight months. "It would be a much tougher transition if he weren't here."
Cassara's elevation to the head-coaching job at one of the hidden gems in the New York metro area was meteoric. Cassara was an assistant at Boston College under Al Skinner and his responsibilities were geared more toward scheduling, individual workouts and advance scouting. When Skinner was fired this spring, Cassara landed quickly on his feet when former Providence coach and ESPN analyst Tim Welsh got the gig to replace Tom Pecora, who had left Hofstra for nearby Fordham.
But Welsh didn't last long on the job after a DWI on Long Island forced him to resign on May 3, just a month after he was hired.
Enter Cassara, the choice among the Hofstra administration over former Syracuse player and current assistant Allen Griffin and longtime Welsh assistant Steve DeMeo, who stayed on to be a part of Cassara's staff. Cassara then added another Syracuse-connected coach in former Jim Boeheim assistant and Iowa State head coach Wayne Morgan.
[+] Enlarge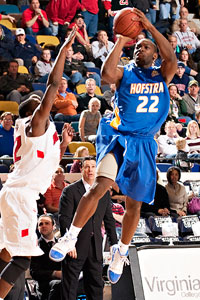 AP Photo/Scott K. BrownJenkins averaged 20.6 ppg for the Pride last season.
But the key to Cassara's transition was keeping Jenkins, easily one of the best-kept secrets in the nation. Jenkins had no intention of transferring and decided not to leave early for a shot at the NBA. Halil Kanacevic transferred to Saint Joseph's after averaging 8.6 points and 7.6 rebounds a game in his one season with Hofstra. Second-leading scorer Chaz Williams took his 9.8 points and 4.2 assists per game and transferred to UMass. So that left Jenkins (20.6 ppg, 4.5 rpg, 3.9 apg) as the anchor of a team that is thin on numbers. Nathaniel Lester averaged eight points and 24.9 minutes a game, but suffered a quad injury and will have to redshirt.
So Jenkins needs returnees Greg Washington and David Imes, who combined for seven points a game last season, to offer him some balance. Translation: Hofstra's ability to be a contender in the CAA is all on Jenkins.
Cassara said Jenkins has handled the chaos at Hofstra the way Jared Dudley handed any bout of adversity at BC, recalling the period after Sean Williams was booted off the Eagles.
"I remember our staff had our heads down and then we went into practice and Jared was acting as if nothing was wrong. We won 10 more games and made the NCAA tournament," Cassara said. "Jared wouldn't let anyone panic. Charles has those same qualities. As good a player as he is, he's a better kid. We talk on BlackBerry, the phone, all the time. He's incredible."
Jenkins said Cassara was more reserved when he first met him during individual workouts. When he was tabbed as the head coach, there was a slow transition. Now he's the primary voice.
"His passion changed tremendously," Jenkins said of the 37-year-old Cassara. "He really wants us to be successful. He's getting into us more and expecting a lot out of us. He's pushing us."
As far as X's and O's, the Pride are introducing a hybrid of a system. Cassara said he's using what he learned from working for Skinner and Dayton head coach Brian Gregory, and is absorbing the Syracuse zone from Griffin and Morgan.
"Our lack of depth means we'll have to play a lot of zone to protect some of our guys," Cassara said. "We will have to be more creative."
Jenkins, who added that he wanted to be the first one in his family to graduate from college, said that there are built-in excuses for the Pride to be unsuccessful this season. The systems changes, the defections, the injuries and the coaching turmoil are all easy outs for Hofstra.
But no one around the program seems pessimistic.
"It was a chaotic first couple of months and now the staff is feeling like we have our feet on the ground," Cassara said. "We're picking up the terminology and there is starting to be a sense of normalcy now."
A lot of that credit goes to Jenkins, just the right tonic for a young coach thrust into his first big gig.