A-10 contenders deal with personnel losses
November, 2, 2010
11/02/10
6:08
PM ET
As Xavier and Saint Louis prepare for their respective exhibition openers Tuesday night, both teams enter the season without two players each was counting on when the fall semester began.
[+] Enlarge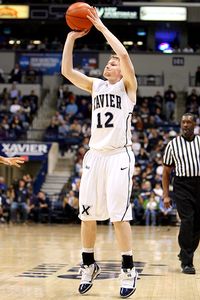 Jim Owens/Icon SMIXavier will miss Brad Redford's 3-point shooting. The junior guard will miss the entire season after suffering an ACL injury.
The Musketeers lost junior guard Brad Redford, their top 3-point shooter at 42.5 percent (48 3s) last season, to a season-ending ACL knee injury. Impact 6-foot-7 freshman Justin Martin was ruled academically ineligible for the year, although he still can practice.
Saint Louis suspended junior point guard Kwamain Mitchell (15.9 ppg, 3 apg) and junior forward Willie Reed (12.4 ppg, 7.9 rpg) for an alleged sexual assault of a female student in May, according to the St. Louis Post-Dispatch. The school wouldn't comment beyond saying they were not enrolled in school and wouldn't divulge any more information because of privacy concerns. The Post-Dispatch reported that a one-year ban from school was recommended, but through an appeal it was dropped to one semester. Reed is expected to transfer to Kansas State, while Mitchell probably will return in January at the end of his suspension.
Xavier can recover enough to compete for the Atlantic 10 title with Temple, Dayton and Richmond. Saint Louis likely cannot.
"We'll be thinner in the backcourt, but it's not going to change a lot of what we do," said second-year Xavier coach Chris Mack, whose Musketeers went 26-9 in his first season and reached the Sweet 16 before falling to Kansas State in a thrilling contest in Salt Lake City. "We have to watch beating up our perimeter players. We need to be playing our best basketball at the end of the year, so we have to monitor our minutes."
The Musketeers still have plenty of experience in 6-foot junior guard Tu Holloway, 6-5 senior guard Dante Jackson and 6-1 sophomore guard Mark Lyons. Losing Redford, whom Mack called the best shooter in the country, means they won't get that scoring pop off the bench. Seeing Martin in practice gives Mack a taste of what could have been. He was "the furthest along of any of the freshmen, but that's now irrelevant for this season. [Martin] has a great IQ for the game and can certainly shoot the ball. He has size on the wing and gave us more versatility. We're smaller in the backcourt without Justin."
SLU was a trendy pick to compete for an A-10 title after a strong finish last season at 11-5, 23-13 overall in what was Rick Majerus' best record in his three years at the school. Getting Mitchell back in time for the A-10 schedule is important because the alternative is starting a freshman at the point with either Jordair Jett or Mike McCall in contention. Losing Reed for the season means the Billikens lose their top frontcourt player, which means 6-11 freshman Rob Loe from New Zealand may start.
"We were a good team, but it's hard to lose two all-league players," Majerus said. "You can't go all young. But we've got to deal with it. We might be the youngest team in the country two years in a row. We won't have a senior. We'll have two juniors, playing four freshmen, possibly starting one or two freshmen."
The Billikens should get even more production out of 6-8 Australian sophomore Cody Ellis, who wasn't eligible until midseason because of an SAT score. Ellis finished as a significant contributor with 10.5 points and 4.9 rebounds a game. Majerus is banking on sophomore Cory Remekun to be a major contributor, too. He ended last season with 13 points and seven boards against VCU.
"We've got nine scholarship players, and the first thing we can't do is wear them out," Majerus said. "We've got to bring along the freshmen, though, and I'll use one walk-on. We'll be very, very young. But I really like these guys."
Majerus is confident that the Billikens will show even more improvement in 2011-12. Getting through this season now could be a chore with a tougher schedule than he wanted for a team that he originally thought could compete for the A-10 title.
[+] Enlarge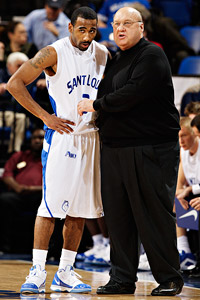 AP Photo/Jeff RobersonSaint Louis coach Rick Majerus will likely be without Kwamain Mitchell until January.
The Billikens will host surging Georgia on Nov. 20 and play at No. 1 Duke on Dec. 11. Going to Portland on Nov. 30 before the Duke game will be a challenge. Missouri State, which is expected to challenge Wichita State in the Missouri Valley, will host SLU on Dec. 18. And then the Billikens will go to Cancun for the Governor's Cup tournament, in which a top-three C-USA team in Southern Miss could await them as well as Ole Miss.
"I wanted to play a terrific schedule," Majerus said. "I tried to play Michigan State in a buy game, but they wouldn't play us. I took the Duke game because it was a good game. Next year we'll have everyone back, and we'll probably go on a foreign trip to Australia or New Zealand prior to the season."
Majerus will still coach this team up and make the Billikens a tough out, even with limited numbers. Expect the games to be low-scoring, with points hard to come by against a stingy defense that held opponents to 60.2 points per game last season -- a trademark of a Majerus-coached team. (SLU gave up the fewest 3s in the league with 138.)
Xavier's schedule is even more daunting, as one would expect. Mack said it helps that athletic director Mike Bobinski is on the NCAA tournament selection committee. He won't stand for a soft slate. The Musketeers will be in the Paradise Jam in St. Thomas (Nov. 19-22), in which after playing Big Ten bottom-feeder Iowa, the Musketeers will meet possible NCAA tournament teams in Alabama or Seton Hall. On the other side of the bracket, there are conference favorites such as Long Beach State (Big West), Old Dominion (CAA) and Clemson, a regular in the ACC's upper tier even if the Tigers are going through a transition under new coach Brad Brownell.
Facing Wofford, which won the Southern Conference last season, at home on Nov. 27 won't be an easy out. They'll travel on Dec. 1 to rival Miami (Ohio), and that's never an easy trip. Playing Butler (Dec. 9), the Horizon League favorite, facing Wake Forest (Dec. 18), which still has quality guard play, going to WCC favorite Gonzaga (Dec. 22) and then hosting SEC favorite Florida on New Year's Eve makes this schedule one of Xavier's toughest. The annual rivalry game against Cincinnati (Jan. 6) is on the road this season, and for good measure, the X slipped in a road game at Georgia on Feb. 8 in the middle of the A-10 season.
Holloway has been the leader in practice, which is what Mack expected. Junior forward Jamel McLean's development in the post has been a huge plus as well. Mack said that the game has slowed down for McLean and that he has played with poise in practice. "He's a brick house, a real strong player and hopefully he'll be consistent, because we need him," Mack said.
Losing Martin and Redford didn't lower the expectations one bit at the X. The Musketeers still plan on playing for the A-10 title, an NCAA tournament bid and a deep NCAA tourney run. Losing Jordan Crawford off last season's team was going to hurt regardless. But the mood of this squad doesn't seem to dampen under the highly energetic Mack.
"A huge part of who we are is that we're willing to play [anyone]," Mack said. "If you have only one or two opportunities against power-conference teams, then it's a lot of pressure on the kids. For us, we want to challenge them. We don't want to be foolish, but we need to play those games to get ready for the A-10 and for them to be talking about Xavier in that room in March."