The Butler Way just keeps chugging on
November, 3, 2010
11/03/10
12:13
PM ET
INDIANAPOLIS -- The signs of progress -- of a program that has arrived, not one that was a one-shot wonder -- are everywhere on Butler's campus.
This is a proud program that has had sustained success through myriad coaches, from Barry Collier to Thad Matta to Todd Lickliter to Brad Stevens. The banners that display the success are bountiful here at Hinkle Fieldhouse, whether they be from the Midwestern Collegiate Conference or Horizon or the NCAA tournament appearances.
And while Butler's magical run in the spring has faded a bit here with the annual alumni/fan love fest for Indiana and Purdue, the program is still very much on the local and national radar.
You see it in the way the players and staff are treated on campus. This is a student body that envelopes the basketball team and every other athlete. There is no separation. They are enmeshed in the student body, but there is still a reverence for what the Bulldogs have accomplished. The way in which Stevens and his staff are acknowledged when they walk around is always a sign of respect.
[+] Enlarge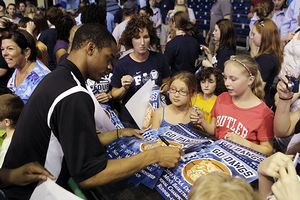 AP Photo/Michael ConroyRonald Nored and his teammates captured the hearts of Indy and America in the spring.
There was even a field trip last week by local elementary school children to see the Bulldogs and Hinkle Fieldhouse. Only in Indiana would a school take a field trip to see a college basketball facility instead of a local farm or recycling center. But that's also an indicator of how much Butler has grown as a major program.
The star status for these players is evident when you see junior guard Ronald Nored received as a pop star by a kindergarten class in Indianapolis as he does his weekly classroom reading and aid at an early-learning center as part of his elementary education major.
But there were tangible signs as well during my one-day snapshot of this program (which will be shown as an all-access piece later this month on ESPNU). The Bulldogs started the process of elevating themselves to the company of Gonzaga in scheduling last season with an invitation to the Jimmy V Classic to play Georgetown, soon after playing in the loaded 76 Classic in Anaheim. Matta's connection to Butler makes Ohio State's signing up for a home-and-home series a natural. A home-and-home with Xavier, another program that has had Butler ties, makes sense as well.
But the indicators of how far Butler has come are games like the one opening up Louisville's new Yum! Center and getting a return game from the high-profile Big East team next season. Getting a rematch against Duke in New Jersey on ESPN and drawing Stanford for a true home-and-home is more proof that the Bulldogs are taken more seriously than most.
It took Gonzaga years to get teams from the six power conferences to come to its campus, not just do a game at Spokane Arena or in Seattle. Sure, getting to Indianapolis is easier than Spokane, but the Butler name carries significant weight now. That's why having the Bulldogs in the Diamond Head Classic in Honolulu in December was a marquee get for the organizers. Baylor, Florida State, Mississippi State, Washington State and Utah are there as well, but Butler is the name everyone will focus on first.
"Once we got ranked, it was actually easier to schedule," said Butler assistant coach and former player Matt Graves.
And it doesn't hurt that there is a confidence now in this program that is evident the moment you walk into a 6 a.m. practice on a Tuesday morning and the players have already been there since 5:30.
"It might have seemed crazy to those outside, but we did believe that we could make it there," senior forward Matt Howard said of last season's Final Four. "That's our ultimate goal. Two years ago, as a sophomore, we didn't have those goals. We were talking about getting to the tournament and go from there. But last year, we really had a good team and we didn't want to sell ourselves short."
The Bulldogs were hardly a finished product early in the season when they stumbled in Anaheim. But by March they were rolling. Gone from that team are lottery pick Gordon Hayward and trustworthy system player Willie Veasley, who averaged 9.8 points a game.
But it doesn't take long to realize this team still has to be taken seriously -- not just this season but going forward. Forget for a minute that Stevens turned down multiple offers to leave, quickly realizing this is where he wanted to be for the long term. He had counseled with Gonzaga's Mark Few about how to keep a program at an elite level and why it made sense to stay where he and his family felt most comfortable.
Just look on the floor and there is Shelvin Mack, who was one of the top guards for the USA Select team that competed against the American national team this summer. Mack makes shots, is strong with the ball and is even quicker than a year ago.
"He's gotten more explosive," said Howard. "Last year his game was more perimeter-based and pull-up jumpers. This year he's really getting to the basket and finishing at the rim."
Mack alone could prevent a Butler slump. But while there are consummate role players like shooting guard Zach Hahn, combo guard Shawn Vanzant and big man Andrew Smith, the three players who could decide whether this team is a title contender again are Howard, Nored and Khyle Marshall.
Howard is a minimalist. He doesn't need too much flash, isn't bothered by much and still rides his bike to practice and around campus. But his longer locks, a T-shirt under his jersey and dark heavy socks made him appear to be slow in the post.
[+] Enlarge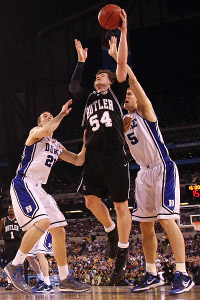 Jonathan Daniel/Getty ImagesMatt Howard is often overlooked, but the 2009 Horizon POY will be a key for Butler again this season.
"I was probably just slow," Howard said in his deadpan humor.
But he has shed some weight, at least five pounds says Stevens, worked on toning his body, trimmed his hair and lost the T-shirt for the time being.
"I might wear it though because it had been comfortable," Howard said. "I'm trying it now because it's less laundry.
"I feel better. I feel lighter. I feel like I'm able to do more things offensively and defensively like hedging or trying to get into position. Sometimes when you have more weight it's to your advantage in the post, but being a half-step quicker in getting in front of a guy can make a huge difference.''
Howard will score and board, and if he's right about his body balance, he should commit fewer fouls. Mack is the star on the floor, but he's not as vocal a leader. That honor easily goes to Nored. He leads the morning stretches and is the voice most heard during practice or in the locker room. Nored wasn't on campus for more than a week before Stevens saw that he was running for class president as a freshman -- and he won.
"He's the guy in the locker room that has everybody's energy level up," Stevens said. "I think Ron is one of the best leaders I've been around, period. He's one of the best four or five young guys I've been around. He's got that special ability."
Nored has a drive that isn't taught. He dealt with tragedy at a young age, losing his father to pancreatic cancer, helping his mother and younger brother and then deciding to come to Indianapolis from his home in Birmingham.
"I've grown up a lot," said Nored.
And then this summer, due to pain in his two legs from stress fractures that wouldn't go away, he had two titanium rods and screws put in each shin. But he showed no signs of being disrupted by the foreign objects during practice after having to take the summer off from playing.
"I'm bionic now," Nored joked.
The Butler staff is convinced Nored may end up as a congressman or senator, but for now he just wants to win games and be a contributing member of the Butler campus and greater Indianapolis by teaching and ultimately becoming a college basketball coach.
Nored said he wants to work at Butler. If the trend continues and players like Marshall continue to arrive, the future of this program shouldn't be an issue. The 6-foot-7 Marshall is built like former West Virginia forward Devin Ebanks -- long, lanky and a potential disruptive defender.
Marshall is from Davie, Fla., and is the first player Stevens has signed from the Southeast with no Indiana ties. He was in Indianapolis for the Final Four games, seeing Butler beat Michigan State and then lose to Duke in the final minute.
"I loved it," Marshall said. "It made me wish I was born a year earlier to see what it was like. But all I can do is hope we can get back this year. It was weird seeing your future team in the Final Four."
Butler is not George Mason. The Bulldogs are not Kent State or Davidson, other one-hit wonders that made unlikely March runs. Like Gonzaga, Butler has staying power and is a team that won't go away. The rest of the sport has taken the Bulldogs seriously enough that they've scheduled them, because of the respect and knowledge that it will be a high power-ranking game.
Sure, the locker room, film area and coaches' offices seem like they haven't been touched in a while, but no one here seems to mind. The facilities are historic and The Butler Way is ingrained into this campus. It is all about winning with class, dignity and hard work. You can see it at 6 a.m., throughout the morning on the court, and all day in and around campus. There are no signs that this is fading anytime soon.