Minnesota brings Trevor Mbakwe into fold
November, 5, 2010
11/05/10
7:02
PM ET
MINNEAPOLIS -- Trevor Mbakwe would walk around campus and hear mumblings from those who passed him. He knew they were well aware of his identity and what he was accused of doing, even as he professed his innocence.
Mbakwe spent last year on Minnesota's campus, able to practice yet unable to play as the university awaited the conclusion of a Florida assault case that had hung over him like a dark cloud.
"There were whispers of, 'That's the guy with the charges,'" Mbakwe said. "People just wanted to hear the bad things. It was tough. They thought I was a thug, a woman beater. My family raised me better than that to say that's something I would do. Everyone who knew me knew that's not something I would do. It was tough reading the articles."
In August, Mbakwe received closure on the ordeal when he decided to enroll in a pretrial program and not go to trial on the charges. The program, which isn't an admission of guilt, lasts six months and calls for Mbakwe to serve 100 hours of community service and donate $100 to a Florida shelter for abuse victims.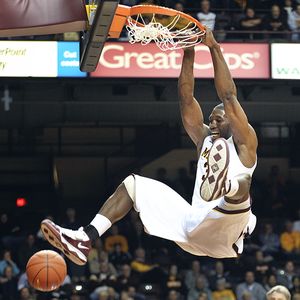 AP Photo/Tom OlmscheidWith his legal issues cleared, Trevor Mbakwe promises to be a force inside for Minnesota.
"I never thought [the case] would last this long," Mbakwe said recently at Williams Arena court after practice. "I was allowed to practice with the team, but was at first shocked I couldn't play. But I understood the ruling since it was a charge against a woman. I'm glad it's over, and I'm ready to play ball again."
If the Golden Gophers are going to challenge for the Big Ten title, it could be thanks to Mbakwe's power play inside, giving Minnesota a toughness and edge and adding even more production to a frontcourt that was already deep with Ralph Sampson III, Colton Iverson and Mo Walker. Mbakwe scored 13 points, made 4 of 5 shots and grabbed three rebounds in 13 minutes in the Gophers' 109-59 exhibition win over Division II Northeastern State (Okla.) on Tuesday night at Williams Arena.
As for the assault charge, Mbakwe's attorney, Gregory Samms, was quoted by The Associated Press in August as explaining the rationale for the deal like this: "Basically the only reason that we took it is one more of convenience and also the fact that by doing this we get to the same end result as if we went to trial and won without the trauma and time constraints of that." Miami-Dade State Attorney's office spokeswoman Terry Chavez was quoted as saying, "The victim was in full agreement with the decision made in this case. The past year has been very difficult for her."
Mbakwe was enrolled at Miami Dade College when the April 2009 incident occurred. He had spent an injury-plagued season at Marquette that lasted just 11 games before arriving at the college, which is primarily a junior college. He was at a birthday party for a friend who had just turned 21. Mbakwe said he left the party after it ended.
"I woke up the next morning and heard five different stories, that a girl got raped, a girl got jumped, a girl got beat up, and I heard by the afternoon that they were looking for three suspects," Mbakwe said. "And then I heard I was one of them. I brushed it off because I didn't do anything."
Two weeks later, Mbakwe was called into the basketball office at Miami Dade and told a warrant had been issued for his arrest.
"My heart just dropped," Mbakwe said. "It was a whole new world after that. My emotions were all over the place. I said, 'This can't happen.' I watch a lot of 'Law & Order,' and the first thing I thought about were these people that spend 30 years in jail over crimes they didn't commit. The whole thing was surreal."
Soon afterward, Mbakwe called Minnesota coach Tubby Smith.
"I was at the Final Four [in Detroit], and I got the call," Smith said. "I told him he needs to get a lawyer. He was worried about his safety. I told him you need to look out for yourself."
Mbakwe said he went back home to St. Paul, Minn., then had to return to Miami to turn himself in. He was released, then made another appearance in Miami to meet with his attorney.
"There was a lot of stuff we found out that the story went back and forth and that there was no evidence on me," Mbakwe said. "Unfortunately, we had three separate judges, two different prosecutors. Anything that could happen to me did happen to me to force a delay."
When Mbakwe arrived at Minnesota, he wasn't allowed to play until his legal issues were resolved.
"At the time, you don't agree why he was suspended because he didn't do anything wrong and nothing had been proven, so it was hard for me to accept, much less him," Smith said. "It was a charge. We wanted to stick by him and be a part of something special. That hasn't changed. I told him that if he could get past this, the people here would embrace him. It ended up being a great story, a story that should be told."
Mbakwe's case came at a troubling time for Minnesota. Another highly touted player in Smith's recruiting class, Royce White, never played for the Gophers after he pled guilty to charges of shoplifting and disorderly conduct. He left the program in February after he was charged with trespassing in connection with an alleged theft of a laptop from a dorm. He enrolled at Iowa State after leaving Minnesota.
"Every time Royce's name was mentioned, my name was mentioned," Mbakwe said. "The trouble was automatically linked in with everybody else. I was frustrated that I couldn't play, but it was their jobs on the line. For the most part, everyone stuck behind me. Mr. [Joel] Maturi [Minnesota athletic director] had nothing but good things to say. So did Coach Smith. He supported me. They allowed me to stay in school and be on track to graduate. They didn't have to let me stay here. They could have pushed me on out."
But Mbakwe nearly left. Frustrated by the slow-moving nature of the process, he wondered whether he should pursue his playing career elsewhere. He asked for a release to pursue a transfer and visited Memphis and said he was planning to visit Georgia Tech before his case was mediated.
"The delays kept happening, and I just didn't want to go through this again," Mbakwe said. "[Minnesota] had already said I couldn't play here as long as there was a charge. Memphis was a great school. I loved it, and I did consider it. I didn't want to go another year without playing. But I'm glad everything worked out."
Smith didn't challenge Mbakwe's interest in looking elsewhere. He said the patience that Minnesota and Mbakwe showed in this case should be a lesson for other schools around the country to stay with each other and seek a resolution instead of choosing the easy route of separating.
"I can't imagine what Coach Smith was thinking; he had to be stressed with all the problems …," Mbakwe said. "They still got into the tournament, finished the season strong and made it to the Big Ten championship game. Coach stuck by me. He respected me and stuck with me despite the charge. I'm very appreciative."
Mbakwe didn't start in the Gophers' exhibition game, but it will be hard for Smith to keep him off the court.
"He'll have an impact on our team because the way he plays, the type of competitor he is," Sampson said. "He brings so much energy. He uplifts our spirits. He's a great person to play against. He's strong and athletic. He handled everything very well. He would be at practice and support the team. He handled it the way you're supposed to."
Smith echoed that sentiment, saying Mbakwe was a mature young man dealing with an enormously difficult situation -- being charged with a crime he said he didn't commit.
"I worked so hard to get to this point; I was so excited to play last season after what happened at Marquette," said Mbakwe, who was cleared just in time to go with the Gophers on a three-day trip to Vancouver, British Columbia, in August. "I haven't really played in over two years. I'm so hungry. I can't wait to play. I feel like it's my freshman year all over again."
Minnesota could be a sleeper team and surprise teams in the Puerto Rico Tip-Off if the Gophers meet North Carolina in the semifinals on Nov. 19 in San Juan. Returning point guard Al Nolen, shooter Blake Hoffarber, and scoring wings Rodney Williams and Devoe Joseph will balance the length inside of Mbakwe, Sampson, Iverson and Walker.
When the season starts, what Mbakwe wants more than anything is to be recognized by students, fans and the media for his on-court prowess rather than for anything he was alleged to have done off the court.
"I just want people to say, 'That's the guy who had a double-double against Michigan State,' not 'the guy who assaulted someone who had to miss the year,'" Mbakwe said. "It's going to be great. I just can't wait for the first jump ball and for the games to start."