Rams eye elusive NCAA tournament bid
November, 9, 2010
11/09/10
9:31
AM ET
PITTSBURGH -- Rhode Island could have pulled off a season-long, shelf-life win over Pitt in the opener on Monday night, especially since the Rams play one more nonconference game against a team projected to go to the NCAA tournament.
Slaying the No. 4 Panthers would have been a significant upset, so too would a win at Florida on Jan. 3. The Rams don't have many opportunities to make a name for themselves prior to the Atlantic 10 season.
That's why the inability to hold a lead at Pitt, and eventually a 83-75 loss at the Petersen Events Center, where one nonconference team has ever won (Bucknell, Jan. 2, 2005), is still frustrating for the Rams.
"We're always right there,'' senior forward Delroy James said. "One day we have to get that punch and knock a team out. It's always at a pivotal point in the game. We've got to keep working hard. We can't put our heads down. We're trying to make the NCAA tournament.''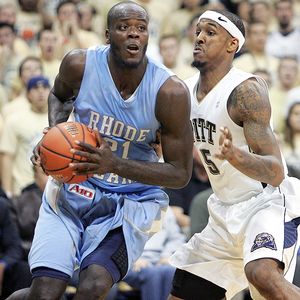 Charles LeClaire/USPresswireDelroy James, who had 20 points in the loss to Pitt on Monday night, is focused on getting Rhode Island to the NCAAs.
The Rams once again have a shot to disrupt the projected order in the A-10 conference race and finally break through with an NCAA tournament berth under journeyman and consummate rebuilder Jim Baron. Baron took over a nearly-gutted program in 2001 and has coached Rhode Island into relevancy with five NIT appearances, a second-place finish in the A-10 in 2009, a fifth-place standing last season and an NIT semifinal overtime loss to North Carolina. Baron took St. Francis (Pa.) to its only NCAA tournament appearance in 1991 and led his alma mater St. Bonaventure to the NCAAs in 2000, its first in 22 years.
Getting the Rams to the NCAAs this season would be another milestone for Baron. He has been close for many years but can't get the necessary wins in February or March, including last season when the A-10 had three bids (Xavier, Temple and Richmond).
"We control our destiny, and we've got to keep getting better, rebound the basketball better, not commit silly fouls and do a better job of trying to get to the foul line,'' Baron said.
Playing Pitt in the first game of the season will only matter for power-rating purposes, if the Rams win games they're supposed to win.
"I'll tell you after the second and third game,'' Baron said when asked to whether the Rams benefited from playing Pitt. "There could be pluses and minutes when you have a young team. There has to be carry over.''
The Rams host Brown; have three games in Toledo against the host Rockets, College of Charleston and Illinois-Chicago; and visit Northeastern and Quinnipiac in December. None of these games will be walks, especially at the NEC-favored Bobcats. They need to win home games against Drexel, Davidson, UNH and Lafayette, too. A split at Providence and at home versus Boston College would certainly help, as well.
The NCAA berth is the barometer for most schools, and Baron is well aware of the thirst for a bid. With suspensions to Kwamain Mitchell and Willie Reed at one-time contender Saint Louis (Mitchell may return second semester, but Reed is transferring to Kansas State) and three key players out for Xavier -- Brad Redford (ACL), Justin Martin (ineligible) and Jamel McLean (fractured eye socket) -- there is hope the Rams could contend with Temple, Richmond and Dayton for a top-three finish (although Xavier can hardly be counted out for the title with its A-10 history).
"This was our first game, that's a top-five team and it's still early in the season, so we'll get better and better,'' James said. "A game like this will only help us in the long run. [Not making the NCAAs] eats at me, Marquis Jones, Akeem Richmond. The NCAA tournament has been right there. We want to be successful like Temple, Xavier and Dayton, the teams picked ahead of us. We want to be team that people think of like that.''
The Rams certainly have the talent, even if they are depleted at this juncture. They should get junior forward Orion Outerbridge after the first 11 games (ineligible because of academics). He will give URI another possible scoring forward.
The hope is Levan Shengelia isn't gone for the season, although it certainly didn't look positive after he reinjured his right knee (partially torn ACL) in a minute of first-half play. Shengelia, who Baron calls his team's Rambo because of his toughness, was grimacing in pain while clutching his knee. He needed a wheelchair to get to the locker room at halftime and returned for the second half on crutches. He'll be evaluated when the team returns to campus on Tuesday. The other unknown is 7-foot-3 Blake Vedder, who is paper thin but is highly-skilled and has loads of potential even though he only got into the game for a minute.
Those are the uncertainties, but the givens are enough to warrant hope for the Rams. James and Richmond are ballers, who aren't shy to gun up shots. The two combined to go 11 of 29 for 36 points against Pitt. Will Martell and Nikola Malesevic made key shots against the Panthers, and point guard Daniel West could be a hidden gem after he had 10 assists, 6 turnovers and 3 steals.
The Rams did commit 16 turnovers and played porous defense down the middle, as Pitt's Brad Wanamaker, Ashton Gibbs and Gilbert Brown got deep into the lane. That has to stop if they are to be taken seriously.
"We've got to put more pressure on the ball,'' Richmond said. "We were so inconsistent on defense.''
Rhode Island is clearly making a move upward, and that's evident with the addition of former Boston College assistant and one-time Rams player Preston Murphy to the staff. Murphy was instrumental in adding West, who like Murphy is from Saginaw, Mich., and played high school ball in Saginaw before a year at Pensacola State College (Fla.) last season, and the recruitment of small forward T.J. Buchanan (Kalamazoo Central, Mich.) for 2011-12 and 2012-13 shooting guard Dominique Bull (The Tilton School, N.H.).
Rhode Island athletic director Thorr Bjorn extended Baron's contract through the 2013-14 season. The Rams can't wait that long to get to the NCAAs. If the upward trend in recruiting, last season's NIT semifinal finish and the way in which URI gutted it out and pushed Pitt on Monday night continues, the long NCAA-bid drought (which dates to Jim Harrick's last year in 1999) finally could end.