Monarchs tough slate begins with Hoyas
November, 11, 2010
11/11/10
11:20
AM ET
Rhode Island had a shot to beat Pitt but faded in the final minutes.
College of Charleston was one shot away from a win, but it couldn't defend Maryland's Pe'Shon Howard.
Both of those games came on the road for programs trying to make early-season-statement wins that could've had shelf life for the rest of the season.
[+] Enlarge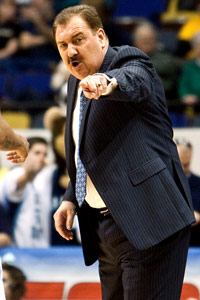 Icon SMIODU coach Blaine Taylor's tough early-season schedule begins with Georgetown at home on Friday.
Old Dominion doesn't have that disadvantage. The Monarchs get a ranked team, No. 21 Georgetown, at home Friday night. It's the final game of two separate home-and-home series. Surprisingly, Old Dominion has won the two games at Georgetown, on the Hoyas' campus at McDonough Gym, and lost the one game at home in Norfolk, Va. "I'm not sure there's a tougher opener than this one,'' ODU coach Blaine Taylor said. "But we're a good matchup for them. We're kind of like a Big East team. We're big and athletic. We can play with the big and athletic teams in the Big East, the beauty parlor teams in the ACC and the speed teams in the Big 12. It's the Big Ten that has given us trouble with their size, length and athleticism.''
Old Dominion, which had lost three straight games to Missouri, Mississippi State and Richmond in the three weeks prior to winning at Georgetown last season, won the CAA conference, took Notre Dame by one point in the NCAA tournament first round and then lost to eventual Elite Eight participant Baylor in New Orleans.
Taylor has led the Monarchs to the NCAA tournament three times in six seasons, and he knows that his team has a golden opportunity in getting a power-six school like Georgetown at home. Sure, the selection committee will put more stock on a road or neutral court win, but beating the Hoyas at home will carry weight. "It's not like the BCS where you lose one game and you're done,'' Taylor said. "We've got a lot of games left. And we've been awfully good the last five or six years.''
Taylor did upgrade the schedule, and this team should contend with VCU and George Mason for the CAA title. The Monarchs return the core of the team, save CAA tournament MVP Gerald Lee. Their stingy defense, which ranked sixth nationally, shouldn't dramatically change, and the four scorers after Lee -- Frank Hassell, Ben Finney, Kent Bazemore and Keyon Carter -- all return.
That's why Taylor didn't hesitate in scheduling quality games beyond the Hoyas. Old Dominion is in the Paradise Jam in St. Thomas next week with possible NCAA-bound teams Xavier, Seton Hall and Alabama. And it would be foolish to discount Clemson as a possible NCAA team. The organizers of the Jam actually seeded the event based on last season's power ratings, pitting Xavier and ODU on opposite brackets. The seeds were: 1. Xavier, 2. ODU, 3. Clemson, 4. Seton Hall, 5. Alabama, 6. Long Beach State, 7. St. Peter's, 8. Iowa. That means ODU could face Clemson in a semifinal and avoid the loaded other side (Xavier, Seton Hall or Alabama) until the final. Regardless, ODU will get at least two quality games in the Virgin Islands.
Hosting Atlantic 10 co-favorite Richmond on Dec. 1 and then another possible A-10 title team in Dayton on Dec. 11, before a trip to Big 12 top-three team Missouri on Dec. 30, should position the Monarchs quite well for a possible at-large bid, if they can survive the CAA well enough.
But it all starts with Georgetown.
Taylor credits Georgetown coach John Thompson III for continuing the series a second time and of course his willingness to open up his season on the road. "I wanted to test our team,'' Thompson said. "This team needs to be tested.''
A year ago, Thompson did something similar by opening up at Tulane (an easy win) and playing Temple (a grinding one-point victory). But opening up at ODU is a tougher task, especially since the Monarchs have played the Hoyas well. "They play a Big East brand of basketball,'' Thompson said. "I want this group to be tested early and often. That's why we put this schedule together.''
The Hoyas will lean heavily on a stellar group of returning guards in Austin Freeman (the preseason pick for Big East player of the year by the league), Chris Wright and Jason Clark. The frontcourt will be a mixed bag, as JT3 looks to replace Greg Monroe. He said the early leader upfront has been Julian Vaughn, who has stood out so far in practice. Henry Sims, Jerrelle Benimon, Hollis Thompson and freshman Nate Lubick will be rotating through. Freshman Moses Abraham, who worked out last May a few times with Kentucky's DeMarcus Cousins in Washington D.C., is a work in progress but will contribute.
The Hoyas return from ODU to face a home game against Tulane, three games in the Charleston Classic and back at home against UNC Asheville. Then it gets interesting again as the Hoyas visit Missouri, host Utah State and go to Temple in a three-game stretch from Nov. 30 to Dec. 9.
The rugged nonconference slate ends at Memphis on Dec. 23. Georgetown opens the Big East schedule with two of three on the road (at Notre Dame, home DePaul, at St. John's) before West Virginia and Pitt arrive in D.C.
JT3 has completely changed the Hoyas' scheduling philosophy, and teams such as ODU are the beneficiaries. It doesn't hurt that Thompson doesn't mind challenging his team on Day 1 after the sour taste of a stunning loss last season in the first round of the NCAAs to Ohio by 14 points. "That was disappointing after the way we played to get to the Big East championship game [losing on a last possession to West Virginia],'' Thompson said. "We've got a veteran team, and I'll be interested to see how we respond. There are no soft spots on the schedule.''