Memphis cuts loose highly touted recruit
November, 15, 2010
11/15/10
9:33
AM ET
Memphis coach Josh Pastner made a coaching move this weekend that is indicative of a coach who is comfortable and confident in his career, even in year two.
Pastner decided to part ways with McDonald's All-American Jelan Kendrick, before he played in his first regular-season game.
In his decision to jettison Kendrick, Pastner stood on his principles, which he learned mainly from his upbringing under his father, Hal, and by the way in which he created his own business in hoops by running tournaments in Houston.
[+] Enlarge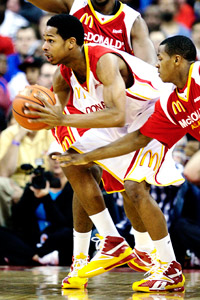 AP Photo/Jay LaPreteJelan Kendrick is now a high school All-American without a team.
There are times when a coach can't put a player above the entire operation, regardless of the talent.
That's what happened with the 33-year-old Pastner on the eve of his second season in charge of the Tigers, a critical juncture for him in his career, as the expectations rose from low in year one to preseason top-20 team and overwhelming Conference USA favorite in year two.
Pastner, whose team hosts Miami on Monday night (midnight ET, ESPN) to tip off ESPN's 24-hour College Hoops Tip-Off Marathon, wouldn't get into the specifics of Kendrick's transgressions when reached Sunday night. He did say there were chances given to Kendrick, and he simply didn't conform. He missed two weeks of preseason practices for what was termed "personal reasons," but there was clearly a behavior problem and a reluctance to adhere to the rules of Pastner's program.
Kendrick was reinstated to the 19th-ranked Tigers on Nov. 4 but was dropped before the Tigers beat Centenary in the season-opener Friday night.
"Eventually a separation was best for both parties," Pastner said. "No one is bigger than the program."
Pastner said Kendrick would have likely started for the Tigers at one of the wing positions. He said the 6-foot-6, five-star prospect would have been a legit scoring option for Memphis. Kendrick, who is from Atlanta, will likely draw interest from Georgia and/or Georgia Tech, among other SEC and ACC schools.
Pastner said poor behavior can lead to consequences, but if the behavior doesn't change that warrants a change in the consequences. Translation: Kendrick had a shot to make good with the team and the staff -- and failed.
"I'm not a yeller or a screamer, and I don't curse," Pastner said. "But we have standards."
Pastner knows fans of Tigers basketball -- a program with a substantial and passionate following in the city of Memphis -- are watching him closely with a team that has one of the top recruiting classes in the country. But Pastner didn't start the top player in that class, Will Barton, in the first game of the season, bringing him off the bench against the Gents because he's been battling an ankle injury. He said Barton has to earn a starting position and hasn't decided if he will start against Miami.
He also didn't start budding star Wesley Witherspoon because he showed up late to a practice. And freshman Chris Crawford didn't play in the first half because he wasn't doing his job academically.
Pastner long ago proved that he can recruit. His ability to work with and relate to the players was never a question while an assistant at Arizona. His connections to other coaches have always been a plus. His confidence in his abilities has never been an issue. And it shouldn't have come as a surprise that he had an up-and-down first season, taking over a Memphis roster that had been nearly gutted.
Pastner made some prudent coaching moves by hiring a stable veteran on the bench in former Rice coach Willis Wilson. And his attitude toward the fans and media hasn't soured. He's approachable and welcoming.
But he has to be tough to survive in this business. He has to be respected by his players, too. And if Kendrick was insubordinate in any way without consequence, Pastner's credibility would suffer.
So far, he is making the appropriate moves to make himself stick at Memphis for the right reasons. The Tigers will still have to win their share, and beating Miami won't be easy because the Hurricanes have one of the tougher backcourts in the ACC with Durand Scott and Malcolm Grant. The rest of the nonconference schedule has plenty of potholes, with a neutral site game against LSU, a tough Western Kentucky team coming to the FedEx Forum, playing Kansas in New York at the Jimmy V Classic, hosting Georgetown and traveling to Tennessee and Gonzaga.
On the floor at least, Kendrick certainly would've helped in those challenging games. It was determined, however, that the reward was simply not worth the risk.
"We wish Jelan the best," Pastner said. "He'll finish the semester here and likely transfer, and we'll help him get a good situation. It just wasn't the right fit."
Recognizing that before it became a bigger issue? That's why most Memphis fans feel that Pastner is just the right fit.