Terps, Horns show early-season promise
November, 16, 2010
11/16/10
5:23
PM ET
Maryland coach Gary Williams had an idea that Pe'Shon Howard would be a major contributor for the Terps this season.
But he wasn't sure how much moxie he had in his game.
A week into the season, Howard is proving to be the player who isn't afraid to do just about anything on the court. He made not one but two game-changing shots -- including the winner -- in a 75-74 win over the College of Charleston last week.
[+] Enlarge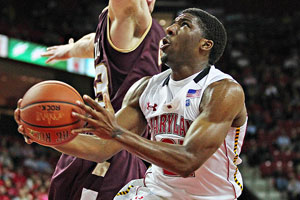 Mitch Stringer/US PresswirePe'Shon Howard is not afraid to take -- and make -- big shots for Maryland.
Maryland enters Thursday's game against Pitt in the semifinals of the 2K Sports Classic benefiting Coaches vs. Cancer with a new reason for hope. Sure, the Terps have a size and production advantage in the post with sophomore forward Jordan Williams (21 points and 13.7 rebounds in three games). And veteran guards Cliff Tucker (15.7 ppg, 4.3 rpg) and Adrian Bowie have been solid. But the Terps had to find someone to replace Greivis Vasquez's attitude.
"He came in very confident," Williams said. "Unless you're [Kevin] Durant, you're a little cautious. But he has veteran players around. [Howard] came in believing in himself. I wasn't going to tell him anything different. He thinks he can play. He wants the ball. And he took it. He's not afraid to take it."
Williams has thrived with lead guards who are similar to Howard: passionate, driven and not scared to take on a challenge. "He's got a little Greivis in him," Williams said. "What I liked about Greivis [is] that he was never afraid of what people said that didn't agree with him. Pe'Shon has some Greivis in him. He knows how to play. He's going to play his way. It's a great attitude to have as a player. He's confident. There's going to be games where he learns things. If he has a bad game, it's not going to get to him."
Williams said the Terps could have quit three or four times in the game against Charleston. But they didn't.
Meanwhile, Texas hasn't wilted one bit in its first couple of games, routing Navy and Louisiana Tech at home. The Horns will play Illinois in the other CVC semifinal Thursday night.
Texas coach Rick Barnes has made it clear that he wants players who want to be in Austin. That's why he wasn't too miffed when Varez Ward jettisoned himself to Auburn on a transfer. So far, everyone is on board.
Barnes said as soon as last season was over, the Longhorns put it in the past. "I told everyone it's going to be about the team and to have both feet in," Barnes said. "It's been good."
[+] Enlarge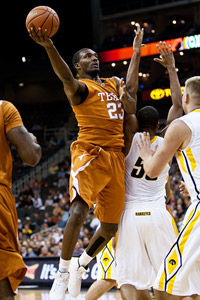 Jeff Moffett/Icon SMIJordan Hamilton is off to a fast start, averaging 22.5 points and seven boards in two games.
Jordan Hamilton has been more than good. He is averaging 22.5 points and seven rebounds a game.
"Jordan wants to be coached," Barnes said. "He's really trying to learn this game."
Barnes has had stud point guards who have taken over the team in T.J. Ford and D.J. Augustin. He won't have that type of lead guard this season. But he does have players who have appeared to accept their roles. Barnes said Jai Lucas is a defender. Dogus Balbay and Cory Joseph will share the ballhandling. J'Covan Brown is a wing, not a point guard, and that's evident by his four assists and four-turnover-per-game average.
"I'm happy with the way Dogus and Cory are working," Barnes said. "They're going to be fine. I like those guys, the way they're playing. They had 14 rebounds between them [against Louisiana Tech]. Jai Lucas has become a pest defensively."
And it helps that Texas has a star freshman forward in Tristan Thompson lighting it up early in the season as well as solid complementary players Gary Johnson and Matt Hill, who is getting the starting nod because of his practice habits. Barnes is already high on this team's defensive effort and their ability to run on the break. No offense to Dexter Pittman, but the Longhorns aren't waiting for the center to get downcourt this season. The plan is to push it as much as possible. And by holding Navy and Louisiana Tech under 60 points in the first two games, the defense is clicking.
Pitt and Illinois will get the headlines later this week, and with good reason. Each team is a trendy pick to win its conference. But Maryland, with its newly discovered money player in Howard, and Texas, with its renewed confidence and chemistry, can hardly be taken lightly in this event.