Early true road wins carry weight in March
November, 17, 2010
11/17/10
5:13
PM ET
GAINESVILLE, Fla. -- Ohio State athletic director Gene Smith watched as much of the College Hoops Tip-Off Marathon as he could while also cheering on his beloved Buckeyes.
As the chair of the NCAA tournament selection committee, he'll have to recuse himself in March when it comes time to discuss Ohio State's seeding in the field of 68. But his colleagues will take note of the true road win the Buckeyes picked up Tuesday night, a convincing 93-75 victory over the Gators at the O'Connell Center.
[+] Enlarge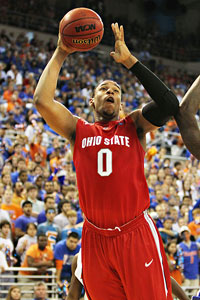 Kim Klement/US PresswireJared Sullinger and Ohio State got a huge nonconference road win at Florida on Tuesday.
The nonconference road and neutral-site wins that occur in November and December carry significant weight in March. We've known this for quite some time. But the increased number of true road games and neutral-site affairs last week -- and in the coming week -- are being even more scrutinized and applauded by the committee. That's why games in New York, Puerto Rico, Maui, Orlando, Anaheim, New York again, New Jersey, Las Vegas and Honolulu will be well documented.
Smith said the selection committee met last week in New Orleans to unveil the 2012 Final Four logo and to discuss the upcoming weeks as each of the 10 members locks in on his or her respective conferences to monitor. He said they'll reconvene in mid-January at the NCAA convention for a full breakdown of nonconference results.
And already plenty of games are being circled. "Georgetown winning at Old Dominion. Saint Mary's over St. John's," said Smith, rattling off key wins. "Playing these games, and going on the road particularly for nonconference games, means a lot. Even if you don't win, it can still mean a lot. We're going to always look at the whole body of work. But the balance of scheduling throughout the year and the nonconference season is critical.''
We need to get rid of the crutch of how many teams from a particular conference get into the field. It doesn't mean anything since each team is judged independently. Sure, the schedules are dictated by who they play in each conference, but there are so many imbalanced schedules (like the SEC East versus West teams) that each team has to be treated differently. Based on the likely strength of each division, a 10-win SEC West team won't be looked at in the same way a 10-win SEC East team will be this season.
That's why who a team chooses to schedule and where it plays in the nonconference continue to be key components. Florida State won at UNC Greensboro and will play at Loyola-Marymount. Georgia Tech can be criticized for going to Kennesaw State, especially after losing, but had the Yellow Jackets won the game, that would have been points for a true road win.
Plenty of schools, like Gonzaga, Texas and Michigan State, never have an issue with playing enough quality nonconference games. But other schools are now adding that formula. Georgetown played at ODU, will go to Kansas City to play Missouri, visits Memphis and hosts Utah State. It could possibly play NC State in the Charleston Classic as well.
Teams with fewer chances to make a mark -- like ODU -- will still be given some credit for playing the game close, as long as there is more to the body of work.
"It depends on what they do the rest of the year,'' Smith said.
ODU has more chances to win some affection with games scheduled against Richmond, Dayton and at Missouri prior to the CAA season starting. "When we meet to talk about the nonconference games, we'll talk about exactly who played where and how they did,'' Smith said. "This is an exciting time of the year.''
All of these games ultimately could feed into who plays in the First Four games, the new first round of the NCAA tournament. Smith said that one of the topics discussed at the meeting last week was how to divide the games in Dayton on the Tuesday (March 15) and Wednesday (March 16) of Championship Week.
Smith said it's not certain yet, but it does appear highly likely that the NCAA will have one game between two of the last four automatic qualifiers and one game between two of the last four at-large teams on each night to strike a balance and sell more tickets in Dayton.