Thoughts on the season's first 10 days
November, 18, 2010
11/18/10
6:38
PM ET
SAN JUAN, Puerto Rico -- A few reflections now that we're 10 days into the season:
1. Credit San Diego State's Steve Fisher for bold scheduling. Fisher wanted to play Gonzaga, no matter the locale. He knew that the CBE semifinals were predetermined and had no shot to get to Kansas City even with a win over the Zags. But Fisher took the game anyway as the organizers were looking for another team to send to Spokane. Gonzaga coach Mark Few was naturally concerned about this opponent.
[+] Enlarge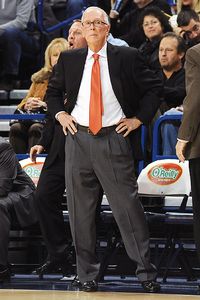 Robert Johnson/Icon SMIKudos to Steve Fisher and San Diego State for a tough early-season schedule.
Now Fisher takes his act on the road for three games in Oxford, Ohio, including a true road game against Miami (Ohio). San Diego State will be the favorite in all three, and after opening the season with a win at a rocking Long Beach State, it has a real shot to open the season 5-0 -- all away from San Diego. This will be a home run for the Aztecs when the NCAA tournament selection committee meets and looks at which coaches challenged their teams the most.
2. The NIT Season Tip-Off got it right by not changing its format. The last tournament to hold out and have teams actually earn their way to a neutral site shouldn't complain that Virginia Commonwealth upset Wake Forest in Winston-Salem to join Villanova, UCLA and Tennessee in New York. VCU, one of the CAA favorites with Old Dominion, was the better team and has the better chance of giving any of the other three higher-profile schools a run next week at Madison Square Garden. Wake Forest lost at home to Stetson. The Demon Deacons look like they will finish last in the ACC and didn't deserve a free pass to the semifinals.
3. Scheduling tournaments continues to be quirky. Who knew that Ohio State and Florida were actually playing as part of an invitational? Florida assistant coach Larry Shyatt is the master at putting together these events. Ohio State and Florida will each play the same three teams on their home courts -- Morehead State, North Carolina A&T and UNC Wilmington. The OSU-Florida game was folded into the event to allow it to be called an exempted event and not count against the maximum number of games allowed (teams that play in an exempted event can play 31 games, which includes the conference tournament; teams that do not play 29). Kansas and Arizona have done something similar to this format. Shyatt said Florida and Ohio State will do the same thing next year, playing around the same time in Columbus with three other teams. Shyatt said he has struck a similar deal with Michigan State's Tom Izzo to play the Spartans in 2012, wrapped around three other games for both teams. Ohio State coach Thad Matta said he would much rather play a game like Florida and three others at home than play in a traditional three-game, neutral-site tournament. That's why you're not seeing Ohio State, Florida or Kansas in these traditional eight-team events of late.
4. Is it too early to move Ohio State up and Florida down in the Final Four conversation? Of course it is. This isn't college football where one loss can dismiss title hopes. No one had Butler in the Final Four after the Bulldogs' poor performance in Anaheim last year. Still, it was clear Tuesday night in Gainesville that the Buckeyes have a safety valve in Jared Sullinger in the post. He can bail them out of any shooting droughts. Florida doesn't have that reliable post threat. That void and indecision offensively by the guards make you wonder if the Gators can get over the hump and become a Final Four team.
5. Who was ready for primetime early on? Michigan State, Kansas State, Duke and Ohio State have answered that with impressive early performances, which put them in the deserving elite class. Toss in Pitt and Illinois, and the contenders are starting to take shape. Of course, there are a number of other teams that are just starting to figure themselves out. Syracuse, Kansas (without Josh Selby at the moment), Kentucky, Washington, Texas, Florida State, Virginia Tech and Villanova are among others that can't be dismissed.
[+] Enlarge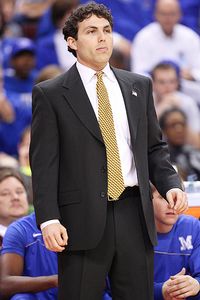 Nelson Chenault/US PresswireMemphis coach Josh Pastner has to like what he's seen from his freshmen so far.
6. Which matchup lived up to the hype? The tussle on the perimeter between Miami and Memphis guards was a highlight. Both teams should make the NCAAs come March. But Miami must make better late decisions if it is to win the types of games that are necessary to finish in the top half of the ACC. Memphis has the advantage of being in the weaker C-USA. Still, the freshmen played with so much energy, especially on the defensive end late in the game, so coach Josh Pastner had to be pleased.
7. Three road wins to remember: I'll take Ohio State over Florida, San Diego State over Gonzaga and Georgetown over Old Dominion.
8. And the freshmen will lead them: It's no surprise that Sullinger was the main reason for Ohio State's victory. The trio at NC State is off to a blazing start with C.J. Leslie, Lorenzo Brown and Ryan Harrow. You can take your pick at Kentucky. And don't forget Tristan Thompson at Texas.
9. The world is right again. Georgia handled Colorado after nearly losing to Mississippi Valley State, and both games were without injured SEC preseason player of the year Trey Thompkins.
10. I was wrong to dismiss Louisville. The Cardinals have rebuilt themselves again under Rick Pitino -- at least at the KFC Yum! Center. But one game doesn't mean Butler is toast. Give this team some time to get refocused.
11. A star is born: So much hype surrounded Kawhi Leonard of San Diego State that Billy White was overshadowed. But his 30 points versus Gonzaga should wake everyone up to his talent. This is a balanced Aztecs team.
12. If Georgia Tech had won at Kennesaw State, would everyone still question why Paul Hewitt agreed to play the game there? I'll still say Georgia Tech should win that game on the road and applaud taking a chance or two. Florida State played in Greensboro against UNCG (granted it was to play at the Greensboro Coliseum, the home of the ACC tournament), but the Seminoles are also going to Loyola Marymount on the way to Hawaii in December.
13. Gib Arnold hardly had a roster when he took over for Bob Nash at Hawaii. He still swept through three games in Honolulu. Impressive start for the first-year coach.
14. I'm not sure there is more pressure on two players this season than Central Michigan's Trey Zeigler and Detroit's Ray McCallum Jr.. They both turned down scholarship offers to go to UCLA so they can play for their dads. But with those decisions likely comes the expectation to deliver in the postseason. They're both playing rough early schedules so it's unfair to expect road wins (Detroit lost at New Mexico and Syracuse, while Central lost at Hawaii). It will be interesting to see how they hold up by leading their teams in their respective conferences in the MAC and Horizon.
15. It has been a good week when the competition has been -- for the most part -- close. We've seen officiating controversies, and the enthusiasm is high for hoops in mid-November.