Deniz Kilicli says NCAA unfair to foreigners
November, 19, 2010
11/19/10
10:06
AM ET
SAN JUAN, Puerto Rico -- Did Turkish national
Enes Kanter
ever have a chance to be eligible at Kentucky?
Fellow countryman Deniz Kilicli didn't think so a year ago and doesn't see it occurring through an appeal, but hopes the rules will change to reflect the two different systems in which Americans and Europeans prepare for athletics in higher education.
"I never thought he was going to play," West Virginia's sophomore forward said about his friend from Turkey. "I knew that club was going to do what it did. I knew that he wasn't going to play. I called it like a year ago."
[+] Enlarge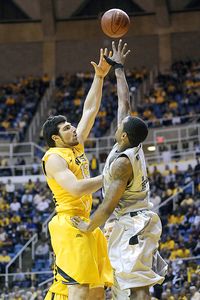 AP Photo/Jeff GentnerKilcli had to sit out the first 20 games of his career, but is now a key contributor for WVU.
Kilicli sat the first 20 games last season for an amateurism violation since he had played with a professional. But that game-for-game tag on international players has essentially been replaced with more of a financial-based rule. If a player receives benefits that are more than the necessary expenses, he can be ruled ineligible.
On Nov. 12, the NCAA handed down such a ruling on Kanter, saying that he received $33,000 of excessive expenses from a club team in Turkey (Fenerbahce) in one particular season. The decision was to make Kanter permanently ineligible. Kentucky is appealing the decision to the reinstatement committee, which consists of administrators from the member schools, not the staff at the NCAA headquarters in Indianapolis, which originally made the ruling.
Kanter and UK contend that the expenses were used for educational purposes.
"It's too harsh on the international players," Kilicli said. "We're not equal [with the Americans]. We're not playing in the same kind of system. It kills the guy [Kanter]. I talked to him. He wants to play. He's a really good player. He can't play, and that sucks. I didn't get the money he got. That was the thing."
Kilicli didn't receive benefits because he wasn't at the same level as Kanter. Kilicli was more of the norm now for European players who are in college basketball. He wasn't highly recruited, needed to develop into a potential pro and was hardly on the NBA radar.
Kanter was an anomaly. He is a lottery pick and would have been had he never entertained the thought of going to an American college. One scout watching the Puerto Rico Tip-Off here said he watched Kanter at a private workout in Lexington last week and said there's no question he is one of the top five players in the NBA draft in June.
Kilicli said Kanter listened to people who thought he could win his case.
"He got a bunch of people talking to him and in his ear saying he was going to play," Kilicli said. "But I know how it goes. I didn't think he was going to come here [to America]. Two years before, I don't think he was even thinking about it. I don't know what happened in those two years. Maybe he got pissed or something. But coming here is a good way to show yourself with all the stuff, play on ESPN, and you're not going to have that over there. He probably wanted exposure. I was desperate. I got to play. He don't need to. He'll go first round anyway."
Kilicli said he's hoping there is a change in the way the NCAA treats international players, even those who receive monetary benefits. But unless Kanter somehow catches a break with the appeal, then he won't be the one who creates the trend.
"If I came this year, then I would get no suspension," Kilicli said. "I wouldn't get a game. For me, it was one game for every game you played with a professional. I had one guy who played 20 games, so I got 20 games."
Kanter was ushered to a club team and because elite players are set up with housing and benefits, they are likely going to be deemed professionals by the NCAA if the expenses are beyond what it would term necessary. A salary would be considered professional and that seems to be common knowledge. The confusion will lie in whether a teenager realizes he can't get any expenses from the club team that are too high or he'll never be able to play in an American college under the current rules.
European players are directed toward club teams at a young age, something that doesn't occur in this country -- although you could make the argument that elite players here are given benefits in terms of travel and gear from their summer-league teams.
Still, the two systems are different with club teams and summer-league/high school teams. The one country where there isn't as much of a discrepancy is Australia, where an institute of sport is more like a high school. On the other hand, a European club team is often perceived by the NCAA as a pro team because of the way it hands out benefits.
"They're trying to judge international players like they judge American players," Kilicli said. "It's not the same system."
And yet that's why international players are consistently caught in this amateurism web that leaves them missing games, a season or, in the case of Kanter, an entire college career.