Final impressions from Puerto Rico
November, 22, 2010
11/22/10
8:56
PM ET
SAN JUAN, Puerto Rico -- November tournaments don't make or break a season, but they can be a strong indicator.
UCLA went winless in Anaheim last season. The Bruins then missed the NCAA tournament.
West Virginia won Anaheim and eventually reached the Final Four.
Meanwhile, Butler was in the same field and looked horribly mediocre but was within one possession of the national title.
So, we report, evaluate and speculate.
Here are some impressions from four days in Puerto Rico with eight teams (and for more analysis, check out my video wrap from San Juan).
• I was convinced Minnesota would be a factor when I saw it practice last month. The Gophers were just too big inside with Trevor Mbakwe, Ralph Sampson III, Colton Iverson and Maurice Walker to be a fluke.
[+] Enlarge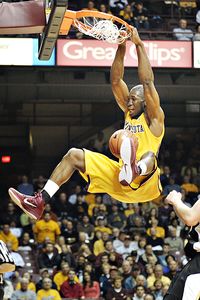 AP Photo/Tom OlmscheidTrevor Mbakwe and Minnesota's toughness and size were big factors in San Juan.
Al Nolen is back as the lead guard and top on-ball defender, Blake Hoffarber is raining down 3s, and with the possibility that Rodney Williams and eventually Devoe Joseph can slash to the basket for buckets, this team is extremely formidable.
• Minnesota didn't disappoint. The Gophers' size was the story here all week. The coaches couldn't stop talking about how physical, tall and dominating the Gophers could be in the post. The confidence that Sampson III is exhibiting -- even with his subpar game Sunday night -- could be a game-changer for this team. Mbakwe gives the Gophers the toughness they covet, and he'll be a strong man in the Big Ten.
• The Gophers keep saying how wonderful Joseph will be for this team when he gets back from his team suspension. He wasn't a dominating scorer for the Gophers, so we'll take their word on this one for now. But he'll have to fall in line with a team that has found its mojo here in the Caribbean.
• Coach Tubby Smith should be applauded for the job he has done at Minnesota. Smith has put together a defensive-minded team that has balance and enjoys being with one another. The staff is a veteran crew, and there is a sense this could be a special year.
• West Virginia will be fine and a real contender for the Big East title. The Mountaineers had some questions about perimeter shooting with the departure of Da'Sean Butler. But Casey Mitchell was phenomenal in San Juan. If Mitchell keeps his word and remains quiet, the Mountaineers will be a player. Mitchell was subdued throughout the week, almost going to the extreme of not talking back to coach Bob Huggins. Mitchell doesn't smile much, but he clearly has a shooter's mentality.
• The reason for the optimism is that Kevin Jones wasn't "on" throughout the week. He can play much better and be more of a factor than he was in this tournament. John Flowers is still working to be a consistent scorer, as well. While the Mountaineers are undersized, they do have the toughness to board in the Big East. The team just needs Deniz Kilicli to be more efficient as a starter. Backup Kevin Noreen gave them much-needed energy off the bench in Sunday's title game.
• Point guard Darryl Bryant won't have an off game like he did on Sunday too often (0-for-1 from the field, zero points). He knew it. There was no reason for it. He'll be back as a major factor for the Mountaineers. Joe Mazzulla and Bryant in the backcourt are a formidable pair. I wouldn't worry too much about this squad. As Huggins said, his teams compete for championships.
• Vanderbilt was impressive after leaving with a 2-1 mark. Coach Kevin Stallings was adamant that the Commodores could be a contender in the SEC East without A.J. Ogilvy and Jermaine Beal. The Dores have an extremely effective perimeter with Jeffery Taylor's versatility, John Jenkins' long-range shooting, and the combination of Brad Tinsley and Kyle Fuller at the point.
• But the biggest surprise from Vanderbilt was its power game. The Dores were one of the top three tough teams here, and it showed. Festus Ezeli can finish on the offensive backboard and Lance Goulbourne doesn't show fear going in for the offensive putback.
• Stallings never gets full credit. The man can coach. He was a candidate at Ohio State prior to Thad Matta taking the job. The Buckeyes couldn't have gone wrong either way. Obviously, Matta has done a tremendous job in Columbus, but Vandy should realize, if it hasn't already, that it has quite a catch in Stallings. He has made this program relevant for years and will continue to do so.
• North Carolina, well, what is there to say about the Tar Heels? UNC is just missing something. What it needs is a player in the locker room who can grab the rest of the crew and shake them up a bit. They don't have an enforcer, someone with an edge. The talent is there, but something isn't. Coach Roy Williams said that attitude and leadership will have to come from the coaches until the players develop it in the locker room. But who will be that guy? Can it be someone like freshman Kendall Marshall? Will Harrison Barnes develop that type of edge? Barnes is a phenomenal talent, but he got pushed around and had trouble fighting for his own shot in the last two games. Sure, there were missed defensive assignments, and Barnes did flourish against a zone. But in the Minnesota game, the Gophers bodied him up, and he went 0-for-12 from the field. That's not good. Tyler Zeller and John Henson have incredible length, skill and athleticism, but they just don't exude the type of personality to take over. How this team develops over the course of the season, when it is sure to take on more losses (possibly at Illinois next week), will be intriguing to watch. But know this: UNC is in the ACC mix with Florida State, Maryland, Virginia Tech and NC State for second place behind Duke. The Tar Heels aren't at all ahead of the pack. They are in the mix, just like everyone else. The bottom of the ACC has been awful so far, so there is hope that the records for those teams fighting for second won't come close to last season.
• Davidson coach Bob McKillop should be listed high if you're ranking elite coaches. The Wildcats had no business leaving 2-1 with a roster loaded with freshmen and sophomores. Western Kentucky had a few players (Juan Pattillo and Steffphon Pettigrew) who are going to play pro basketball somewhere on the globe. Davidson may not have guys like that. Yet Davidson was the better team, the more efficient team, and leaves here with oodles of confidence going forward into the Southern Conference. Western Kentucky, a Sun Belt favorite, is now confused, unsure why it can't find any cohesion. The Hilltoppers were selfish at times and lost at others. The only good news is that their press and trap allowed them to come back and beat Hofstra, or the Hilltoppers could have left here 0-3.
• Hofstra's Charles Jenkins could be this season's Rodney Stuckey. He's a lower-profile player who could be a first-round NBA draft pick. He can find his shot anywhere on the court and is also a solid leader. But he has to be more selfish on this team. He passed up one shot against Western Kentucky and then didn't command the ball on the last possession. Hofstra will be in trouble throughout the season if Jenkins doesn't dominate the ball.
• Nebraska will have issues in the Big 12 if it doesn't get better guard play. The Cornhuskers need some consistent play on the perimeter to stay in games. They can defend and board, but the perimeter is a sore spot. Nebraska coach Doc Sadler is well-respected for a reason -- his teams play hard, and he gets them to defend. But that won't be enough for the Huskers to be a winner in the last season of the Big 12. They need game-changers on the perimeter.
• And a memo to future teams -- the Coliseo de Puerto Rico was as impressive a building as I've seen in one of these early November tournaments off the grid. And surprisingly, the fans came out locally for the final. As always, West Virginia fans came strong, but there was a loyal following from Minnesota and North Carolina, too.