Monarchs make early NCAA case
November, 23, 2010
11/23/10
2:31
PM ET
Wichita State's loss to Connecticut in the Maui Invitational put the Shockers in the losers' bracket against teams that won't be in the NCAA tournament.
The Shockers have one more nonconference game against a team that is likely bound for the NCAAs -- at San Diego State on Dec. 4.
[+] Enlarge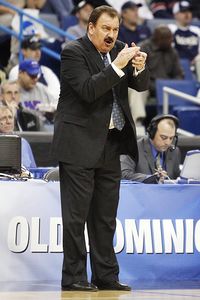 Derick E. Hingle/US PresswireBlaine Taylor knows that his Monarchs will be tough to beat.
That's why there is incredible pressure on teams outside the power six conferences to win the first game in these tournaments in order to ensure they'll play NCAA-bound teams on a neutral court.
Unless, of course, the nonconference schedule has more opportunities.
That's why Old Dominion coach Blaine Taylor wasn't sweating it as his team was heading off to the Paradise Jam in St. Thomas, U.S. Virgin Islands, this past week. He knew that even if the Monarchs didn't win the event, they would have more opportunities to enhance a possible at-large bid in March.
The Monarchs did end up winning the event -- beating Saint Peter's, Clemson and then Xavier Monday night -- and now are in an even better situation going forward toward a possible bid. Granted, of those three teams, Xavier is probably the only one that will be in the NCAA tournament, but that's more than Wichita State can say at this moment.
The Monarchs lost to Georgetown to open the season on Nov. 12. Old Dominion hosts Richmond (Dec. 1) and -- assuming the Spiders will still be an A-10 title contender and NCAA team despite losing at Iona -- this game will help ODU. The Monarchs also play another possible NCAA team in Dayton (the Flyers won at Ole Miss to show their strength) and visit Missouri, a Big 12 title contender, on Dec. 30.
And it will only help Old Dominion's strength of schedule in the Colonial Athletic Association if VCU does well in the NIT Season Tip-Off semifinals against Tennessee and then either UCLA or Villanova on Wednesday and Friday in New York.
Old Dominion didn't put as much pressure on itself prior to the St. Thomas trip -- and still won. "We don't have to win all of these games to position ourselves for at-large,'' said Taylor by phone from St. Thomas on Tuesday. "But we're going to be hard to beat. If you gave me a choice of beating Georgetown and winning this tournament, I'd take winning this tournament. I think if you'd talk to John [Thompson III of Georgetown], he would say the same thing that playing that game helped pay dividends for us winning here and them winning in Charleston [at the Classic].''
The Monarchs were in control for most of the Georgetown game but failed to close out the Hoyas at home. ODU won three close games, all with victory margins under nine points, in St. Thomas. "We were able to get a barometer in that Georgetown game,'' Taylor said. "We just didn't get it done late. We've got a resilient bunch. In the three games down there, we were physical and resilient. We believe we can play with anybody.''
But unlike ODU, VCU didn't fill its schedule with more quality games. The Rams also play at Richmond and go to South Florida, which is one of the worst teams in the Big East. Playing at UAB may not pay dividends either since the Blazers aren't projected to be an NCAA team. That's why getting to New York with the win against Wake Forest was critical in helping the Rams to a possible at-large situation. VCU needed to play higher-level teams for its strength of schedule and potential NCAA résumé.
Taylor said having VCU in the NIT semifinals is a huge get for the CAA. Obviously, VCU has a harder road to winning the NIT than ODU did at its tournament in St. Thomas. But there is an expectation for the Monarchs to win titles.
Taylor said that it has rubbed off on his veteran players. When the Monarchs were on the verge of winning the game, senior Ben Finney wanted to make sure the players weren't getting too excited.
"Some of the younger guys were celebrating and cheering, and Ben runs down there and tells them that it was too much. He said 'This is what we do,'" Taylor said. "What these tournaments continue to prove is that there is parity with a lot of schools out there, not just with the favored BCS sons. I know we will be hard to beat.''
Quick hitters
• Alabama left the Paradise Jam with an 0-3 mark after losing to Saint Peter's on Monday. The Crimson Tide were quick to say at SEC media day last month that they were a potential NCAA team and SEC West champ.
• Since beating Georgia Tech at home on Nov. 15, Kennesaw State has lost three straight games to Chattanooga, Alabama State and Northern Arizona.
• San Diego State concluded its season-opening five-game road trip undefeated. I'm not sure another ranked team or possible conference champ of a top-10 league will have something similar to claim prior to New Year's -- three true road wins and two neutral-site wins. The Aztecs are already on the board in March as a possible NCAA team.
• Kentucky coach John Calipari said Monday night that he expects Enes Kanter's appeal to be heard sometime next week. Kanter was ruled permanently ineligible by the NCAA staff for receiving excessive benefits beyond what was allowed while he played for a Turkish club team prior to coming to the United States for his senior year in high school. Kentucky is hoping that the appeals committee, made up of the membership and not the Indianapolis NCAA staff, will look at Kanter's desire to play college basketball and conclude that the benefits were for educational expenses. Kanter has remained in Lexington while waiting for a final decision.
• Wake Forest lost at home to Winthrop. The Demon Deacons have already fallen at home to Stetson and VCU. Pencil in Wake Forest for a last-place battle in the ACC.
• You can see why the WAC wanted Montana. The Grizzlies look to be a title contender along with Utah State after beating Idaho, 75-33, on Monday.