Walker now UConn's unquestioned leader
November, 24, 2010
11/24/10
2:28
AM ET
Kemba Walker
wasn't ready to assume the role a year ago. He didn't want the job of leader. And he wasn't asked to take it, either.
But Connecticut could have used his personality on a team that never seemed to find its footing. The Huskies were erratic throughout the season, knocking off Texas, West Virginia and Villanova and yet stumbling to subpar teams like Michigan and Providence and never grasping the urgency of the moment. UConn's season ended in the second round of the NIT.
"It wasn't my role," said Walker by phone from Maui late Tuesday. "I was a sophomore. I tried to let Jerome [Dyson], Stanley [Robinson] and Gavin [Edwards] be the ones to make the big plays and lead us to victory. It wasn't my role."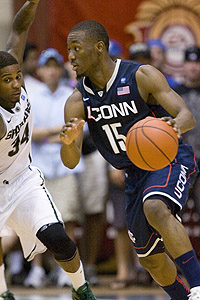 AP Photo/Eugene TannerWalker has scored 30-plus in each of his last three games.
Those three seniors clearly weren't capable. And maybe Walker wasn't then, either.
He is now.
Wow, is he ever.
Walker is on quite a tear since a rather pedestrian 6-of-17, 18-point outing against Stony Brook in the Nov. 12 opener. Since then, Walker scored 42 points against Vermont and has been simply spectacular in Maui, with 31 points against Wichita State (29 in the second half) and 30 in Tuesday's 70-67 upset of No. 2 Michigan State that propelled the Huskies to Wednesday night's Maui Invitational title game against No. 9 Kentucky.
Walker has been the better point guard in every game so far, including besting Michigan State's Kalin Lucas. Up next will be Kentucky freshman Brandon Knight.
"I knew that I had to do this being one of the most experienced guys on the team," said the junior point guard. "I had to take over games. Against Stony Brook, I was rushing and just throwing up shots. I was just so anxious since it was the first game. It was a new season and now I've calmed down and gotten into the flow. I've let my game come to me and I'm making shots."
Walker is 33-of-59 (56 percent) from the field in the last three games. He has made quite a number of trips to the free throw line, going 28-of-32 (88 percent) during that span. He has had a balanced rebounder in Alex Oriakhi inside (17 boards against the Spartans), but let's face it -- the Huskies don't come close to winning either game without Walker's prolific scoring.
"I took a lot of shots this summer," Walker said. "I wanted to keep my shot consistent. That was the biggest thing. I'm just trying to keep my shot consistent."
Walker shot 40.3 percent last season. He's at a 50.9 percent clip through four games.
Connecticut coach Jim Calhoun said earlier this month at practice that he had a feeling Walker was ready to move to the next level. He had a good read on Walker's development. Walker wasn't ready in the previous two seasons. At 6-foot-1, his size was and is still going to be a factor. To combat that, Walker had to be something special. Averaging 8.9 points as a freshman or 14.6 on an NIT team as a sophomore wasn't exactly wowing anyone.
Averaging 30.3 will likely do the trick.
"I'm just playing basketball right now and I'm not trying to prove to people anything," Walker said. "I just want victories and a successful season. I'm just going to take what the defense gives me. I know against Kentucky they're going to double-team me so I may have to make more plays. I don't care if I get 30 points or zero points. I have to pay attention to detail and go out there and give it my best shot."
Walker has taken on the leadership role, fostering the quick maturity of a wing mate like freshman Shabazz Napier, who may have to share some ballhandling against Kentucky's pressure. Donnell Beverly, one of only two seniors on the team, will also need to be assertive with the ball.
"We've got a much different team this year, one that's tight and that does everything together," Walker said. "This was a great win for us, beating the No. 2-ranked team. We've just got to stick with what we're doing. Give it our all in practice and pay attention to detail."
UConn was picked 10th in the Big East. And that wasn't unreasonable.
Walker, for one, had no issue with the preseason prediction for his team.
"I loved it," he said. "It gave me motivation. I agreed with it. Honestly, I don't blame anyone for picking us 10th. We've got a lot of freshmen and a lot of sophomores and I'm the only junior and we've got two seniors. It made us work harder."
Walker was the only sure thing on the roster, but no one had him being this much of a dominant player with the ball. Calhoun has had plenty of stars, but not one that had to single-handedly take over game after game for the Huskies to win. Usually, Connecticut has had at least two stars to help offset some of the responsibilities. So far it seems like it's all on Walker -- and he seems plenty sturdy to shoulder the burden.
Through these first couple of weeks, no other lead guard in the country has been as productive or as needed. At his position, at the moment, Walker is in a class by himself.