No dissension with the Bruins this season
November, 26, 2010
11/26/10
7:12
PM ET
NEW YORK -- At this time last year, UCLA was a disaster. The Bruins had lost to Cal State Fullerton at home and then went winless in Anaheim's 76 Classic, including a loss to Long Beach State and a historically bad 74-47 loss to Portland.
The team was having issues on the court (an unthinkable 2-6 start) and off the court (Drew Gordon quit and eventually headed to New Mexico; J'mison Morgan was a bust and eventually headed to Baylor).
But none of that seems to matter now. The Bruins, who play VCU in today's NIT third-place game (ESPN2, 2:30 p.m. ET), are devoid of dissension and look to be much improved from last season's 14-18 debacle.
Granted, they are young and inexperienced in some key spots and not nearly up to the level they were in going to three straight Final Fours in 2006-08. Expecting a repeat of that success and level of talent -- Kevin Love, Russell Westbrook, Darren Collison, etc. -- is unreasonable at this point.
[+] Enlarge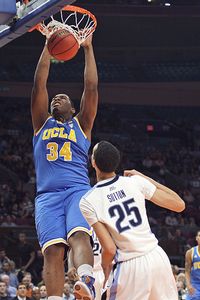 AP Photo/Frank Franklin IIFreshman Joshua Smith is part of what the UCLA camp confidently says is a better Bruins team.
"We have to be patient," said UCLA coach Ben Howland after the Bruins lost to Villanova in Wednesday's NIT semifinals. "[The players] have to be patient with one another. You can't have one bad shot turn into barking at your teammates. We need to do it the right way, mature and gain more experience."
Watch UCLA and you can see the potential is there to contend in the Pac-10, which is again hardly locked in beyond Washington as the favorite. Every other spot is open and with some of the teams struggling out of the gate, the Bruins can contend for a top-three finish.
"We're much better than a year ago," Howland said of the Bruins, who went 8-10 in the Pac-10 and failed to reach the postseason. "It was hard to watch last year's team while getting ready to play Pepperdine again. We're more athletic and have a better point guard."
That they do. The Bruins were pursuing a host of elite players last year, like Harrison Barnes, Trey Zeigler and Ray McCallum Jr. They didn't get any of them, but did land a JC transfer (tough academic standards make it rare a juco player gets into UCLA, but Lazeric Jones was qualified out of high school but simply not recruited highly). Jones gives the Bruins some changing speeds, an edge and experience at the position. Malcolm Lee was hurt for one game but came back and will continue to be a contributor in the backcourt.
A year ago, Tyler Honeycutt was injured and didn't play in Anaheim. That was a major difference. Having the nimble freshman and suddenly better-conditioned Joshua Smith in the middle helps in creating balance. Bruising face-up scorer Reeves Nelson has posted three straight double-doubles and is off to a staggering start, averaging 17.0 ppg and 10.5 rpg and shooting 67 percent from the field. And Tyler Lamb and Jerime Anderson will have their moments.
In addition, having North Carolina transfers David Wear and Travis Wear in practice until they're eligible next season has only enhanced the competition.
This is still UCLA, where the honeymoon is always brief. The Bruins went to three straight Final Fours, produced a number of NBA picks and yet aren't seemingly allowed to go through a rebuilding project.
After playing VCU in New York, the team faces the daunting task of traveling to Lawrence to face Kansas and its national-best 63-game home winning streak. The only other projected NCAA team on the Bruins' nonconference schedule is BYU in the Wooden Classic in Anaheim next month. That means if the Bruins don't win the Pac-10 tournament, even a high finish would guarantee nothing without some notable nonconference wins.
So where is the program right now? It's still trying to climb out of a hole. But it's more than doable in as fertile a recruiting area like Southern California and a Pac-10 that continues to disappoint.
"The key is for this group to stay together next year," Howland said. "A year from now with the Wears eligible and all these guys coming back, assuming we continue to grow and build, then this could be a very good team. We lose nobody. We have no seniors."
Having no senior experience is part of the reason the recovery is taking a bit longer than UCLA may want. But as long as there is patience, the Bruins should make a return to their rightful place as a Pac-10 title contender.