No guarantees in ACC/Big Ten Challenge
November, 30, 2010
11/30/10
9:37
AM ET
The Big Ten is seven or eight deep in potential NCAA tournament teams. The ACC has Duke and a host of teams that are hard to discern from No. 2 on down.
So of course the Big Ten will capture the ACC/Big Ten Challenge, right?
Not quite. Virginia revealed the unpredictability of this event on Day 1. The Cavaliers were expected to be battling at the bottom of the ACC and Minnesota, even with senior point guard Al Nolen out of the game due to injury, was expected to walk over the Cavs after winning the Puerto Rico Tip-Off last week.
[+] Enlarge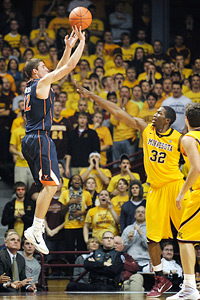 AP Photo/Tom OlmscheidJoe Harris' 24 points led Virginia to a surprising win over Minnesota on Monday night.
Instead, Virginia won 87-79 in Minneapolis, which might help the ACC win the event because it has advantageous matchups with top-ranked Duke hosting Michigan State, Clemson hosting Michigan, Virginia Tech hosting Purdue, Maryland visiting a weak Penn State team and toss-up ACC home games that include Iowa-Wake Forest and Indiana-Boston College, plus a potential upset if Florida State can beat Ohio State in Tallahassee.
For the sake of argument, that would mean home Big Ten victories by Northwestern (vs. Georgia Tech), Illinois (vs. North Carolina) and Wisconsin (vs. NC State) wouldn't even be enough to offset an ACC victory.
But regardless of what occurs, the ACC/Big Ten Challenge has provided an opportunity for a number of teams -- the opportunity to right a loss in an early-season tournament and/or pick up a much-needed quality win.
"We're all trying to figure ourself out now,'' Illinois coach Bruce Weber said. "Whether you're coming off a big win or a loss. Now you've got Big Ten, high-level games with a lot of attention. It's a good test for your team to figure out if you're for real or not. Your season can go in a lot of different ways. It's a good test to see how your team will respond, whether it's off a loss or a win.''
Florida State lost at home Sunday to Florida. The Seminoles could erase that with a win over second-ranked Ohio State, which has already won at Florida. Wisconsin is hosting NC State after losing to Notre Dame on Sunday in the final of the Old Spice Classic. The Badgers had already lost at UNLV. NC State dropped the title game of the Charleston Classic to Georgetown. Both teams could use a quality nonconference win.
Northwestern is undefeated and hoping to go to the NCAA tournament for the first time. But if the host Wildcats are to be taken seriously, shouldn't they beat Georgia Tech, which lost at Kennesaw State? Maryland failed to win a 2K Sports Classic game in New York against Pitt and Illinois. So if the Terps are a real threat to finish second in the ACC, shouldn't they win at struggling Penn State?
Purdue is fresh off a loss to Richmond in the final of the Chicago Invitational, and Virginia Tech lost Sunday night to UNLV in the final of the 76 Classic. The Hokies had already lost at Kansas State on Nov. 16. The combination of ensuring enough prep time and cost containment led Virginia Tech to chip in with Tulsa for a charter flight on the way to and from Anaheim. Hokies coach Seth Greenberg said the plane dropped Tulsa off early Monday morning. The Hokies arrived in Blacksburg at 8 a.m. after playing the night before against UNLV. The importance of the Purdue game pushed Greenberg to secure the flight.
Virginia Tech opened the season at home against Campbell, then went to Kansas State and UNC Greensboro (at Greensboro Coliseum, site of the ACC tournament) before visiting Anaheim for three games. The Hokies play Purdue at home, host Virginia to open the ACC schedule, host Penn State and then play Mississippi State at the Atlantis resort on Paradise Island in the Bahamas. This will be the first game heralded newcomer and Bulldogs center Renardo Sidney is eligible.
"This is a big stretch for us,'' Greenberg said. "The pre-Thanksgiving tournaments might make more sense when you're in the ACC/Big Ten Challenge. But we wouldn't get a Purdue to come to Blacksburg if it weren't for the Challenge. That's part of the culture. It's part of the business. Anytime you're playing an opponent like this, it's an opportunity. It sounds crazy now in November, but you're building your profile and your résumé.
"These games don't hurt you, but they can sure help you.''
He's right. So far, Virginia Tech has played three games against possible NCAA teams and lost two (Kansas State and UNLV) and the one it won (Oklahoma State) is a bubble team at best at this point. That's why a game against Purdue takes on even more significance, regardless of what event it is folded into. The Hokies won't get much bang out of a win over Penn State at home, leaving a neutral-site tilt against Mississippi State as their last significant nonconference game.
Virginia Tech knows all too well that it can't rely solely on the ACC getting its profile up to earn a potential at-large berth.
Duke and Michigan State, the opponents in the headline game in this event, will be fine either way. Both schools will be in the field, possibly as No. 1 seeds, and they'll play enough quality teams to place too much emphasis on this one game.
That's not the case for the other games.
North Carolina (lost two games in Puerto Rico) can turn its season around with a win at Illinois and a game against Kentucky at home Saturday.
Illinois beat Maryland and follows the Carolina game with a matchup in Seattle against Gonzaga on Saturday. Playing Missouri in St. Louis in a few weeks will create another opportunity for a quality win before the loaded Big Ten schedule.
"This is like a Big Ten week for us,'' Weber said. "We had a little test in New York. Now we have another test this week. These are really good games for us. We're at home. You hope you can win. But there are no guarantees.''
Just ask Minnesota, which appeared to be the one lock for the Big Ten when it hosted Virginia. The Cavs didn't see it that way.
No guarantees indeed.