End of Big 12/Pac-10 will hurt some schools
December, 2, 2010
12/02/10
1:33
PM ET
One could argue that Washington State will have its most significant nonconference home game ever (not involving Gonzaga) when No. 5 Kansas State visits Pullman, Wash., on Friday night.
And if it wasn't for the Big 12/Pac-10 Hardwood Series, this matchup would never happen. At least not in this current era, when the Wildcats are ranked and relevant and probably wouldn't put themselves in a situation of going to the Palouse for a December game.
The only power-six conference team outside the Pac-10 on Washington State's home schedule this season is Kansas State. The Cougars have played five home-and-home series since 1990 against power-six conference teams. Two were part of this series (Kansas State and Baylor), one was played in Spokane (Alabama), one in Seattle (LSU) and only one other (Kansas State in 2005) was a true home-and-home. That was during the era when K-State wasn't relevant nationally.
[+] Enlarge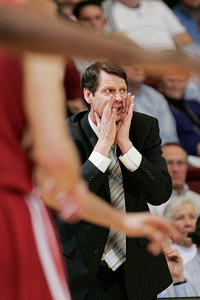 AP Photo/Paul SakumaKen Bone's Cougars have a big opportunity Friday in Pullman.
The last time a ranked nonconference team (not including the Zags, who have done it three times) played in Pullman was in 2008, when Baylor showed up as part of the series. To find a ranked team coming to Pullman in a nonconference game that was separate from this season or the annual matchup with Gonzaga, you have to go back to 1968, when No. 17 Ohio State visited. "I haven't even tried to schedule these games yet, because it was already on the schedule," second-year Washington State coach Ken Bone said. "It's been great for our whole conference to compete against the Big 12, especially to get someone to come to Pullman. I know our location is tough."
"It was built in for us to have a good game on the schedule," said former Washington State coach Tony Bennett, now the head coach at Virginia. "It was very difficult to get games in Pullman. It was a challenge."
Baylor will host Arizona State on Thursday night. Bears coach Scott Drew said the team's Elite Eight run has helped other schools be more open to possible home-and-home series with Baylor. But do you know how many other power-six home games the Bears have this season? None. And that game is on the schedule because of the Big 12/Pac-10 Hardwood Series. Baylor will play Gonzaga, but the game will be in Dallas. No other power-six schools will visit Waco.
Washington went to Texas Tech last season. In a post-Bob Knight world, a team of that status normally wouldn't go to Lubbock.
Oregon State did get two Atlantic 10 teams on its home schedule -- a win against Charlotte and an upcoming game versus George Washington. The Beavers' next game is at Colorado, a future Pac-12 member next season. Last season, the Beavers beat the Buffaloes at home -- again, a rarity to have another power-six school come to Corvallis, Ore.
"It was a good scheduling tool, because you knew every other year you were getting a quality home game, a Big 12 opponent coming to your gym," Oregon State coach Craig Robinson said. "It's hard to get people to play teams if you're not ranked and they are. We'll miss it."
Of course, matchups such as Kansas at UCLA, the headline game in the series Thursday night, or Texas at USC or Oklahoma at Arizona, both Sunday, could happen in any season. They did when the Jayhawks and Bruins played previously.
But the four-year scheduling agreement between the two conferences is ending this season. And it has nothing to do with the Pac-10's attempt to grab six of the Big 12 schools, including the moneymakers in Texas and Oklahoma.
The Big 12 wanted to continue the agreement, even as it shrinks to a 10-team conference in 2011-12 while the Pac-10 increases to 12 teams.
"[The Pac-10] had indicated they would play on neutral sites, but we wanted home-and-home," said Big 12 associate commissioner John Underwood, who is in charge of men's basketball. "We started this as a scheduling alliance to get good home-and-home games on our schedules. I think it has been beneficial for both leagues. It's hard to get games, and with us going to 18 league games, we want to play a competitive schedule. I know it's more difficult for some schools to get games than others."
And that's one of the reasons new Pac-10 commissioner Larry Scott saw an opening to end the series. The event is great for Washington State and Oregon State in the Pac-10 and schools like Baylor and Texas Tech in the Big 12. But the Pac-10 will negotiate a new television agreement after next year and didn't want to be constricted with a series that extended beyond that.
Scott said the marketing of the event was awkward because it didn't have the same television partner. ESPN's family of networks gets the Big 12 home games. Fox's college networks has the rights to the Pac-10 home games. So there is no synergy in promoting all the games across one network's platforms.
"The alliance fell short of the mark," Scott said. "People found it hard to get behind. We weren't achieving the original objectives. It wasn't what others had [like the ACC/Big Ten Challenge] with a common broadcaster. At the end of the day it was better for us to approach the TV negotiations with a clean slate and not commit to a home-and-home."
Scott said he has had preliminary conversations with Big Ten commissioner Jim Delany about a scheduling event because the two leagues have a historical tie with the Rose Bowl, which is familiar to both. He said he also discussed one with Big East commissioner John Marinatto and have "the No. 1 and No. 2 markets in the country doing things."
The Pac-10 is locked in for two more seasons -- 2011 and 2012 -- with Fox, which ties into the conference tournament at the Staples Center in Los Angeles. So Scott is looking at ensuring that deals are done once he knows the landscape of his television contract with the new Pac-12 after Colorado and Utah join.
"We met with the coaches on this, and some of the schools can schedule, and it did hamper their flexibility," Scott said. "There were pros and cons."
The elite schools have no issues getting games. However, remote schools such as Washington State that are trying to move up do have problems, and that's why Friday's game is a rare opportunity to face a top-10 team at home.
The 5-0 Cougars haven't been challenged so far against Idaho, Portland and at Fresno State. Not having last season's top Pac-10 rookie, Reggie Moore (wrist injury), or rebounding forward DeAngelo Casto (ankle) at full strength or at all limits the prospects of an upset. And that's with Klay Thompson (22.2 ppg), Faisal Aden (20.8) and Marcus Capers (seven rpg) all performing well.
Bone said Casto, who missed the past two games, has practiced and could play Friday. Moore has a cast and has been out for five weeks. He got a splint put on and tried to work out earlier this week.
"But he's extremely doubtful, even with the wrist being 100 percent, since he hasn't practiced," Bone said. "I don't want to risk it. I don't foresee it unless Reggie comes to me and says he wants to play."
Not having Moore to complement Thompson in the backcourt will make it tough for WSU to handle Jacob Pullen and K-State's pressure. Bone said they'll run Thompson off screens and have others handle the ball to get him open. He knows this game will be physical.
But at least he has it on the schedule. If it wasn't for the scheduling alliance, it wouldn't happen. This at least gives the Cougars a chance to pick up possible at-large résumé points in a game that doesn't involve Gonzaga.
"I've really been looking forward to this game for a year," Bone said. "It can test you in so many ways. They're similar to Washington, and we need to be better against teams like that. I just wish we were going with healthy bodies. I've known about this game since I arrived here, so I haven't experienced trying to get a home-and-home with an elite program. I'm assuming it's going to be very difficult based on the history of scheduling at Washington State. Those teams coming here are few and far between."