Town abuzz over Jimmer Fredette's return
December, 7, 2010
12/07/10
7:43
PM ET
Al Fredette got a few of his friends together, headed down to the Glens Falls Civic Center on a mid-September Friday afternoon and prepared to spend the night waiting for the ticket office to open at 9 a.m. Saturday.
He wasn't waiting to see the Stones or the Boss.
[+] Enlarge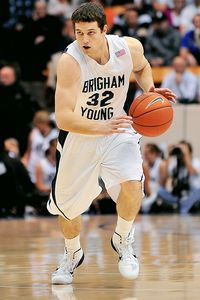 Boyd Ivey/Icon SMITickets are hard to find for Jimmer Fredette's homecoming game in Glens Falls, N.Y.
He was just trying to get four more tickets to see his son, Jimmer, and BYU play Vermont in his hometown of Glens Falls, N.Y. Al had already secured his own tickets through BYU but wanted to get a couple more for a pair of ladies in their 80s. These women had seen Jimmer compete in football and basketball and loved to watch him play.
"They couldn't stand in line to get tickets,'' Al said. "We wanted to be first in line. So there was 20 of us together as a group. We just talked through the night. It wasn't that cold. It was September. My brother is a legacy at BYU so he could get tickets, and we got some through the team, but I needed to get four extra. We were only allowed four [at the ticket window]. That was the limit.''
Jimmer's homecoming game Wednesday night is about as unique a scheduling event as you'll see in the nonconference. Plenty of coaches give their players a homecoming game. Most of the time, it's in the city or near the city in which they grew up and against either a marquee team or some local squad that is eager to get a home game.
Duke went to Portland two weeks ago to play Oregon. The game was to match Kyle Singler against his brother E.J. Singler, who plays for the Ducks. But the game was in the Rose Garden, not in Eugene. Duke has a national following. Oregon is the state's No. 1 team. It was a natural.
But BYU versus Vermont, a team not from New York, is a game solely created for Jimmer.
And the organizers are expecting a sellout. "There's been a great love affair with Jimmer here, and then since he went to BYU, the whole region has adopted BYU,'' said former Glens Falls mayor Ed Bartholomew of the senior guard, who was a first-team preseason All-American. "Up until recently, the whole area was for Syracuse. Maybe people religiously follow him on the Internet or ESPN or CBS or Fox.''
Jimmer led Glens Falls to a state title game in 2007 -- at the Glens Falls Civic Center. "We're going to have 6,300 people in the building, the largest crowd we've ever had,'' Bartholomew said. "I know; I was the mayor when we built it in 1980. We're at capacity, and we've got 550 standing-room tickets.''
The idea for the "Hometown Classic'' was born from Bartholomew and current mayor John Diamond. According to Al, BYU had long promised to give Jimmer a home game when they recruited him. The initial plan was to have BYU play Penn State in Albany. Jimmer and Penn State's Talor Battle played together during the summer, and it seemed like a natural fit. But the two schools couldn't agree on a date.
"We thought BYU would go to the Albany Times Union facility since that seats 12,000, but then when that fell through we thought let's give Glens Falls a shot,'' Bartholomew said. "We have basketball history with the state final. Chris Mullin has played here. We talked to BYU, and they said if we could find them an opponent, they would do it.''
Bartholomew said there were connections locally with the Vermont administration, and they reached out to the Catamounts. Bartholomew was able to cut a deal for a more nominal fee for BYU and Vermont to play in the game. "We're paying them modest fees to come to this game,'' Bartholomew said. "Certainly not what they would normally get if they were to play somewhere for a larger fee.''
Why do this for Jimmer? "He comes from a great family, and Jimmer has kept his perspective where he is and how he got there,'' Bartholomew said. "He's a great kid and young adult. We want this to be an annual event as a Hometown Classic. We're hoping to do something with a hockey game next year, and if Jimmer makes the NBA we want to bring an exhibition game here. We know there is great interest in this game.''
Jimmer's family said the support by the community has been unbelievable.
"I never really thought they'd try to do this,'' said Jimmer's older brother, T.J., who is an aspiring rap artist and will perform at halftime Wednesday night. "I thought if this were to happen, it would be in Albany, not here. We were completely shocked by it.''
T.J., 28, is working at a friend's local Italian restaurant while hoping to get a full-time music career. "I was out in Utah to watch some games and as soon as I got back home, there were articles in the newspaper all about it, an eight-page layout about him, pictures about him when he was younger,'' T.J. said. "The buzz is unbelievable. The calls are nonstop for tickets. I knew it would be pretty crazy, but this has exceeded it. The support has been great.''
T.J. said the reason his brother is welcomed so much is that he is "as humble as he is friendly. He goes around and talks to people. He embraces his roots.''
T.J. admitted that Jimmer's career has had something to do with the admiration. Lighting up Arizona for 49 points, helping lead BYU to a first-round NCAA tournament win over Florida and being recognized as a first-team All-American all helped push him to cult status in the region. "But he doesn't have a big head,'' T.J. said.
"This is a big thing for the city,'' Al said. "I wouldn't say there are more BYU fans than Syracuse, though. When Jimmer went to BYU, I had a lot of people say, 'where is he going? What does that stand for?' Now it's on the map here. People from Glens Falls have gone to Utah to see him play, to Las Vegas for the [MWC] tournament.
"Jimmer always has a way of making things fit for him, and he's had a lot of support throughout his career. How this happened and came together with BYU playing Vermont in Glens Falls is pretty amazing if you think about it.''