Kalin Lucas' recovery will take time
December, 8, 2010
12/08/10
10:16
AM ET
NEW YORK -- Kalin Lucas had an opening to get to the basket Tuesday night against Syracuse, but along the way he wasn't fluid in his footwork, didn't elevate to the hoop as well as he might have in the past and missed the layup.
It was unclear whether Lucas got misdirected and simply had a poor angle or something else was askew.
[+] Enlarge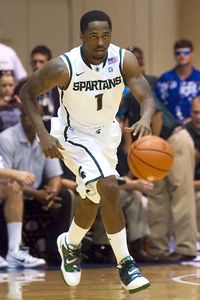 AP Photo/Eugene TannerKalin Lucas is still recovering from an Achilles injury he suffered in March. Meanwhile, Michigan State has limped to a 6-3 start, including Tuesday night's loss to Syracuse.
That something may be his left Achilles tendon, which is still healing after the Spartans guard ruptured it back in March in the NCAA tournament. Lucas hasn't yet returned to the level he was at before he got injured. He played 34 minutes in Michigan State's 72-58 loss to Syracuse Tuesday night in the Jimmy V Classic and 15 minutes in a win over Bowling Green. Last week at Duke, he played 36. And in three straight games at the Maui Invitational, Lucas played 29 against Chaminade (a game that was closer than the Spartans expected), 32 in a loss to Connecticut and 31 in a win over Washington.
"In big games like this, I'm going to play the whole 40 minutes," Lucas said. "Coach [Tom Izzo] says he needs to rest me more. But in close games, I've got to be out there playing."
Izzo said after the game that he has to manage Lucas' minutes. He said Lucas and Korie Lucious, who is recovering from a rib injury, haven't practiced much.
"I mean, I'm not as quick and explosive yet," Lucas said. "It's going to take some time for that. But as far as the big games, I've got to play in them.
"It's going to take some time going to the hole and finishing and drawing contact. My quickness is starting to come back, but exploding is going to be the last piece."
Lucas said this injury affects him differently than, say, a knee injury, because "it's your calf muscles and your quads. It's starting to get there, but it has to take time to get there."
Izzo said the most fixable thing with the Spartans right now is their health. He lamented the team's schedule to start the season, with a late-night home game against South Carolina preceding their trip to Maui, where they played at odd times before returning to East Lansing for a game against Tennessee Tech. After that, it was off to Duke for the late-night headline game in the ACC/Big Ten Challenge, home again for Bowling Green and then Tuesday night's stay in New York to play Syracuse. With so much travel, Izzo said that the Spartans have barely had time to practice.
Michigan State still faces a visit from Texas on Dec. 22 before Big Ten play opens on Dec. 31 at home against Minnesota. The Big Ten schedule opening in December forced Izzo to move two guarantee buy games before Christmas, jamming the schedule even more.
But those are excuses. Missing free throws (9 of 16), not defending inside, getting outhustled and outtoughed disgusted Izzo so much that at one point in the first half Tuesday, he sat down in the middle of the bench.
"I haven't been this disappointed like I was [Tuesday]," Izzo said. "I just don't think we brought it. We got punched in the face. We're used to losing early in the year, so that doesn't bother me one bit. I don't worry about the losing. I worry about the way we're playing. That bothers me a lot."
Getting Lucas healthy will take time, but important games are coming again with Texas and the start of Big Ten play, so the team must make decisions. If Lucas needs more breaks to get back to 100 percent, he may need to have them to get him ready for a deeper run in March. Lucas doesn't want to sit out, but the Spartans have to make sure he's healthy enough to be at full strength come March.